The cemetery in La Verne, California, that removed American flags from gravestones and threw them away apparently did so as part of a "quarterly cleanup" effort. The company that owns the cemetery argued patriotic displays were removed after Memorial Day, the same way Christmas displays are removed after December.
Still, the move did not sit well with several patriotic members of the community, and they let it be known. On Tuesday, dozens of volunteers and family members of the dead buried at the cemetery showed up with scores of brand new American flags, KTVU-TV reported.
The community then spent hours making sure the grave of every single veteran had an American flag planted on it in honor of their service.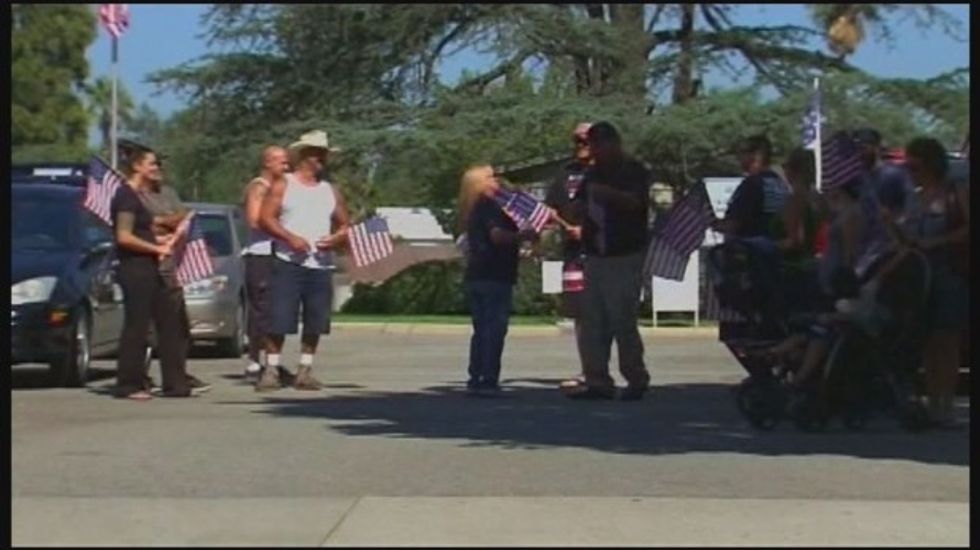 KTVU-TV
While the community coming together to honor late veterans was inspiring, the La Verne Police Department called some of the allegations against the cemetery "completely false and unfounded."
Police investigated the incident and released its findings in a statement:
The City of La Verne was notified that American flags had been removed from gravesites at the La Verne Cemetery and that several residents were upset by this action. There were also claims made about the ethnic origin of the owners of the cemetery. The City was concerned about these claims. Upon investigation, the following was determined:

• The La Verne Cemetery, along with other cemeteries, has a schedule for seasonal flowers and decorations placed at gravesites. This type of policy is intended to prevent items such as Christmas decorations from being left out year round. Once Memorial Day had passed, the patriotic displays were removed.

• The City of La Verne will send a letter to the operator requesting consideration and sensitivity when removing such items around national holidays.

• The owner of the cemetery is in Pennsylvania. The corporation has a board of directors that oversee over 300 cemeteries. The corporation does not represent one faith or belief system.

• The La Verne Cemetery did sell three large plots to three groups that represent three Muslims sects. They do not have any ownership in the cemetery, only the plots they have purchased.

• The claims that the American flags were taken down at the direction of the Muslim ownership is completely false and unfounded.

The La Verne Cemetery has been used for generations of La Verne residents. As we approach the 4th of July holiday, the City encourages everyone to be respectful of one another and remember the freedoms guaranteed to all of us in the United States as represented by the American Flag.
More from KABC-TV:
---