Japanese archaeologists believe they found a shipwreck that was part of the Mongolian armada, which was sunk during a failed mission to invade Japan in the 13th century.
Archaeologists at the University of Ryukyus and the city of Matsuura had already found remnants of another shipwreck from the same invasion attempts in 2011 and 2014. Last week though they announced this latest discovery.
"We have successfully confirmed the two ships from the Mongolian invasion, and further research on them is expected to lead to the discovery of even more sunken Mongolian ships," research lead Yoshifumi Ikeda told the Asahi Shimbun.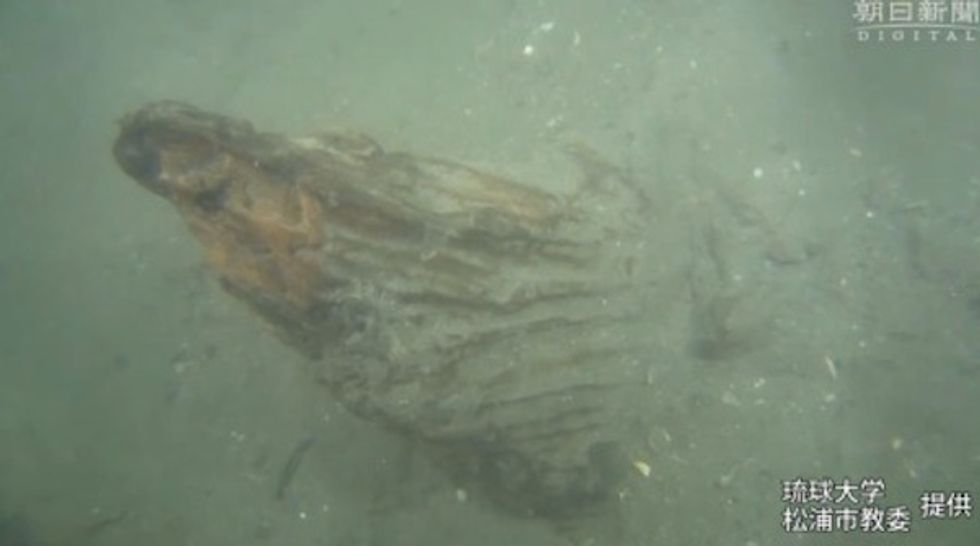 Image source: Asahi Shimbun  video
As legend has it Kublai Khan, the grandson of the infamous Genghis Khan, and his fleet of Mongol ships tried to invade Japan in 1274 and 1281 but "divine wind" — a kamikaze — destroyed his armada both times. Last year, scientists announced finding evidence of two typhoons occurring in the area back in the 13th century.
This latest shipwreck, which Yomiuri reported (translated via Google Translate) was investigated in June, is thought to be about 65 feet long and up to 23 feet wide. Several artifacts were found along with the bow, including pottery and ironware dating to the 12th and 13th centuries, according to Asahi Shimbun.
"One thing that we hope to learn from the wreck is the kind of materials that were used by the Mongolians 730 years ago, as well as the techniques used in the construction of the ship," Atsuyuki Nakata with the Matsuura city board of education told the Daily Telegraph.
For now, Nakata told the Telegraph the researchers covered the bow of the ship with silt again to help preserve the wood, but they will consider raising it.
Here's footage from part of the wreck that was discovered in 2011:
Check out videos from the shipwreck dives on Asahi Shimbun's website.
(H/T: Daily Mail)