Update 7/8/2015 8:15 a.m. ET: The charges against DaJuawn Wallace were dropped Tuesday. Wallace was arrested in February after he didn't stop immediately when a Saginaw Valley State University police officer directed him to pull over. Instead, he proceeded to drive onward until he could pull over in a well-lit parking lot.
"It was a unique set of facts and [...] situation," Chief Prosecutor Christopher Boyd said, according to MLive of the decision to drop felony charges against Wallace.
The university also released a statement that it would be looking into its policies after this encounter.
"As a university president entrusted with the safety and welfare of students and as a former police officer, I recognize this situation is complicated and requires careful review," SVSU President Donald Bachand said in a statement. "I also understand that our students come from many different communities and arrive with different expectations for how to interact with police.
"I have directed our University Police to review their policies and procedures on how we deal with students in similar situations. This will begin immediately. I am also stepping up our efforts to ensure good relationships between our University Police and the campus community in general," he continued.
Original story follows below. 
—
DaJuawn Wallace might not have stopped right away when he saw a cop's lights flashing behind him, insisting he was doing just what he was taught.
"I live in Detroit, and I know some people who were robbed by fake police officers," Wallace told the Saginaw News. "I was taught to find a well-lit area to pull over in."
"I feel that if I was an older individual it wouldn't have been a problem," the 24-year-old added. "I feel like if I was of a different sex they would've probably thought that I was just trying to find somewhere safe to pull into."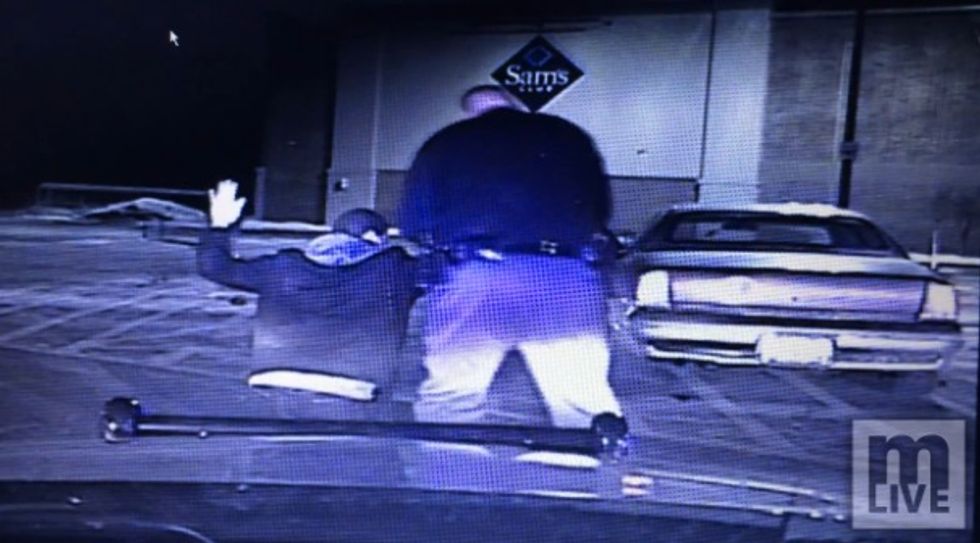 Wallace was arrested for fleeing and eluding a police officer when he drove to a well-lit area to pull over. He now faces a misdemeanor or felony charge. (Image source: MLive)
Dashcam video of the February 19 incident shows Wallace gesturing with his hand out the window to the Saginaw Valley State University police officer behind him, he says, to indicate he was pulling over into a parking lot. Wallace drove for 1.5 miles around 35 mph before stopping at a Sam's Club.
Once he was parked, officer Leon Wilson can be heard ordering him to get out of the vehicle with his hands up. A few moments later, Wallace was on his knees with Wilson putting his hands behind his back. Wallace was arrested for fleeing and eluding a police officer.
"The only reason I rolled the window down is I was trying to alert whoever was behind me ... that I was pulling over in this lot," Wallace said from the back of the police car, noting that his cousin was robbed by someone posing as a cop.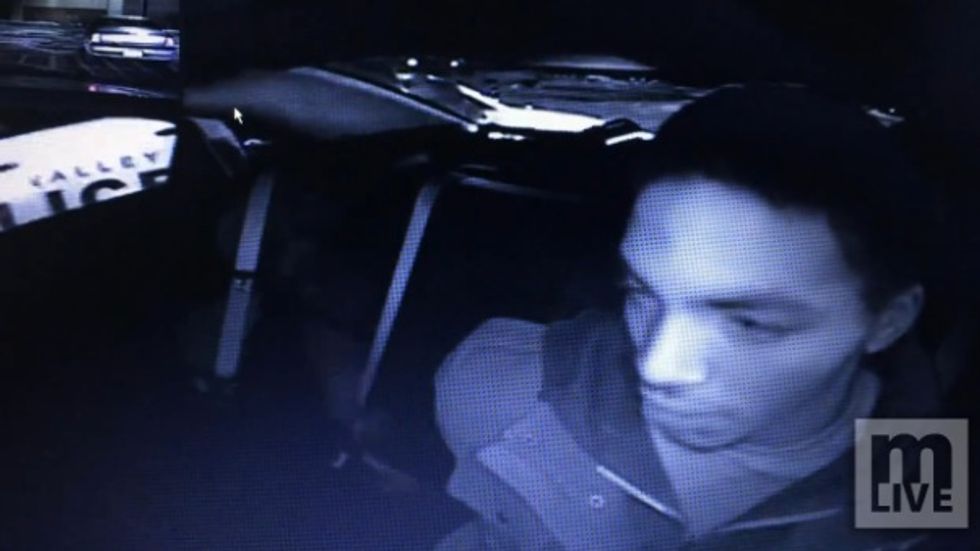 Wallace explained why he kept driving from the back of the police vehicle. (Image source: MLive)
"My mother just tells us now, make sure that you're in a well-lit place," he added in the video.
Watch the dashcam footage:
The Saginaw News reported that Wallace was pulled over because his vehicle matched a description of a car that had been driving on an SVSU campus sidewalk.
"I was uncertain about the make and the model of the vehicle, but this vehicle looked like the same color and was leaving the immediate area," Wilson wrote in his report, according to the Saginaw News.
Saginaw County Chief Prosecutor Christopher Boyd told the newspaper that when a law enforcement officer signals a motorist to pull over, they must do so as quickly as possible. Given Wallace's speed during the incident, Boyd offered to charge him with a misdemeanor instead of a felony, but Wallace rejected the the deal.
"If I had to take a plea for a felony, I would be forced to resign my job, and I wouldn't be able to get financial aid, and I wouldn't be able to do anything with my degree. Even still with the misdemeanor," Wallace told the Saginaw News. "I feel like I didn't do anything wrong. I feel as if it's a way to get me on papers."
According to the newspaper, Wallace will be in court again this week and if he rejects the deal again, a judge will decide if the case will go to trial.
This is not the only incident this year of someone facing a felony charge for waiting to pull over in a well-lit area. An Indiana woman put on her flashers and also waved to a cop who signaled her to pull over in April. She drove less than a mile to a parking lot where the officer arrested her.
A Texas police officer who was off duty when a cop impersonator tried to pull her over suggested that people wary of whoever is stopping them call 911 to confirm the legitimacy of the officer or drive to a local police or fire station. Clearly the above cases and others though show that some safety suggestions can conflict with state laws.