A 27-year-old man was left bloodied and unconscious after being brutally assaulted by an unruly mob in the streets of Cincinnati on Saturday night. Though the official police incident report referred to the July Fourth attack as "anti-white," Capt. Mike Neville backed off the claim on Monday and said it's not yet clear if race was a factor.
Neville said the officer who filed the incident report felt the attack was racially motivated because the victim, Christopher McKnight, was beaten by a group of people from the "opposite race." He said the preliminary anti-white description of the attack was incorrect.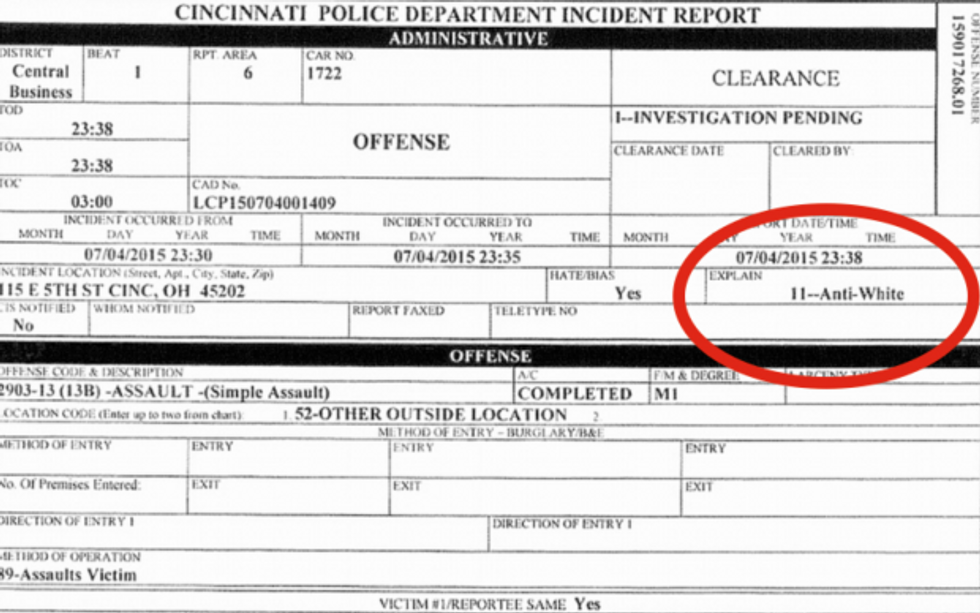 The Cincinnati Inquirer has more:
The incident report states McKnight, of Albany, Indiana, was jumped on and beaten during an "unruly crowd situation stemming from (the) Fountain Square event" around 11:30 p.m.

McKnight was walking near Government Square and was not part of the group who threw bottles and fireworks at police, Neville said Sunday.

[…]

McKnight was taken to the University of Cincinnati Medical Center with minor injuries, according to the police report. He was released from the hospital Sunday.
A shocking video posted on Facebook reportedly shows McKnight, who suffered a concussion, broken nose and facial injuries, lying bloodied and unconscious on the pavement.
People can be heard laughing and mocking the victim as he lay unresponsive on the ground. You can watch the video taken after the brutal attack, but be advised, the footage is disturbing and contains very strong language:
Seven suspects were reportedly arrested during the chaos, though it wasn't immediately clear if they were connected to the beating.
Read the police report below:
---