Senator Lindsey Graham (R-S.C.), a Republican presidential candidate, didn't hold back in his response to Code Pink leader Medea Benjamin after she briefly took control of a discussion on foreign policy at an Atlantic Council event on Wednesday.
"I'm just horrified by your foreign policy because it's a prescription for endless war and, of course, that's why you feel you need this huge military budget because you want to keep us in these wars," Benjamin said before suggesting the Iraq War led to the creation of the Islamic State.
After nearly two minutes of rambling, CNN's Jake Tapper asked Benjamin to give up the microphone. She didn't immediately agree to sit down, though eventually she relented.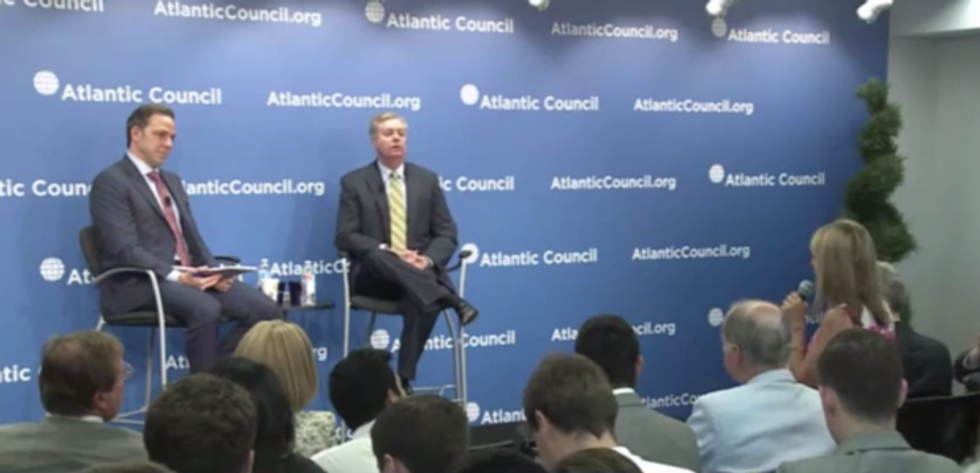 (YouTube screengrab)
Finally, Graham had a chance to respond. After showing his support of her First Amendment right to free speech, he went off.
"I couldn't disagree with you more. I think people like you make the world incredibly dangerous. I think people like you are radical Islam's best hope," he told the Code Pink activist.
He continued: "Iraq didn't bring on radical Islam. We got attacked on Sept. 11, 2001. We didn't have one soldier in Afghanistan; we didn't have an embassy; we didn't give them one dime of aid — and they hit us anyway. This is a religious war, and if you don't understand that, you shouldn't be president of the United States."
Graham said radical Islamists have a "religious agenda dictated by their view of God to kill every Christian they can find; to destroy the state of Israel and come after us and take every Muslim and bend them to their will or cut their heads off."
"This happened long before Iraq," he concluded. "That's not why we're in trouble. It has nothing to do us fighting back. It has everything to do with us not understanding what it takes to win. So as to radical Islam, you're not going to fool me that somehow we brought this upon ourselves — we did not."
Watch the exchange, flagged by the Washington Free Beacon, below:
---