The man who won "best dressed" at an Independence Day-themed event raised some eyebrows with his controversial apparel.
Mark Coffey, an Indigenous affairs adviser to Australian Prime Minister Tony Abbott, showed up to the Central Australian Beef Breeders' Fourth of July themed dinner wearing a Confederate flag shirt.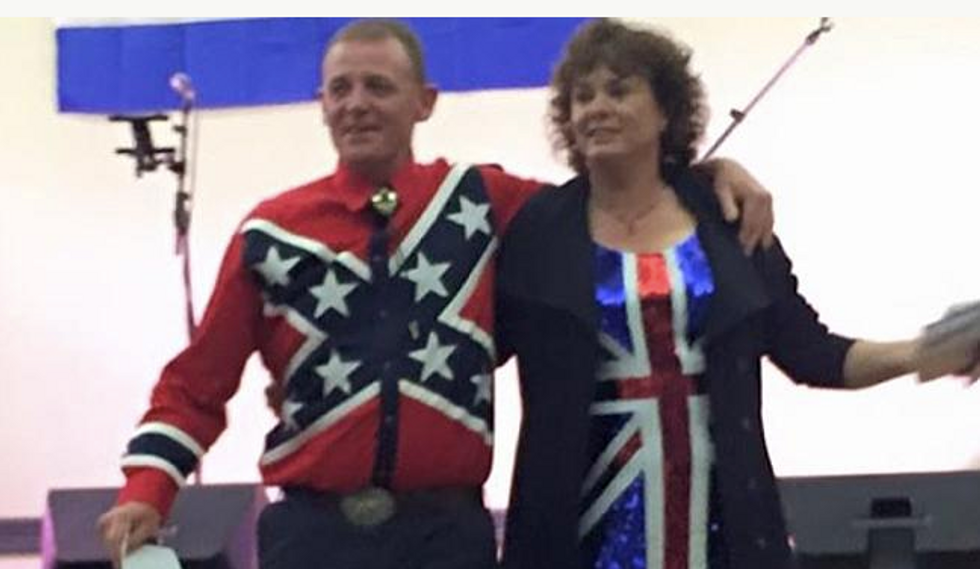 Image via Twitter @mitch_alison
Federal Indigenous Affairs Minister, Northern Territory Senator Nigel Scullion, told ABC that Coffey has apologized for wearing the shirt.
"What I understand from a letter from the department, which apologises for his lack of judgement, is that he was simply unaware of the circumstances that recently happened in the United States," Scullion told ABC. "I don't think he can behave any better than he has; he's unreservedly apologised for any offence given and that should be end of the matter."
A person who attended the event told NT News that Coffey didn't seem to intend to be controversial.
"But the fact is in his position he needs to be a little more thoughtful about these things," that person said. "He was a bit remiss not to consider it might offend people, especially so close to the Charleston massacre and the whole white supremacist thing over there."
The Confederate flag has been a contentious issue especially in the state of South Carolina in recent weeks after police say a 21-year-old fatally shot nine people at a historically black church in Charleston. The accused suspect of the slayings posed with the Confederate flag in photos he allegedly released online.
Since the incident, several Australians on Twitter have called for Coffey to be fired.
@TheNTNews This is absolutely outrageous, Mark Coffey should be sacked. There really should be a #cancoffey hashtag trending #auspol

— Northern Agenda (@northernagenda) July 6, 2015
Only in Oz. Indigenous Affairs Minister Mark Coffey actually thinks it's ok to still wear confederate flag shirt. pic.twitter.com/k4Q7rrqYwo

— Mitch Alison (@mitch_alison) July 6, 2015
I can't belief Mark Coffey didn't know what he was doing. He should be moved and dealt with. Appalling! http://t.co/hPYzyzLypn

— MegClark (@MargaretClark12) July 6, 2015
DISGUSTING! SACK Mark Coffey #headswillroll #fired https://t.co/vMVF5c9KBc

— Wayne Buchner (@wbuchner) July 7, 2015
Mark Coffey won the best-dressed prize at the Beef Breeders' dinner. Disgusting.

— Shane Bazzi (@shanebazzi) July 7, 2015