Amid plans to open a U.S. Embassy in Havana, 19 House Republicans are calling for another condition on normalized relations with Cuba: taking back more than 21,000 Cuban felons no longer serving time in U.S. prisons.
"These recent policy changes threaten the safety and well-being of the American people. Specifically, Cuba has and continues to refuse the acceptance and re-entry of Cuban illegal aliens who commit crimes in the United States," the GOP members said in a letter to President Barack Obama.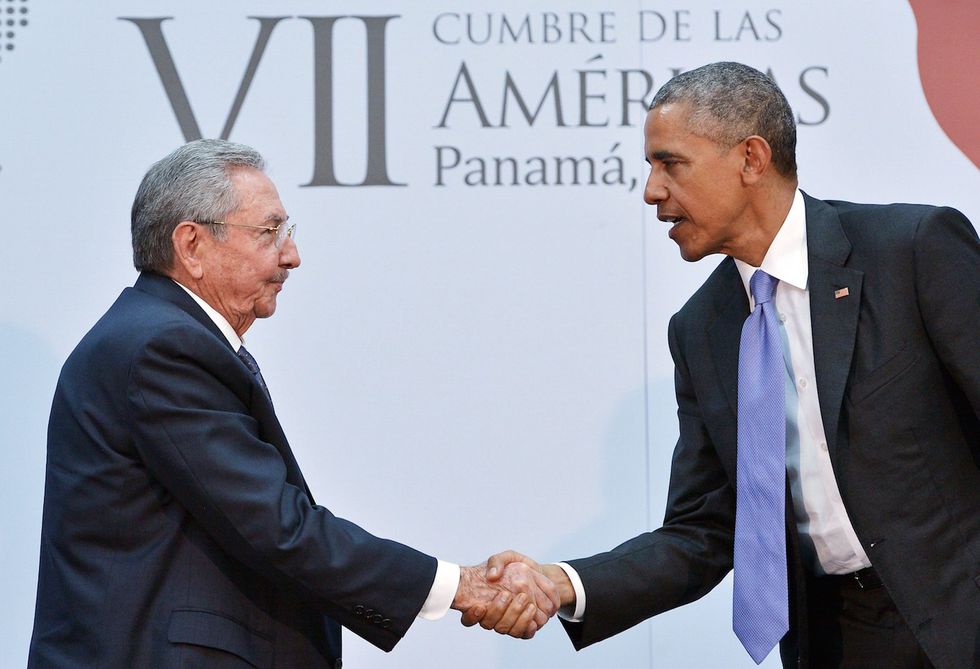 President Barack Obama shakes hands with Cuba's President Raul Castro during a meeting on the sidelines of the Summit of the Americas, April 11, 2015 in Panama City. (MANDEL NGAN/AFP/Getty Images)
"By failing to negotiate the removal of these dangerous criminals – our country continues to face threats from those who should have been returned to Cuba," the letter says.
The complaint by Republicans comes a week after Obama announced the United States would move forward in establishing an embassy in Cuba as part of broader normalizations with the communist country.
The letter was spearheaded by Rep. Diane Black (R-Tenn.) and cites a report by the Department of Homeland Security's enforcement and removal operations division, which tracked 21,096 criminals from Cuba in fiscal year 2012 classified as "ICE Threat Level 1." That's the highest threat level within Immigration and Customs Enforcement, meaning they were among the most dangerous convicted of an "aggravated felony," or convicted of two or more felonies.
The Supreme Court ruled in 2001 that after serving their prison sentences, these criminals cannot be held indefinitely in administrative custody. However, the Cuban government won't allow their entry back into the country.
"This is especially troubling as these criminal, who have been convicted of felonies are free to roam the streets of the United States," the letter states. "As a direct result of the Castro regime's blatant disregard for rule of law and refusal to accept re-entry of these criminals, they are free to live amongst our general public."
The letter was also signed by Republican Reps. Lou Barletta of Pennsylvania, Marsha Blackburn of Tennessee, Mo Brooks of Alabama, Curt Clawson of Florida, Scott DesJarlais of Tennessee, Stephen Fincher of Tennessee, Chuck Fleischmann of Tennessee, John Fleming of Louisiana, Trent Franks of Arizona, Bob Gibbs of Ohio, Louie Gohmert of Texas, Paul Gosar of Arizona, Andy Harris of Maryland, Jody Hice of Georgia, Mark Meadows of North Carolina, Ted Poe of Texas, Phil Roe of Tennessee, Matt Salmon of Arizona, and Lamar Smith of Texas.