A California couple found something near the train tracks in Union City Wednesday that immediately had them bringing it to the police. When officials got a look at what it was, they evacuated the nearby vicinity.
According to KPIX-TV, a woman went into the police station and had them come out to her car to see what looked like a "very large missile" that she said she found.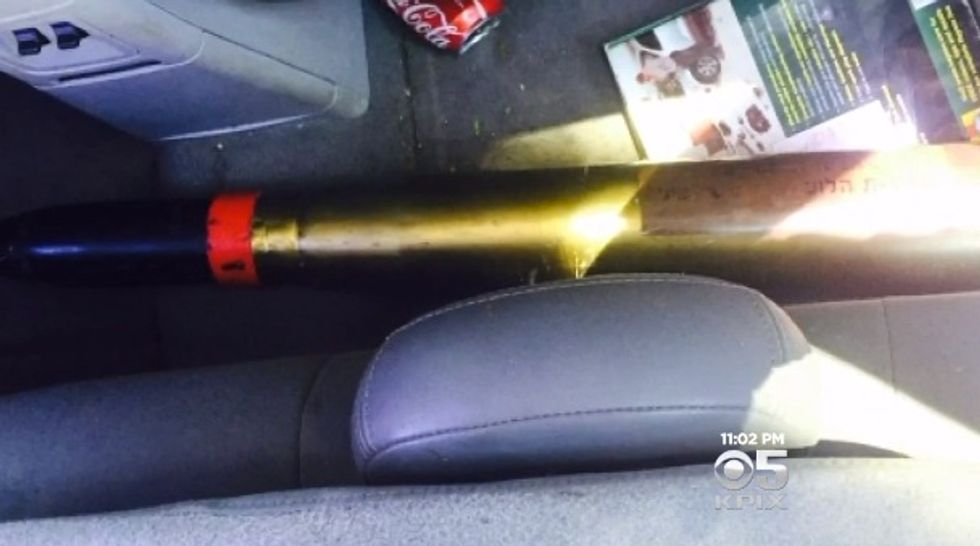 Officials estimated the round to be three to four feet long and weighing about 100 pounds. (Image source: KPIX)
Police evacuated the station, city hall and library after seeing it. The bomb squad from the Alameda County Sheriff's Office was brought in and determined the missile was actually a tank round. Initial reports said the round was live, but the San Francisco Chronicle reported that further testing revealed it was inert.
City Hall was evacuated at 1:30pm after an apparent artillery round was brought into #UCPD by a couple. Area is safe, Investigation ongoing.

— City of Union City (@UnionCity_Gov) July 9, 2015
KPIX reported that the investigation into the artillery is ongoing and noted that no other explosives were found in the area where the couple says they picked up the ammunition. It's still unknown how or why the round was near the train tracks.
In the future, police asked the public to leave possible explosive or suspicious materials where they are and call police rather than handle or transport them.
Watch KPIX's report about the incident: