The latest target date Iranian, American and other international negotiators have set for a nuclear agreement deadline — which could move yet again — is Friday: a day that coincides with an Iranian holiday known for drawing calls for the destruction of Israel.
At last year's commemoration of Iran's Al Quds Day holiday, hundreds of rallies were held around Iran during which demonstrators in Tehran were see carrying signs that read, "Death to Israel" and "Death to America."
Al Quds Day – which means Jerusalem Day — is marked on the last Friday of the Muslim holy month of Ramadan and includes widespread shows of support for the Palestinians and opposition to the existence of Israel. Rallies marking the day are also held in various cities around the world including in the U.S.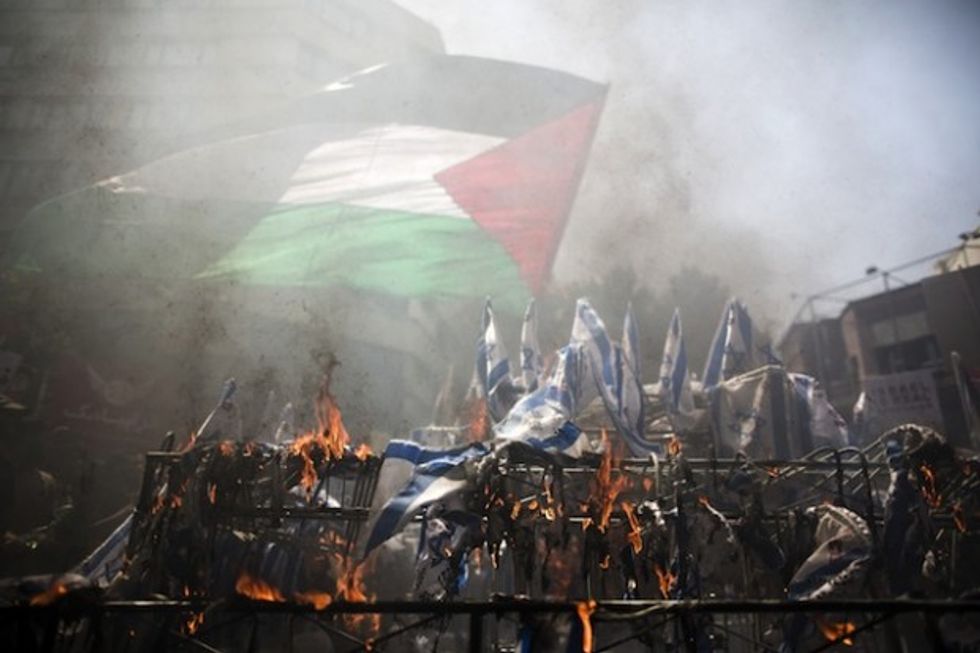 Iranian protestors wave a Palestinian flag over burning Israeli flags during a demonstration in Tehran on July 25, 2014 to mark the Quds (Jerusalem) Day. (Behrouz Mehri/AFP/Getty Images)
Negotiators on Tuesday again pushed their deadline to reach a comprehensive agreement by several days.
"The Islamic world must in unison declare this day one of anger, hatred, unity and resistance against Israel," President Hassan Rouhani said at last year's demonstration in the Iranian capital, which coincided with the summer war between Israel and Hamas.
Iran's Al Alam news site on Thursday quoted Rouhani saying that two issues heighten the importance of this year's Quds Day demonstrations: the nuclear negotiations, and the opportunity to "express their disgust at the Zionist regime [of Israel] and the terrorist forces."
The Jerusalem Post reported that Ayatollah Mohammad Taqi Vaezi, a member of Iran's Assembly of Experts, said Wednesday that shouting "Death to the Zionist regime" prevents Israeli "aggression."
A statement by Iran's Foreign Ministry also promoted the demise of the Jewish state, calling for Palestinians to "defend their rights, liberate their motherland and the Holy Quds [Jerusalem]."
Iranian officials have repeatedly called for Israel's destruction. The latest example came on Monday when former President Hashemi Rafsanjani said, "Israel is a fake temporary state. It's a foreign object in the body of a nation and it will be erased soon."