Sofia Mechetner, 14, has had a tough life.
With her parents divorced and her mother earning about $1,000 a month working various jobs, it's been up to the ninth-grader to pick up her younger brother and sister from school every day, cook them lunch, do laundry and clean the house.
When she has spare time, she also goes with her mother on housecleaning jobs to help out.
"I'm not spoiled," Mechetner said. "Together we all try to help so that it will be easier for our mom."
All of that changed last week, thanks to an unlikely string of coincidences that catapulted the girl with no experience to the top of the modeling world.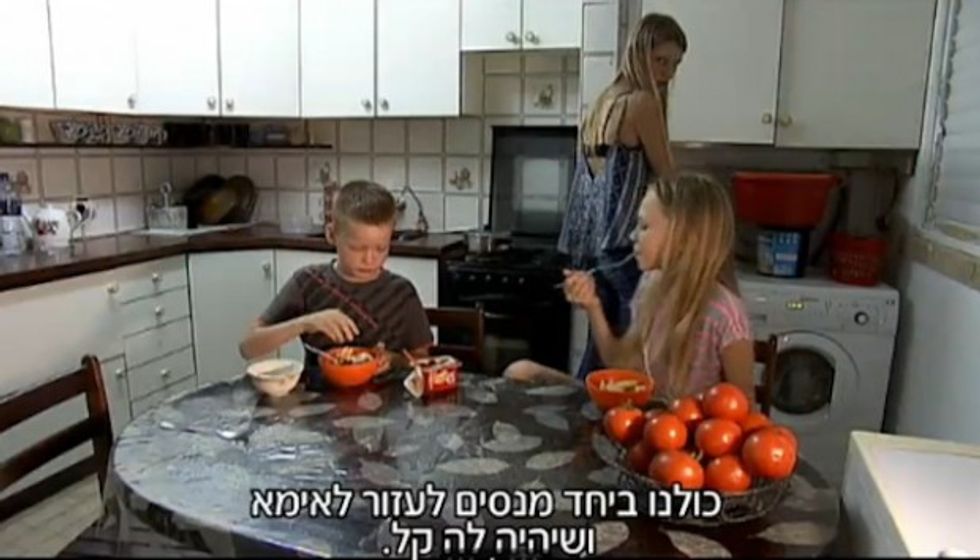 Sofia Mechetner, 14, cooks for her siblings until their mother gets home from work. (Image source: Channel 2)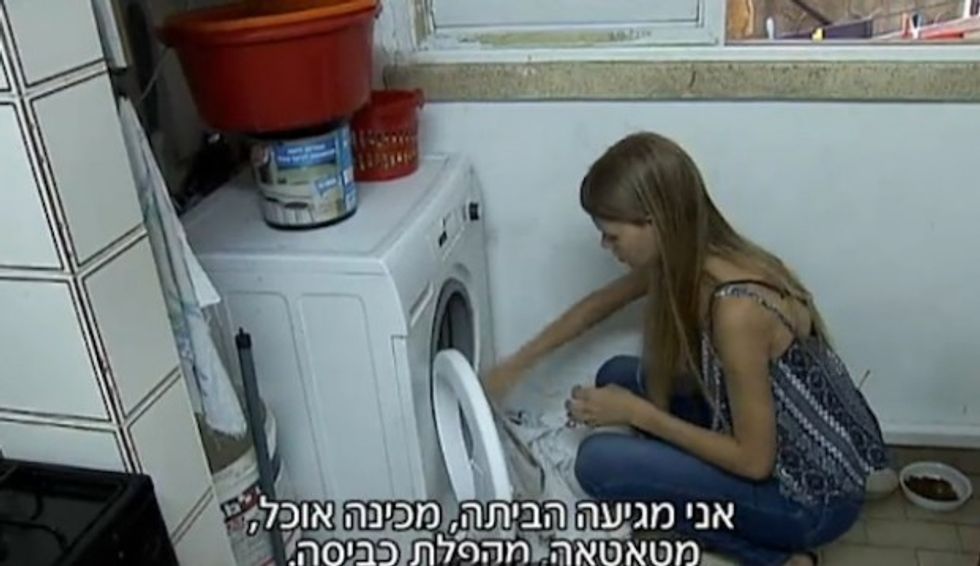 Sofia also does laundry, sweeps her apartment and helps at her mother's cleaning jobs. (Image source: Channel 2)
This weekend Mechetner showed Israel's Channel 2 the modesty of their abode in a Tel Aviv suburb where her mother sleeps in the living room and the three children share a small room. Her brother and sister sleep on a bunk bed, leaving her on a mattress on the floor that's too short for her 5'10" frame.
"It's good enough for me," Mechetner said, though she admitted she's embarrassed to invite friends over.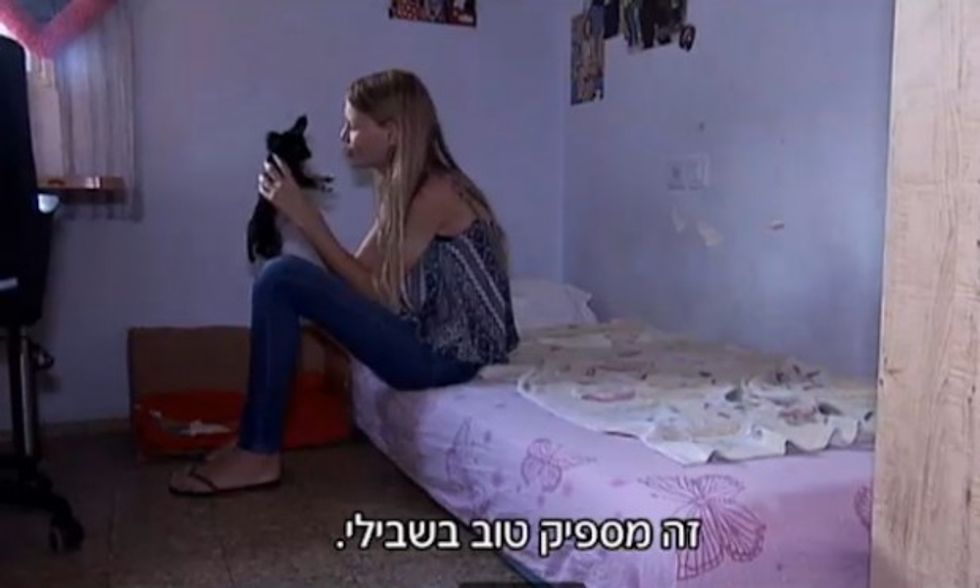 The teenager sleeps on a mattress on the floor in the room she shares with her brother and sister. (Image source: Channel 2)
Mechetner told Channel 2 that after being stopped in the street on numerous occasions by those asking if she played basketball or was a model, she decided to try her luck. Since she doesn't know how to play basketball, her mother took her to the Roberto modeling agency in Tel Aviv to see if she had any potential.
She was signed immediately, and the agency made the unusual decision to send her to Paris before she'd had any experience in Israel.
Accompanied by Rotem, an agency representative, she soon took her first plane ride last month to the French capital. But once there, she was quickly rejected by the modeling agency, being told she was too young.
With a little more than a day of free time left, the pair toured Paris where they stumbled upon the Christian Dior store.
"We enter the shop and none other than the legendary Raf Simons [creative director at Dior] was standing by the register," Rotem recalled. "I said, 'Sofia, do you know who that is?' I grabbed her hand. 'You have no idea who this is.'"
Exhibiting some Israeli "chutzpah," Rotem approached Simons and asked for a photo together.
She also told him why they had come to Paris. He took her contact information, but Mechetner was sure he was just being polite.
A few hours later, the same Paris agency that had just rejected her got a call from Dior asking for a "Sofia from Israel." The agency was told that Raf Simons met her and wanted her to on the catwalk at its July Fashion Week show at the Rodin Museum.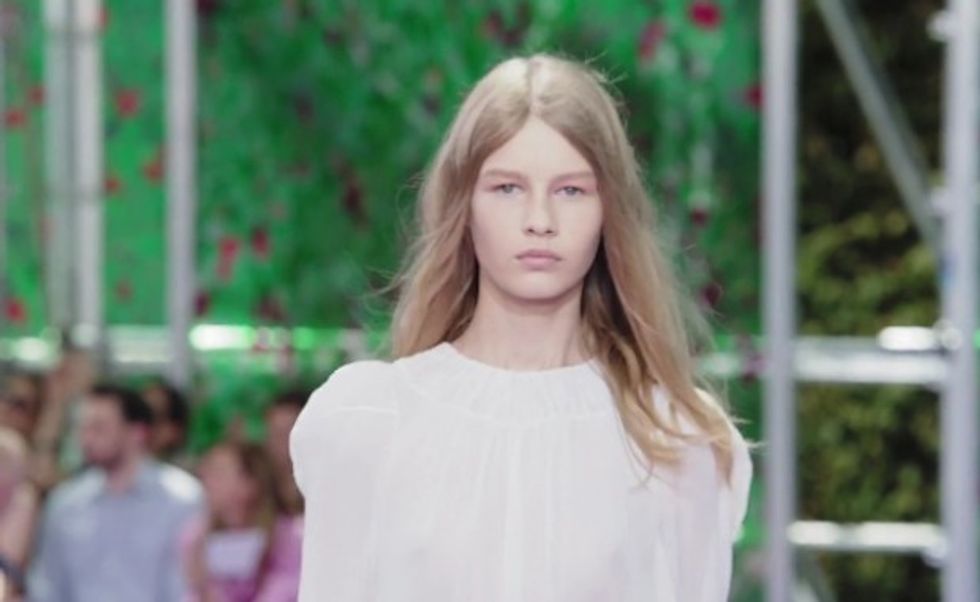 Sofia Mechetner was the first model on the runway at Dior's Fashion Week show in Paris after an unlikely meeting with the fashion house's creative director. (Image source: YouTube/Christian Dior)
Though she'd never participated in a fashion show, she soon got the even more startling news that Dior wanted her to be the "presenter," the coveted position of first model out on the runway as seen in the highlights video of the show:
For that job, she was offered a million shekels, or $265,000 — approximately 22 years of paychecks for her mother.
Mechetner says the first thing she's going to do with the money is move with her family to a new apartment.
"I expect to get my own room and a big living room and a nice kitchen and a clean bathroom," she said.