LONDON — I have seen the future of men's tennis...and his name is Reilly Opelka. (See the above editor's note about about my complete lack of impartiality.)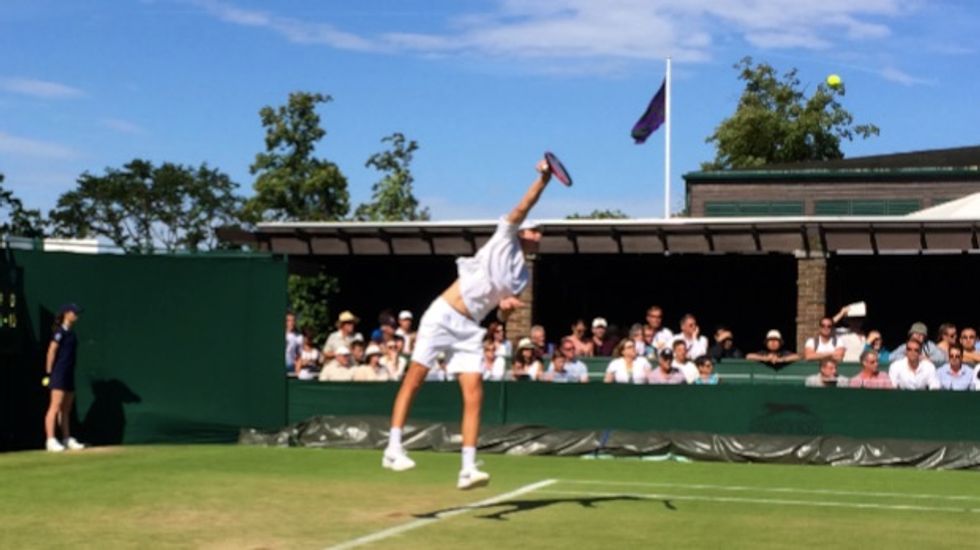 Image source: TheBlaze/Mike Opelka
As the men's final was heating up Sunday on Centre Court, the boy's championship match was wrapping up on Count 1, the venue adjoining Wimbledon's biggest stage.
It was on Court 1 that 17-year-old Reilly Opelka, an unseeded junior appearing in his first Wimbledon tournament, completed an unlikely week that saw him knock off the number-10 seed, the number-3 seed and the number-1 seed en route to beating the number-12 seed, Mikael Ymer of Sweden, 7-6, 6-4.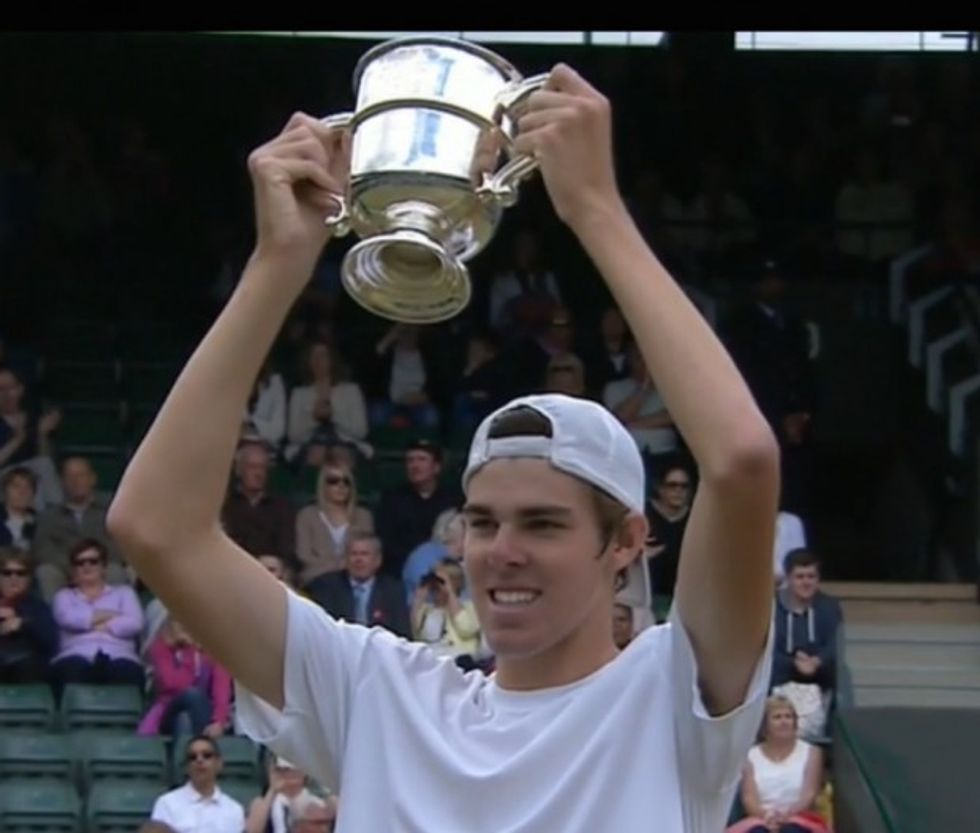 Image source: ESPN
The junior division win was important for American tennis, as this was the second consecutive year an American junior won the boy's division at Wimbledon. Last year, Noah Rubin took home the title.
These junior titles often are considered indicators of future success in the men's divisions. Earlier this year, American Tommy Paul won the French Open junior title, yet another signal of a resurgence in American men's tennis.
Opelka's parents, George and Lynne, along with his sister, Brenna, were on hand to witness the big win for the young man from Palm Coast, Florida, who stands 6 feet 10 inches tall.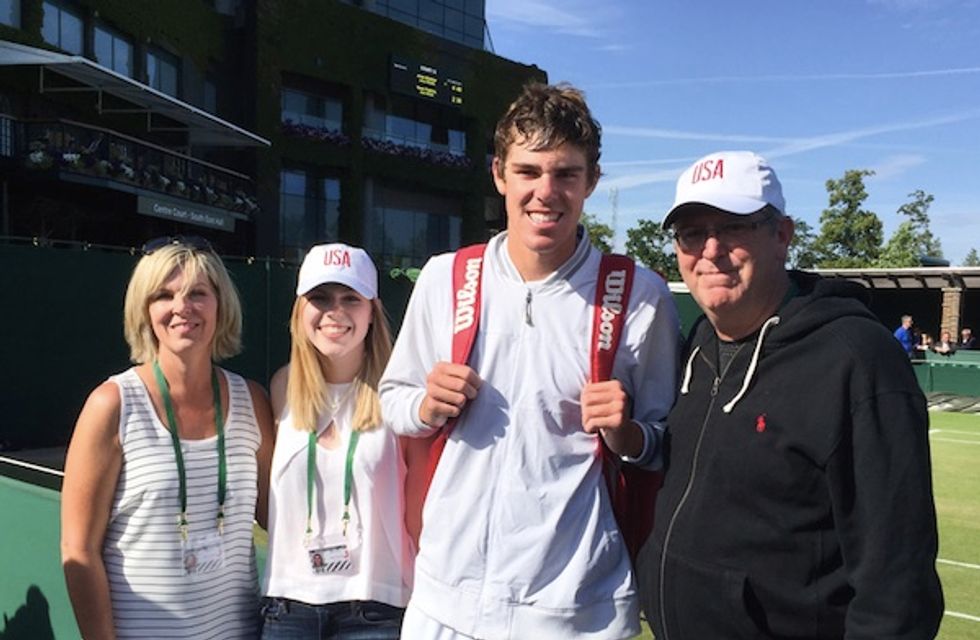 Image source: TheBlaze/Mike Opelka
Early Sunday, Opelka's mom Lynne reminded her Facebook friends of the time in 2007 when a younger (and much shorter) Reilly met one of his tennis idols, Roger Federer, at a tournament in Cincinnati.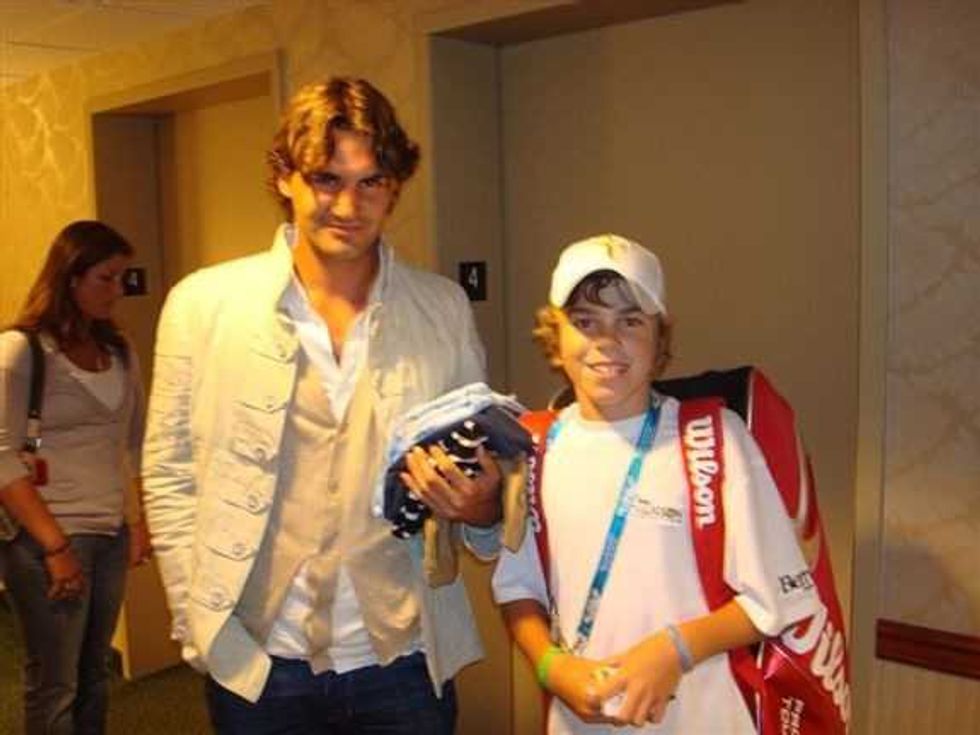 Tennis icon Roger Federer (left) with Reilly Opelka. (Image source: Lynne Opelka)
Then after Reilly's big win and Federer's loss in the men's final Sunday, the pair reportedly connected again in the Wimbledon player's lounge. "He was very kind and very gracious, even though you know he was upset that he lost," Opelka told FlaglerLive.com of his chat with Federer.
My favorite moment from today's tennis action (not including his triumph) was the moment immediately after Reilly's match had been decided. As my nephew watched his opponent's shot sail wide, giving him the win, his next move was quite telling: There was no brash celebration, no screaming. Instead Reilly spun on his heels and immediately looked up into the stands where his mother, sister and father were seated. He smiled broadly, pumped his fist and gave them a "thumb's up" sign.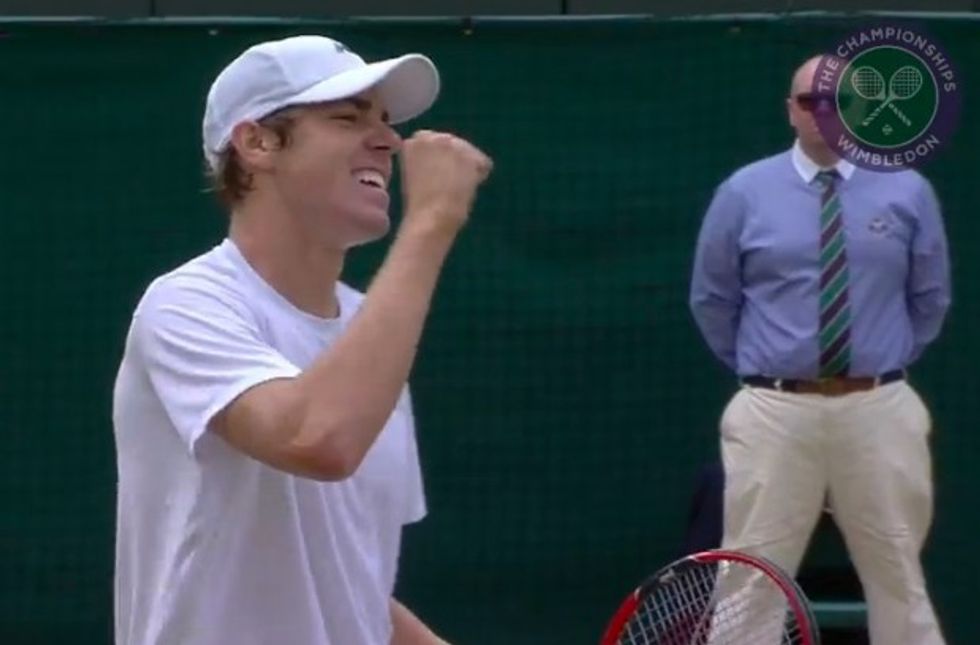 Image source: YouTube/Wimbledon
In addition to scoring his first grand slam win in singles at Wimbledon, Opelka and his doubles partner, Japan's Akira Santillan, made it to the finals in that group as the fourth seeds. About ninety minutes after winning the boy's singles title, Opelka took the court with Santillan — but the pair lost to the 8th seeds in straight sets, 7-6, 6-4.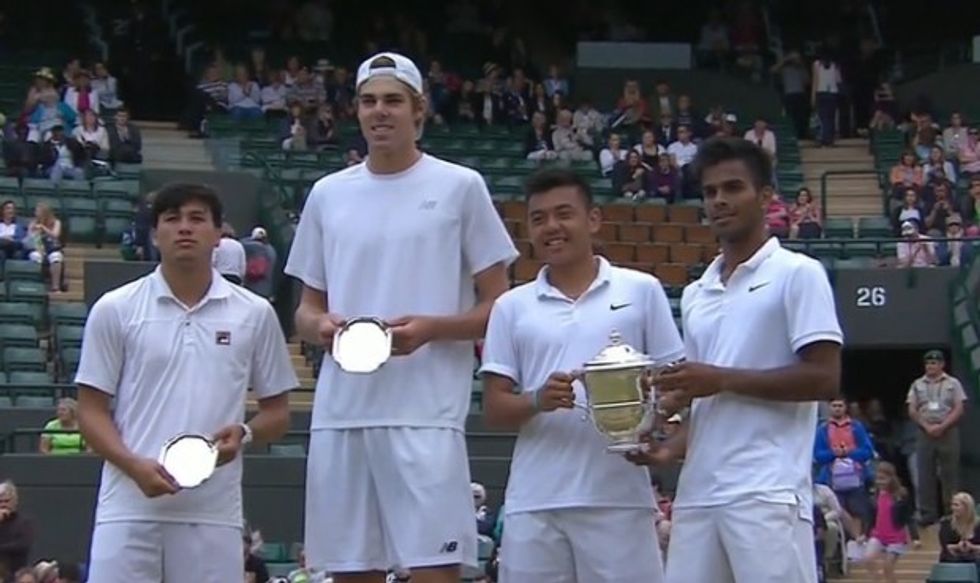 Image source: ESPN
What's next for Opelka? According to his parents, the immediate future includes stops at an upcoming tournament in Michigan and the U.S. Open in late August.
Watch highlights from Opelka's championship match.
See more of TheBlaze's coverage of Wimbledon here.
__
Follow Mike Opelka (@Stuntbrain) on Twitter.