Hillary Clinton said Monday that her presidency would be devoted to ensuring a "growth and fairness economy."
"We must raise incomes for hardworking Americans," Clinton said in her first policy speech since launching her bid for the Democratic presidential nomination. "That will be my mission from my first day as president to the last."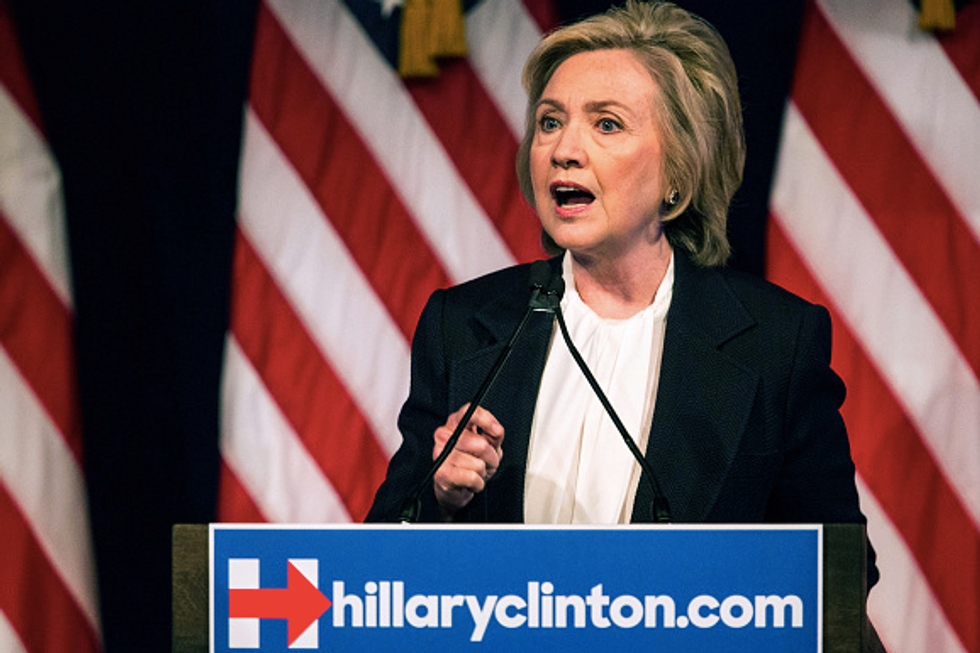 Democratic presidential candidate Hillary Clinton speaks at the New School on July 13, 2015 in New York City. Clinton used her first major policy speech to outline her economic vision for the U.S., including a fight for higher wages. (Andrew Burton/Getty Images)
The former secretary of state introduced points for her economic agenda that she promised to speak more about during the week. She defended President Barack Obama's economic record, and criticized large companies for thinking about short-term gains, which she said come at the expense of longterm growth.
Clinton talked about several ideas she has mentioned before, such as early-childhood education, an increased minimum wage and defending Obamacare. The newest idea she pledged explain more about this week was boosting incentives for companies to provide profit-sharing to employees.
"I will propose ways to encourage companies to share profits with their employees," Clinton said. "That will be good for workers and good for business. Studies show profit-sharing that gives everyone a stake in a company's success can boost productivity and put money directly into employees' pockets. It's a win-win."
Clinton faces an awkward situation as a Democratic presidential candidate arguing for higher wages, amid slow wage growth during the Obama administration.
As the leading Democrat in most polls, Clinton gave a glimpse as to who she has narrowed her expected Republicans opponents down to, targeting former Florida Gov. Jeb Bush, Florida Sen. Marco Rubio and race newcomer, Wisconsin Gov. Scott Walker.
"You may have heard Governor Bush say last week that Americans just need to work longer hours. He must not have met very many American workers," Clinton said to applause.
Bush spoke last week about underemployment and not enough few full-time jobs. Clinton talked about nurses, truck drivers and fast-food workers logging on long hours, and said, "They don't need a lecture—they need a raise."
Walker, who formally announced Monday morning, was also in her crosshairs.
"Republican governors like Scott Walker have made their name by stomping out worker's rights," Clinton said. She added, "If we want to get serious about raising incomes, we have to get serious about supporting union workers."
She further said that Rubio's tax plan is a "budget-busting giveaway" to the wealthy.
After taking shots at her opponents though, Clinton sounded conciliatory.
"We have to break out of the poisonous partisan gridlock and focus on the long term needs of our country," Clinton said.