The Oklahoma Republican Party has come under fire for an "insulting" Facebook post that compared food stamp recipients to animals.
The post, published Monday night but removed by Tuesday, read: "The Food Stamp Program, administered by the U.S. Department of Agriculture, is proud to be distributing this year the greatest amount of free Meals and Food Stamps ever, to 46 million people."
"Meanwhile, the National Park Service, administered by the U.S. Department of the Interior, asks us 'Please Do Not Feed the Animals.' Their stated reason for the policy is because 'The animals will grow dependent on handouts and will not learn to take care of themselves.' Thus ends today's lesson in irony #OKGOP," it concluded.
The liberal blog ThinkProgress published a screenshot of the Facebook post before it was deleted: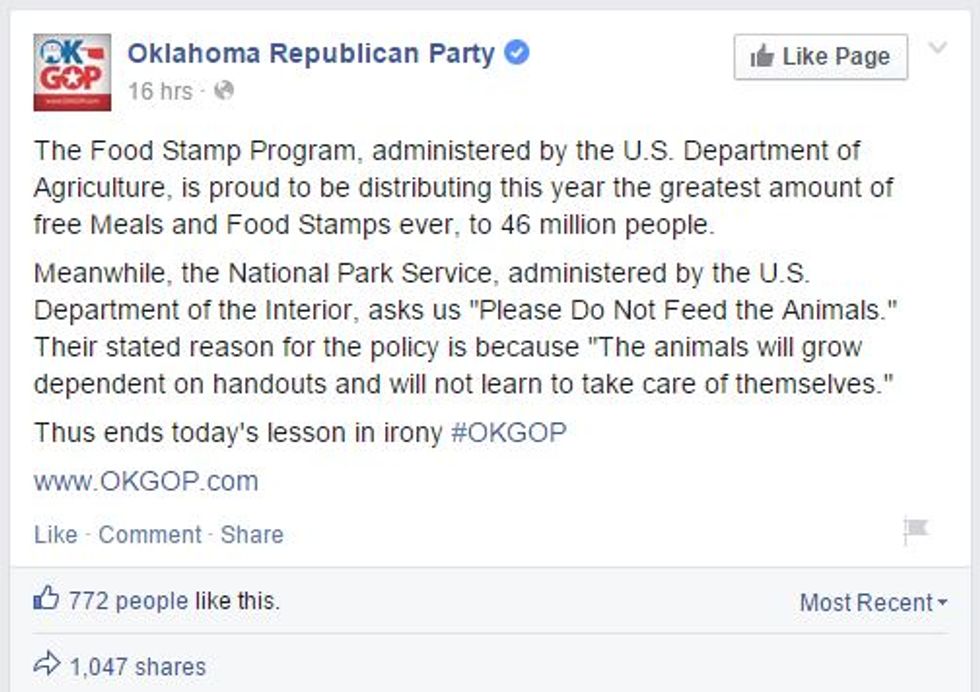 Image source: Think Progress
The Facebook post drew more than 1,400 comments and 1,600 shares. Both liberal and conservative commenters criticized the message, according to KFOR-TV.
"As a conservative I will say plainly that this is in awful taste," one user wrote. "It's a disgrace and the comparison made in this post is beyond offensive. It takes away from legitimate discussions regarding welfare. It's counterproductive."
Oklahoma House Democratic Leader Scott Inman also released a statement in which he said called the comparison "insulting" and "degrading," KFOR reported.
"Certainly we should do all we can to reduce the number of our citizens – children, seniors, working mothers and others – who receive food stamps," Inman said. But to compare them to animals is insulting, degrading, and not at all in the spirit of Christ."
The Oklahoma Republican Party responded in an apology post Tuesday, saying its previous post was "misinterpreted by many" and that the intention was not to offend anyone.
"This post was supposed to be an analogy that compared two situations illustrating the cycle of government dependency in America, not humans as animals," the post read, in part.
(H/T: KFOR-TV)
–
Follow Jon Street (@JonStreet) on Twitter