People hoping to get some fried chicken from the deli of a Florida grocery store after work earlier this week saw their way blocked by a fight already in progress.
"I was going to get some spinach. I came back around towards the chicken tender case, to get some (because Publix chicken tenders are delicious), and saw this happening. I immediately whipped out my phone and took a video," a person who posted the video on YouTube Monday wrote.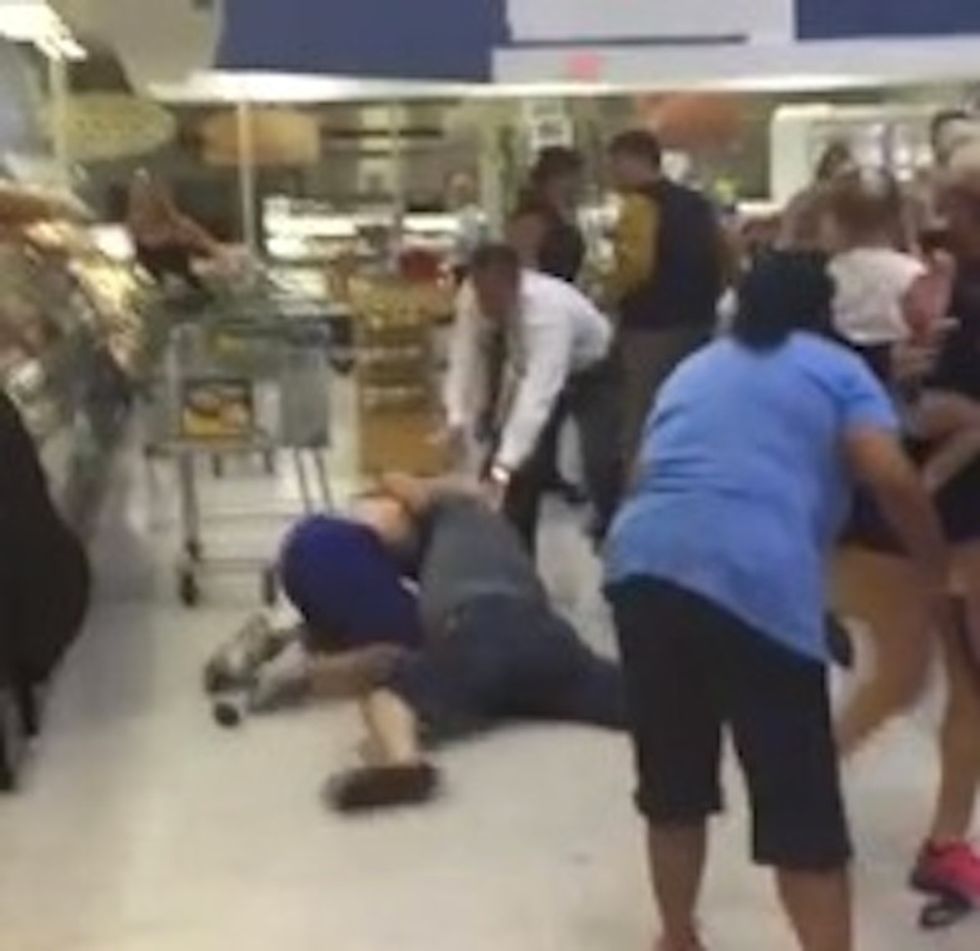 Image source: YouTube
The incident apparently took place at Baldwin Park, Florida, Publix store. It's unclear officially what started the fight, but two men were caught punching and wrestling each other in near the deli case.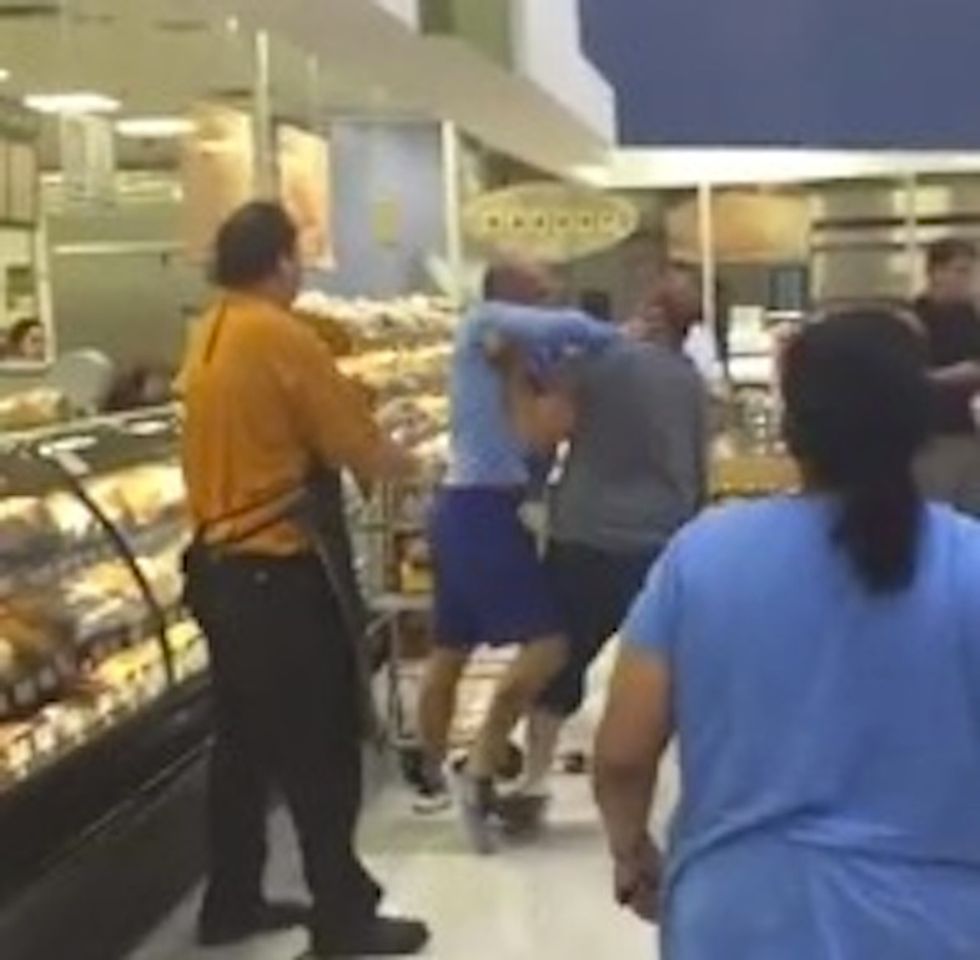 Image source: YouTube
"Are you f***ing out of your mind? That's my pregnant wife," one of the brawlers said as a Publix employee in a green shirt and black apron stepped between the men, effectively breaking up the fight.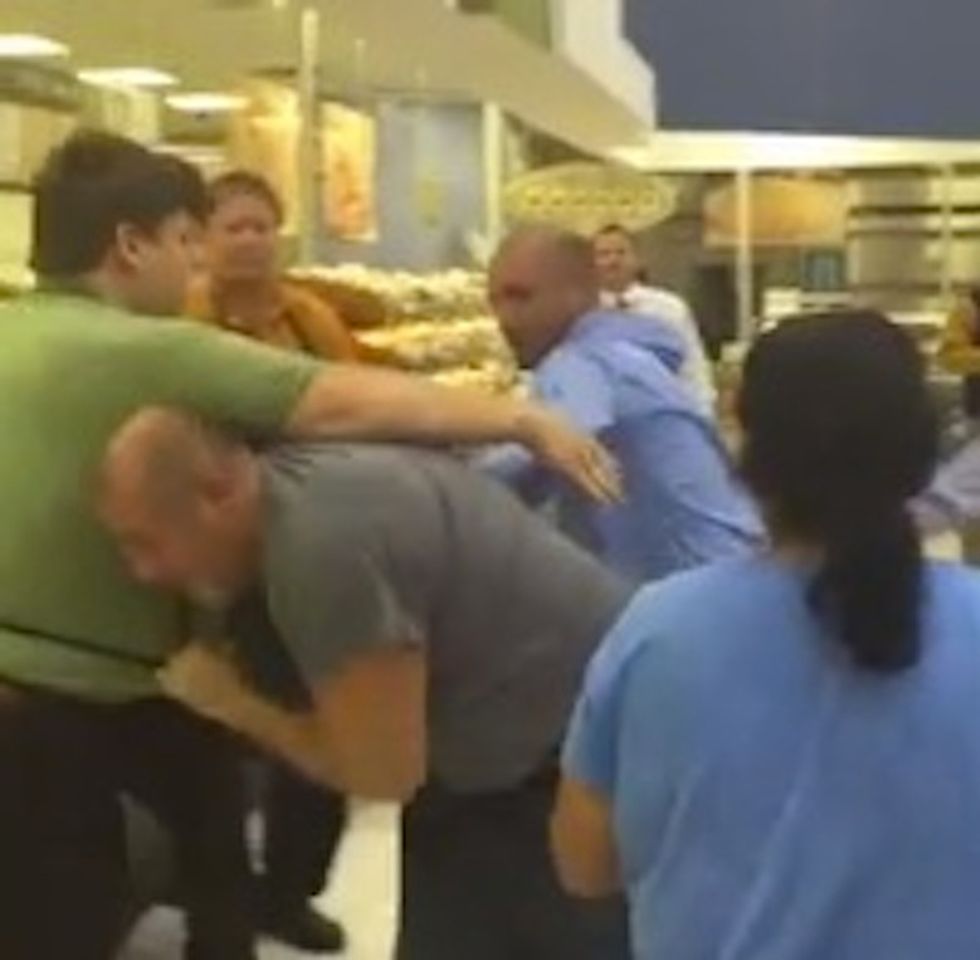 Image source: YouTube
Watch the footage (Content warning: strong language):
Publix spokesman Brian West told WKMG-TV that he didn't know what caused the fight to break out, but said "we're thankful that neither the customers near the incident or our associates were injured."
Someone posted a comment on the Reddit thread about the video saying they found more information about the incident that popped up in their Facebook newsfeed (so take the source for what it's worth):
Well I am on my way home from work minding my own business. I stopped at Publix to pick up some fried chicken for dinner. I park get out of my car and step right in the middle of a 50 year old man verbally assaulting a 9 month pregnant woman and her 16 month old daughter. I immediately go over to calm the woman down and make sure the guy didn't physically come after her and calm the little baby down. She is holding her stomach and then the guy starts verbally assaulting me. Well anyone who knows me knows I didn't just stand there and take it! The jerk proceeds into Publix and is three guesses at the deli where my chicken is. Before I know it her husband shows up and all hell breaks loose. Deli counters are moving, glasses flying and curse words worse than a sailor were flying. Police are called, people standing around video taping the fight. All the men are just standing around looking while I am screaming for someone to break it up! So police don't show and I leave my name with the manager.
The Orlando Police Department did not immediately respond to TheBlaze's request seeking more details on the incident.