It seems a grassroots organization advocating for a Bernie Sanders presidency has been bamboozled by a photo circulating social media.
The People for Bernie Sanders, a group of "activists and organizers building a broad, effective movement for democrat change," posted a photo to their Instagram account of two young women holding up Sanders signs with the caption, "These posters are the best!"
The problem? The women were actually a part of a larger group that protested the 2016 Democratic presidential hopeful last week in Northern Virginia.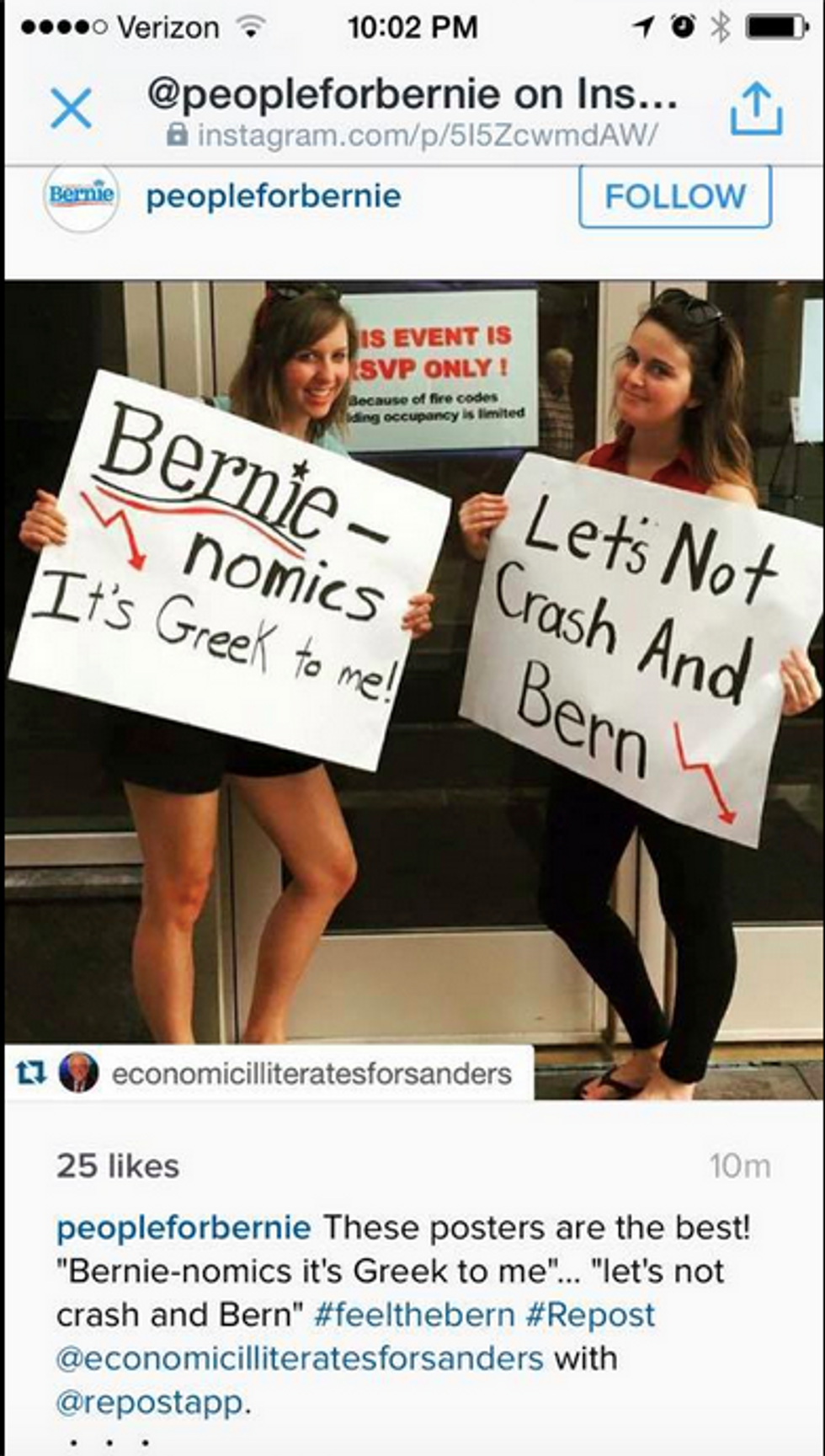 Image provided to TheBlaze
"Bernie-nomics. It's Greek to me!" read one sign, a play on the current economic crisis in Greece.
"Let's not crash and Bern," read the other sign.
The photo was eventually removed from The People for Bernie Sanders Instagram account, but not before screenshots were shared on social media.
As for the young women in the photo, they both told TheBlaze they were amused by the unusual attention they received from the pro-Sanders camp.
"I laughed when I saw that Bernie Sanders supporters praised my sign; they apparently misunderstood it," Emily Larsen, a 23-year-old conservative activist told TheBlaze. "The confusion of Bernie supporters over the meaning and intention of a protest sign is reflective of their flawed understanding of economics as a whole."
Larsen added that she found it humorous that the Sanders group used the hashtag "#FeelTheBern" as, according to her, "we will definitely feel the crash and burn of the economy with Sanders' socialist policies."
"I think the social media mishap with the Bernie Sanders support group just goes to show that not only do they not understand how markets work, but also how out of touch they are with global events and their own candidates platform," Caitlin Grimes, a digital strategy intern with a non-profit in D.C., and the other woman in the photo, told TheBlaze.
TheBlaze reached out to The People for Bernie Sanders, but did not receive a response.
Here is a sampling of some other photos, presumably of actual Sanders supporters, on the Instagram account: