Tuesday night, before Major League Baseball's All-Star Game in Cincinnati, four former members of the Cincinnati Reds were saluted during an on-field tribute. Among the honorees -- called the "Franchise Four" -- Johnny Bench, Joe Morgan, Barry Larkin and Pete Rose.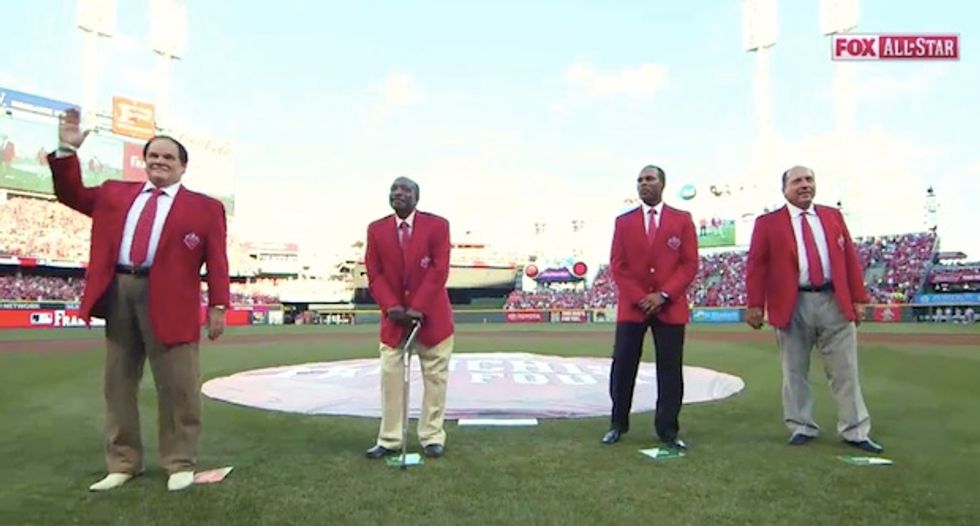 Image source: YouTube
The inclusion of Rose, baseball's all-time leader in hits, marked the first time in years he has been welcomed on the field at a major league game.
In 1989, three years after he retired as a player, Rose faced serious allegations that he was gambling on sporting events, including Cincinnati Reds games. Rose and the league agreed that he would be "permanently ineligible" or banned from baseball.
Two years later, the Baseball Hall of Fame ruled no player declared "permanently ineligible" could be nominated for induction. This action would appear to forever ban one of the game's greatest hitter from ever being enshrined in Cooperstown.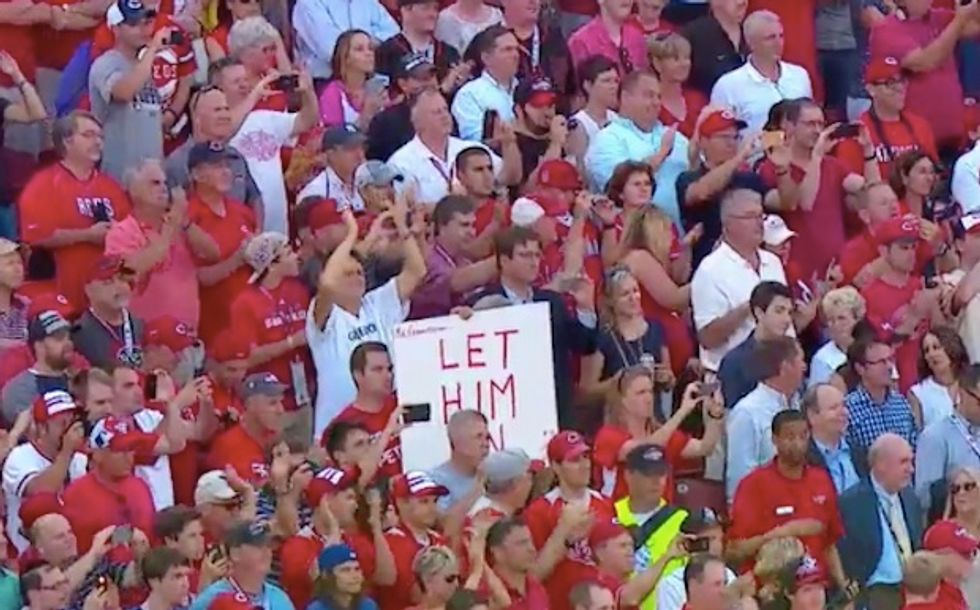 Image source: YouTube
In recent years, sentiment about Rose and the lifetime ban appears to have softened. Last night's inclusion in the pre-game tribute and the warm welcome Rose received from baseball fans has once again sparked discussion about reinstatement of the former star.
Watch the clip.
After the tribute, Fox Sports' Ken Rosenthal spoke with an obviously ebullient Rose. The two discussed the warm welcome from the fans and Rose's excitement about meeting the new commissioner, Rob Manfred, at the game. Back in March, Rose formally petitioned the commissioner for reinstatement.
Watch the Fox Sports exclusive:
Should Pete Rose be reinstated and allowed to be inducted into baseball's Hall of Fame? Take our Blaze Poll and add your comments below.
__
Follow Mike Opelka (@Stuntbrain) on Twitter.