When a security guard and a homeless man began to scuffle, Philadelphia's mayor stepped in.
WPVI-TV reported that the "unusual situation" took place while Mayor Michael Nutter (D) was speaking with staff members at the Municipal Services Building Tuesday, supposedly far away from where homeless people usually gather. A cell phone video, obtained by the news station, shows one of Nutter's security guards attempt to grab an irate homeless man before the two fell to the ground during the altercation.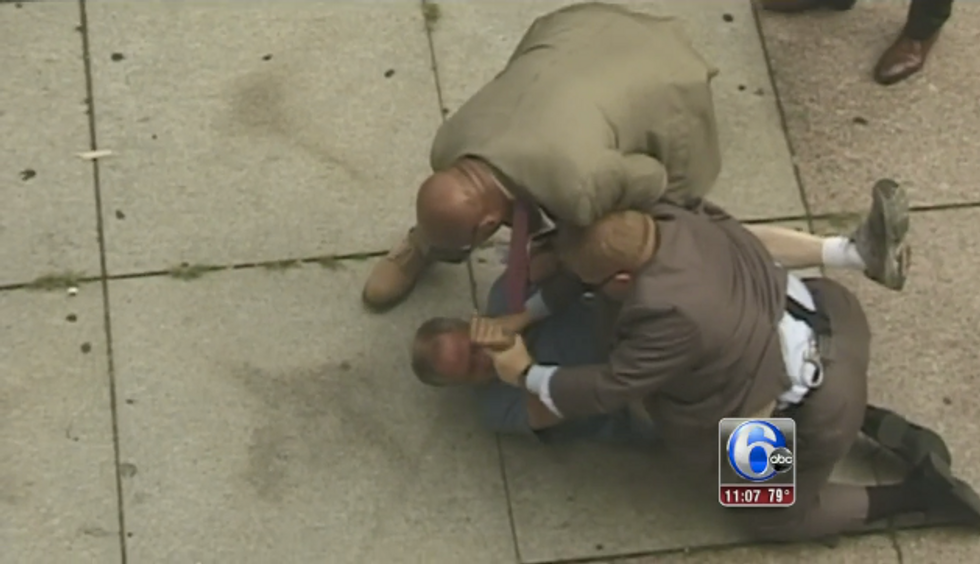 Image source: WPVI-TV
It was then that Nutter, who WPVI called "the most powerful man in Philadelphia," stepped in. Nutter can be seen in the video attempting to pull the homeless man off of the security guard, subduing him and telling him to "stop" multiple times.
"My main role here, quite frankly, was to really just try to calm him down and have him understand that no one's here to do anything to you; this is not about you," Nutter told WPVI, adding that he did not feel threatened during the altercation.
Mark McDonald, Nutter's press secretary, told TheBlaze that the homeless man, who identified himself to WPVI as George Creamer, was shouting and cursing as he approached the mayor and the group.
Creamer, 56, reportedly, was there to try to talk to the mayor about what will happen to the homeless people in the city when Pope Francis arrives in September, as they will not be allowed onto a parkway where many of them — including Creamer — sleeps.
"No, I'm not a violent person, no not at all, and that's why I'm not in jail cause they know me," Creamer told WPVI.
McDonald told TheBlaze that two other homeless men approached the group and removed Creamer from the area.
No injuries were reported.
As for where Creamer and the other dislocated homeless people will sleep while the Pope is in town, McDonald simply said "when details are available, we will make them public."
Meanwhile, Nutter is set to embark on an excursion to Germany and Israel over the next week. In Germany, the Democrat will establish a new "Sister City" relationship with Frankfurt before heading to Tel Aviv to promote his city to Israeli companies.