Vice President Joe Biden hasn't entered the Democratic presidential campaign, but almost seemed to take a shot at leading Democratic contender Hillary Clinton massive fundraising machine. He then explained he wasn't talking about anyone in particular.
Biden said in his remarks Thursday that he understood Democrats didn't want to unilaterally disarm against Republicans, but could control money within the party.
"Folks, we ought to start in our own party," Biden said at the Generation Progress National Summit in Washington. "You ought to be demanding of all of us, because at least in our own party fights among ourselves, in primaries, that we adhere to a policy that doesn't rest on millionaires and billionaires."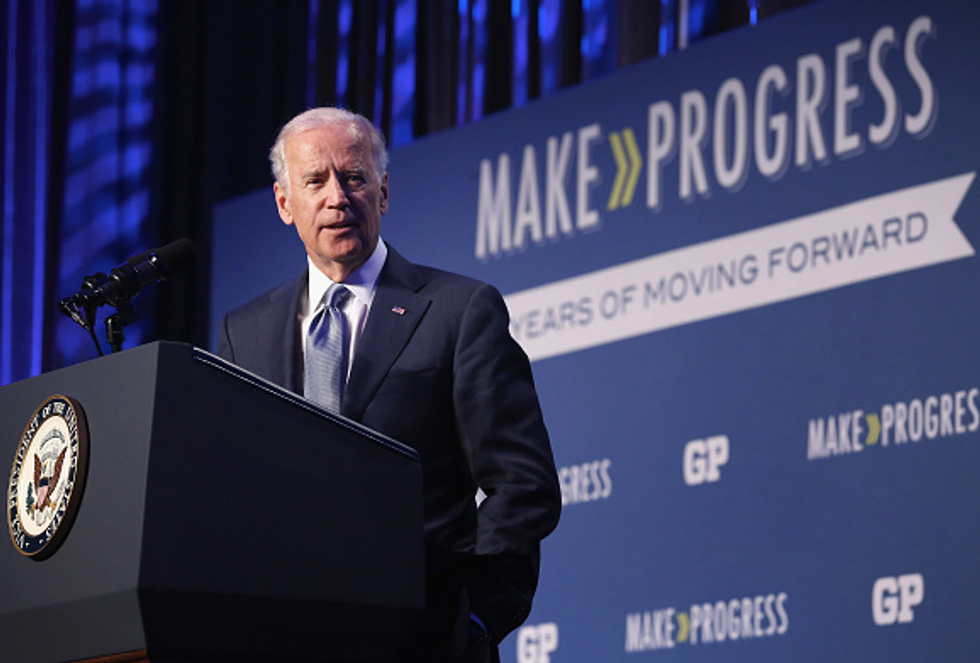 Vice President Joe Biden addresses the 10th annual Make Progress National Summit at the Walter E. Washington Convention Center July 16, 2015 in Washington, DC. Hundreds of youth leaders, student activists, and organizers gather for the convention which is organized by Generation Progress, the youth engagement arm of the liberal think tank Center for American Progress. (Photo by Chip Somodevilla/Getty Images)
The Clinton campaign raised $46.7 million, according to Federal Election Commission numbers released this week.
"The first place you've got to start is the Democratic party," Biden continued. "No matter how much you love me or somebody else, you have to demand of us that we demonstrate we understand. We can do something about the corrosive impact of massive amounts of money. We can demand that people who we support don't yield to millionaires and billionaires. Take their money in limited amounts. What are we doing?"
Biden, known for going off script, seemed to acknowledge that his remarks would be perceived as taking a swipe at Clinton.
"I know a lot of people are going to read into this part of what I'm saying something I'm not intending," Biden said. "I'm not talking about any individual. I really am not."