In the aftermath of the deadly attacks against military personnel in Chattanooga, Tennessee, it was suggested on Fox News and far-right websites that a Twitter account associated with the Islamic State tweeted out a warning before the shooting actually occurred.
That claim appears to be false.
Using the "#Chatanooga" hashtag, the tweet in question warned Americans that "soon" they "will see wonders." The tweet featured an image of a masked man holding a knife and looking straight into the camera.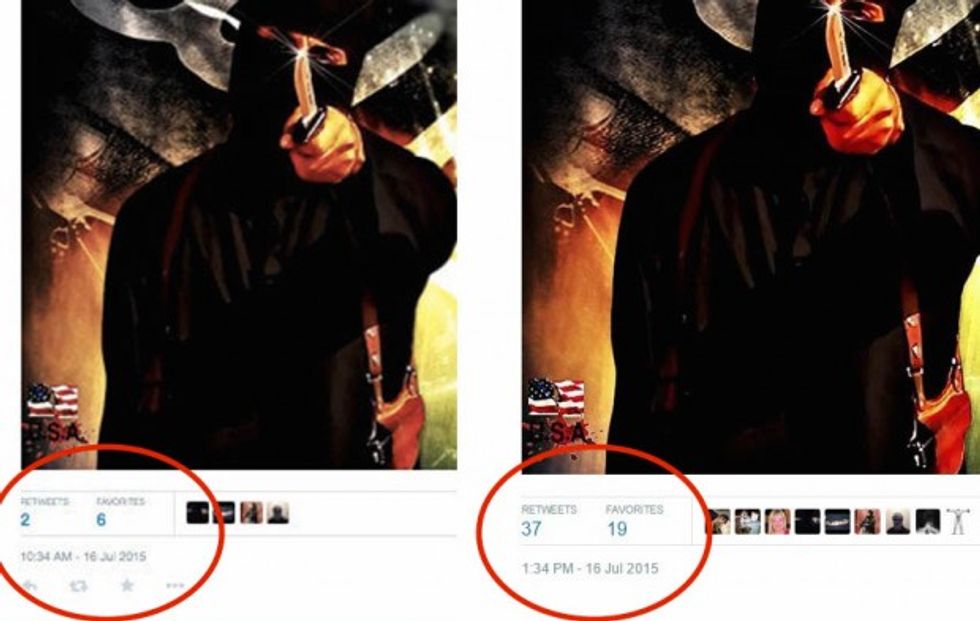 Image source: Twitter / TheBlaze
The screen grab which circulated on social media showed the tweet as having a time stamp of 10:34 a.m. — which would have been before the attack actually took place.
But, the tweet only featured that time stamp because it was captured by someone on the west coast. As noted by Mediaite, and others, if logged into Twitter from the east coast, the tweet showed a time stamp of 1:34 p.m., revealing it was published in the aftermath of the attack.
Some claiming ISIS supporter tweeted before #Chattanooga attack. Not true. Tweet in question came at 1:34 p.m. ET. Shooting hours before.

— Brian 💸 Ries (@Brian 💸 Ries) 1437078720.0
But, that didn't stop Fox News from reporting it on-air multiple times throughout the day. Reporter Catherine Herridge appeared on several programs on the cable-news network and pointed to the tweet.
"They're doing a forensics scrub of the suspect's social media footprint and they're also looking at the messages that are out there from ISIS. What we know this evening is that there are a series of messages with a very specific timestamp of 10:34. You see it right there. That's important because it came, based on the time stamp, 11 minutes before the attack took place and, when you read the script, it seems to have had foreknowledge of what was going to come in Chattanooga," she reported in one appearance, according to a transcript from Mediaite.
"Special Report" anchor Bret Baier used the tweet to open up a panel segment.
"Like that [Garland, Texas] incident, there was also Twitter activity before this shooting in Chattanooga. This is from an ISIS-tied account on twitter and it came at 10:32. By all accounts, the shooting started at 10:45 a.m. Obviously, raising a lot of questions. We'll start there, with what we know," he said.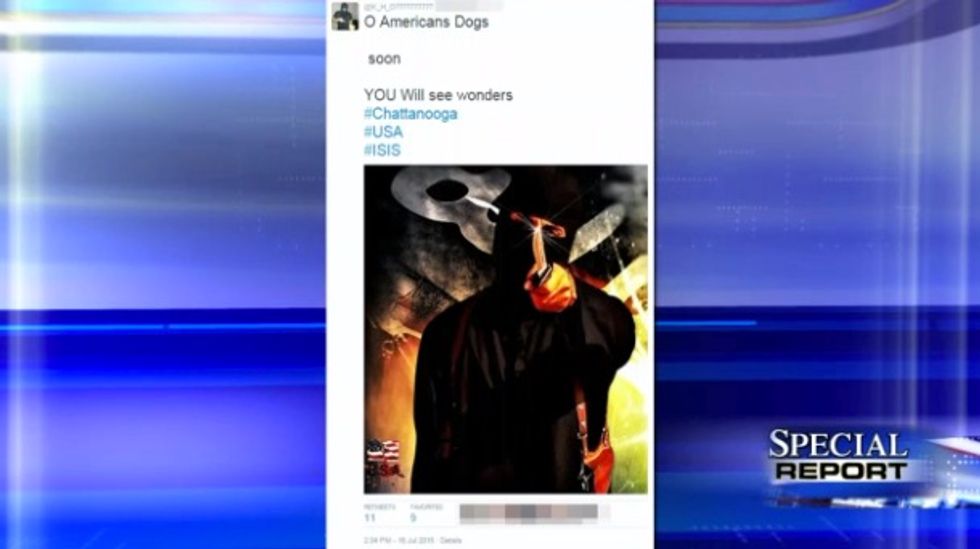 Image source: Fox News
When asked if Fox News planned on issuing a retraction, a spokesperson for the network declined to answer.
The Fox News representative would only point to a transcript of Herridge's appearance on "The O'Reilly Factor" where she walked back her earlier reporting (after host Bill O'Reilly alluded to the tweet in his Talking Points Memo). In her appearance, Herridge said "there are now some questions about whether that time stamp is real accurate."
A formal retraction by the network did not appear to have been made at the time of publication.
--
UPDATE July 17, 12 p.m. ET by Jonathon M. Seidl:
In two segments on Fox's "O'Reilly Factor," Heridge and Baier clarified that the tweet didn't appear to come before the attack, but after.
"I first saw [the tweet] this afternoon," Heridge told O'Reilly. "It was part of the social media that was circulating and the time stamp on the bottom on its face said 10:34, which based on Eastern time with the shooting would have appeared to be in advance. There are now some questions about whether that time stamp is really accurate but I would argue in this particular case it's an example of how these groups latch on to these events and celebrate them."
Later, Bair repeated that idea to O'Reilly: "On that tweet that you brought up at the beginning, all indications now are that it came out after the attack, and that it either was a Pacific time time stamp, or - but it looks like--it came out after."
"It wasn't a preconceived thing," he added.
—
Follow the author of this story on Twitter and Facebook: