The Regional Transportation District in Denver has a clear policy on which ads it will run on buses and which ones it won't, but some are now arguing that the agency applied a "double standard" by approving an ad that accused Israel of war crimes.
The RTD, which oversees public trains and buses in Denver, says it doesn't run ads that are false, misleading or deceptive. It has even denied and required changes to ad submissions from the local Republican Party and animal rights groups.
But when it came to an ad accusing Israel of war crimes, no changes were ever requested, KDVR-TV reported.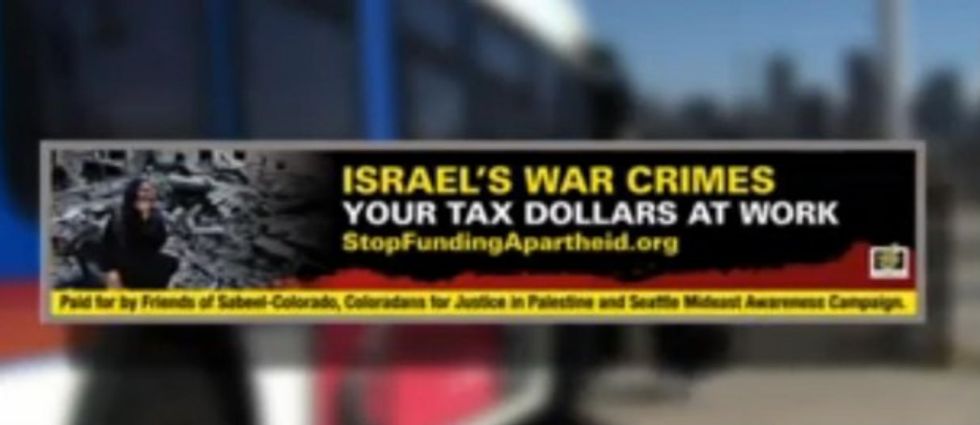 Image source: KDVR-TV
"You end up in a situation where you don't like the ad, you don't necessarily agree with it, but because of the fact it's politically protected free speech it must be allowed to run otherwise it will result in a legal challenge," RTD spokesman Scott Reed said.
The ad in question states, "Israel's war crimes" followed by "Your tax dollars at work." It also flashes the name of a website: StopFundingApartheid.org. But according to Scott Levin of the Anti-Defamation League, a pro-Israel group, that claim is just not true.
"There is no credible evidence that Israel has been involved in any ethnic cleansing or war crimes," Levin said. "If RTD is actually willing to evaluate, in these other campaigns, whether or not something is false, misleading or deceptive, it really ought to be doing it in this situation — to not do so is a double standard."
Levin added: "Our belief is people are entitled to have bad speech. The way you overcome that is just with a lot more good speech, but if you're going to establish a policy we want to make sure you apply it and apply it fairly."
But other groups attempting to run "issue ads" faced very different scenarios.
One of those groups was the animal rights group PETA, which submitted an ad that stated, "Research shows livestock and poultry emissions cause more greenhouse gases than buses, cars and planes combined."
However, after looking at the study the ad was referring to RTD determined the conclusion was false.
"That's not what the study found," Reed told KDVR-TV.
The Boulder County Republicans was another group that had to change its ad. The local Grand Old Party submitted a graphic showing a baby with text that read: "Big government is stealing her future." The GOP ad listed the child's share of the national debt at around $150,000.
RTD later said that was an incorrect amount because babies are not taxpayers. The number was subsequently lowered to just more than $55,000.
(H/T: KDVR-TV)
–
Follow Jon Street (@JonStreet) on Twitter