They are two words she will never forget.
Things started off as normal Thursday. Caroline Dove was texting her longtime boyfriend Lance Cpl. Squire Wells, letting him know how anxious she was to visit him in Chattanooga.
"Can't wait anymore," Wells texted, according to the Associated Press.
"Yes you can honey," replied Dove, who had been dating Wells for more than two years.
Moments later, things took a sudden turn.
"ACTIVE SHOOTER," he wrote to her.
That was the last text message Dove would ever receive from the man she loved.
"You are so weird," she replied, thinking he was joking.
That was only followed by silence — and then the news that military personnel had come under attack in Chattanooga.
"Hon, I need you to answer me please," she wrote.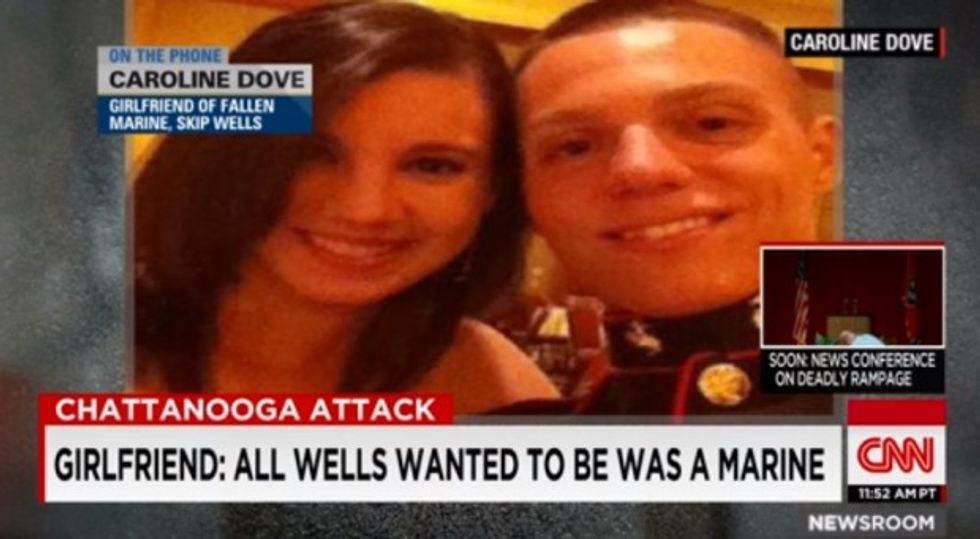 Image source: Screen grab via CNN
"I kept asking him questions, if he was there. If he could call me back or text me. I kept saying, 'I love you. And no reply,'" Dove added to CNN, adding that the news has "devastated" her.
Dove still heard nothing. Only on Friday did she learn that Wells had been killed in the deadly attacks.
The two met at Georgia Southern University, but he soon followed in his family footsteps and enlisted. His grandfather had been in the Air Force, and his grandmother and mother served in the Navy, Dove said.
Through tears, Dove remembered her boyfriend's love of flag football and Nerf guns, his passion for U.S. history, his ability to handle her when she was grouchy and how good he was at listening. He dreamed of being a drill sergeant, and when they last saw each other around Valentine's Day, he gave her a gold-and-silver ring. When the time came to propose, she said, he knew to ask her parents first.
The Associated Press contributed to this report.
—
Follow the author of this story on Twitter and Facebook: