When it came to light earlier this month that Bill Cosby admitted to giving drugs to women he was pursuing sexually, the information was based on excerpts from a deposition in a 2005 sexual assault lawsuit.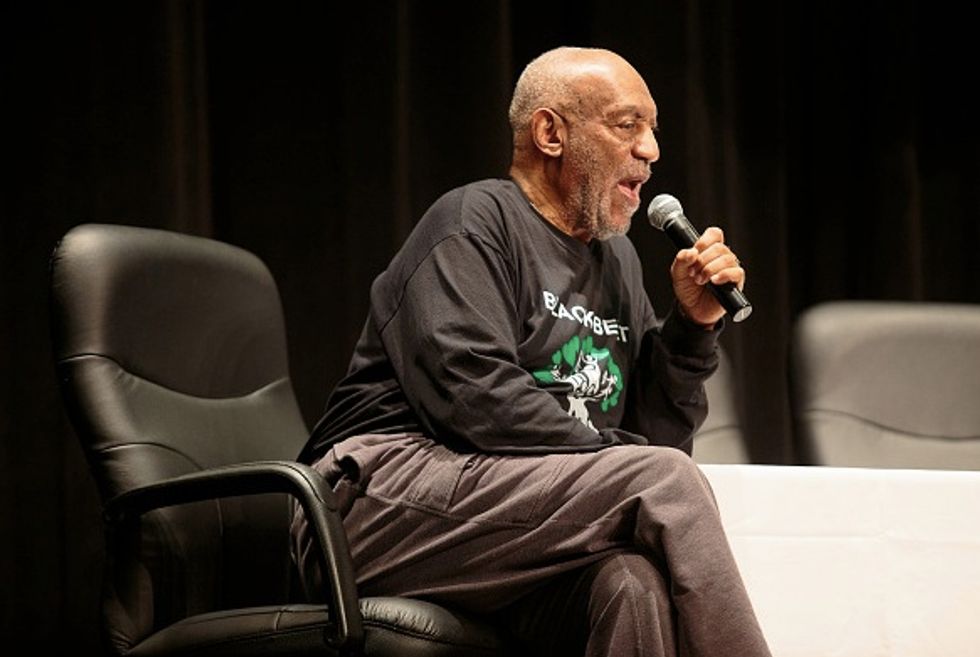 Bill Cosby speaks to students at Selma High School as part of the Black Belt Community Foundation's March for Education on May 15, 2015 in Selma, Alabama. (Image source: David A. Smith/Getty Images)
But the New York Times has obtained the deposition itself — four days-worth of Q&A the paper said shows the comedian and television icon as an "unapologetic, cavalier playboy, someone who used a combination of fame, apparent concern and powerful sedatives in a calculated pursuit of young women — a profile at odds with the popular image he so long enjoyed, that of father figure and public moralist."
In the deposition, Cosby "often blithely" described his "sexual encounters in graphic detail," the Times said.
More from the paper:
He talked of the 19-year-old aspiring model who sent him her poem and ended up on his sofa, where, Mr. Cosby said, she pleasured him with lotion.

He spoke with casual disregard about ending a relationship with another model so he could pursue other women. "Moving on," was his phrase.

He suggested he was skilled in picking up the nonverbal cues that signal a woman's consent.

"I think I'm a pretty decent reader of people and their emotions in these romantic sexual things, whatever you want to call them," he said.

Through it all, his manner was largely one of casual indifference.

At one point in the first day of questioning, Dolores M. Troiani, the lawyer for the plaintiff in the case, Andrea Constand, a young woman who worked at Temple University as a basketball manager, seemed struck by Mr. Cosby's jocular manner.

"I think you're making light of a very serious situation," she said, to which Mr. Cosby replied: "That may very well be."
In describing his relationship with Constand — which was the main focus of the deposition — Cosby spared few details, the Times said:
Mr. Cosby said he gave her one and a half tablets of Benadryl to relieve stress, they kissed and had sexual contact. Her lawyer said she believed it was a much more powerful drug.

Some time later, after Ms. Constand had moved home to Canada, Mr. Cosby spoke with Ms. Constand's mother on the telephone. The mother, he said, was upset about what her daughter said Mr. Cosby had done, describing the experience as "a mother's nightmare."

In the deposition, he said he was worried that Ms. Constand's mother would think of him as a "dirty old man."

During the call, Mr. Cosby told the deposing lawyers, he wanted Ms. Constand to tell her mother "about the orgasm" so that she would realize it was consensual.

"Tell your mother about the orgasm. Tell your mother how we talked," he said he remembered thinking.
Cosby has been accused by dozens of women of sexual assault, which he's denied.
You can read the entire New York Times report here.
(H/T: Drudge Report)
—
Follow Dave Urbanski (@DaveVUrbanski) on Twitter