(AP) — As the families of four Marines and a sailor shot to death in Chattanooga grieved their losses Saturday, the family of the man authorities say pulled the trigger offered sympathy, condolences and prayers.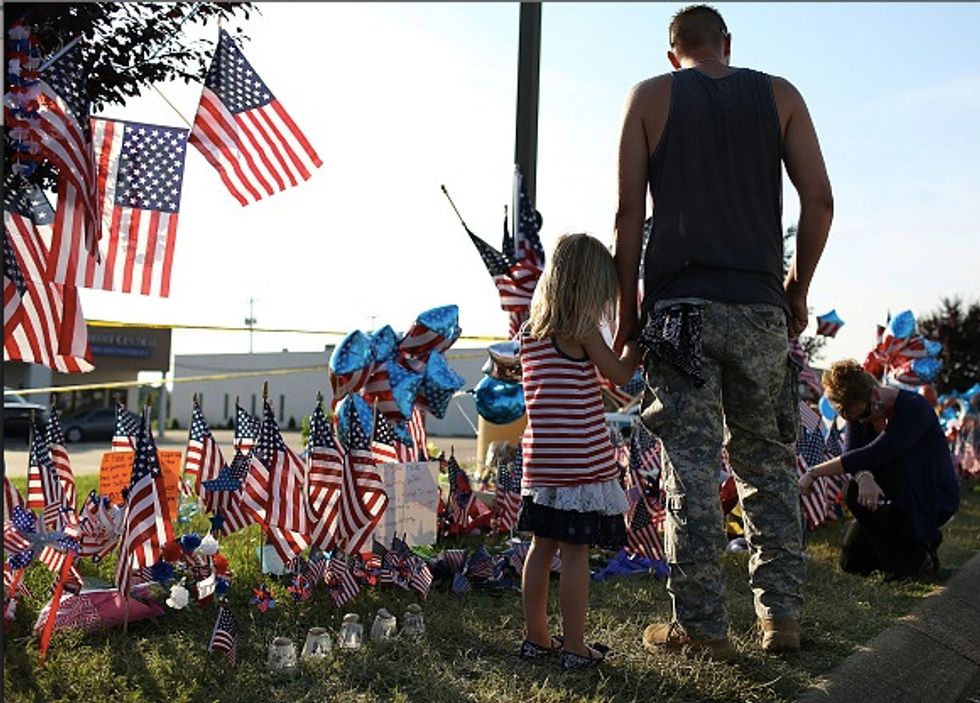 Marine Veteran Joshua Blea pays his respects at a memorial in front of the Armed Forces Career Center/National Guard Recruitment Office on July 18, 2015 in Chattanooga, Tennessee. (Image source: Joe Raedle/Getty Images)
The statement, provided to the Associated Press by a lawyer representing the family of Muhammad Youssef Abdulazeez said, "There are no words to describe our shock, horror, and grief. The person who committed this horrible crime was not the son we knew and loved. For many years, our son suffered from depression. It grieves us beyond belief to know that his pain found its expression in this heinous act of violence."
The family added that they are cooperating with the investigation.
"We understand there are many legitimate questions that need to be answered," the statement said. "Having said this, now is the time to reflect on the victims and their families, and we feel it would be inappropriate to say anything more other than that we are truly sorry for their loss."
That statement came Saturday hours after the deadly toll from Thursday's attacks rose to five when a sailor died of his wounds.
This story has been updated.
—
Follow Dave Urbanski (@DaveVUrbanski) on Twitter