As Amazon works to purge its online shopping site of all things Confederate flag, it seems a nonfiction historical book has gotten caught in the crossfire.
Michael Dreese is a Pennsylvanian author who writes nonfiction, historical books predicated on the Battle of Gettysburg. Among his books include one about the Union battle flag and one about the Confederate battle flag, the latter of which seems to have been deemed inappropriate by Amazon.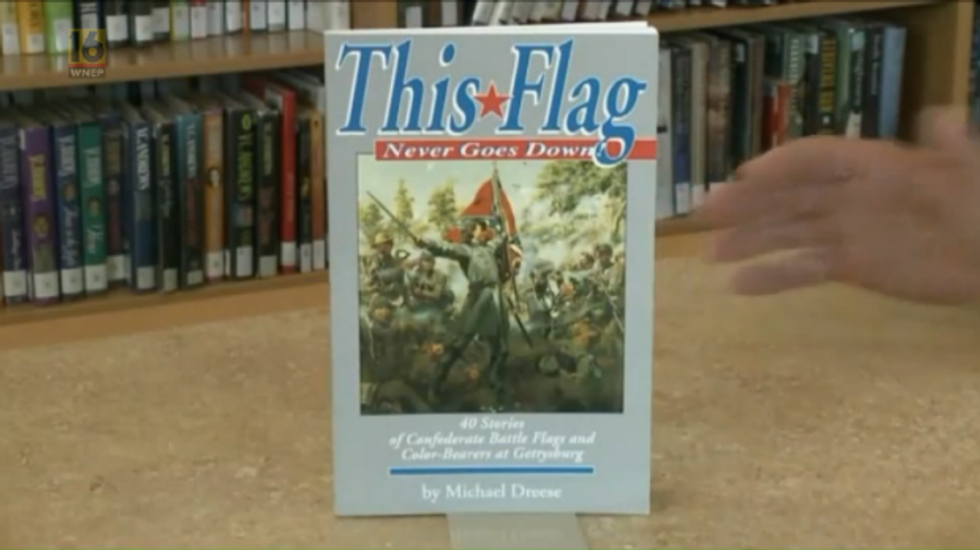 Image source: WNEP-TV
According to Dreese, he recently received an email from Amazon that informed him that one of his products violated the restrictions the company had placed on Confederate flag merchandise. That product, he said, is his book, "This Flag Never Goes Down!: 40 Stories of Confederate Battle Flags and Color Bearers at the Battle of Gettysburg," published in 2004.
"Amazon has implemented listing restrictions for Confederate flag merchandise," the email obtained by TheBlaze stated. "You may no longer list these products on Amazon.com, and your listings for these products will be removed. There is no adverse impact on your seller account for the removal, but we request that you refrain from relisting removed products."
The email goes on to promise that Amazon will reimburse any of the "FBA Return Fee" or "FBA Disposal Fee" costs as long as Dreese's product is effectively removed by Aug., 22. After that date, Dreese would be charged removal and disposal fees without a reimbursement, or the company could simply remove the book itself, according to the email.
"If you do not submit a Removal Order for affected inventory by August 22, 2015, we may dispose of this unsellable inventory in accordance with the Amazon Services Business Solutions Agreement," the email sent on June 26 read.
Dreese stressed to TheBlaze that his book is a historical nonfiction piece that "does not promote the [Confederate] flag," but simply "places it in historical context at the Battle of Gettysburg."
When Dreese spoke to local news outlet WNEP-TV last week, his book had already been removed from his author page on Amazon, well before the Aug., 22 deadline,. Although his other books were still available for purchase, including his book on the Union battle flag, "This Flag Never Goes Down!" is only available through a Gettysburg gift shop or the publisher, Thomas Publications, according to WNEP.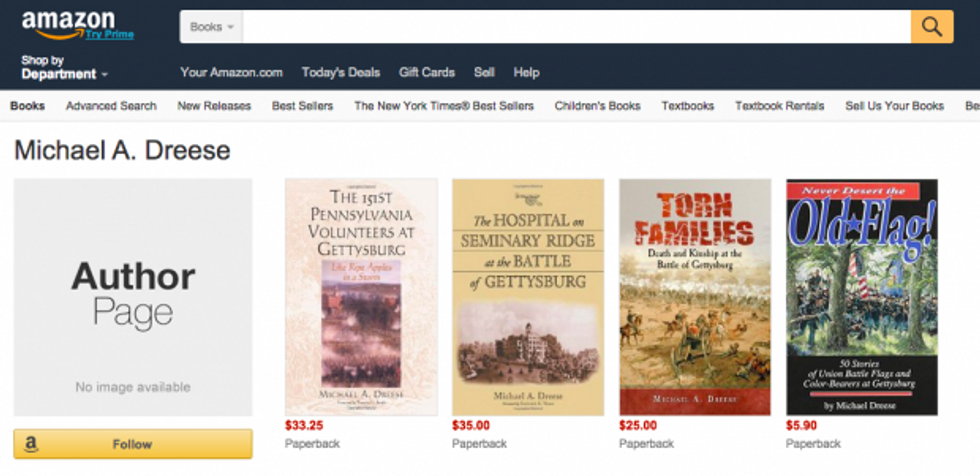 Screenshot of Michael Dreese's author page on Amazon.
"I was shocked because I knew the book was a work of historical nonfiction," Dreese told TheBlaze. "The impact on sales was not a major concern since my writing projects are mainly for enjoyment and education. Income is definitely a secondary consideration."
"They were the primary means of communication," Dreese told WNEP of both the Confederate and Union battle flags. "The battlefield could be a very smoky, noisy, confusing atmosphere."
However, on Monday, a few copies of the book were still on the marketplace website, just not under Dreese's author page.
Dreese said he hasn't used eBay in the past as a platform to sell his books but that he might "explore that option." Like Amazon, eBay also enacted a ban on Confederate flag merchandise from its online site following the June slaying of nine black church members in Charleston, S.C.
"I think it sets a dangerous precedent," Dreese told TheBlaze of Amazon's removal of his book. "We need to examine our history objectively, the good and the bad."
A representative from Amazon did not respond to a request for comment from TheBlaze.