As much of the media is focused on Donald Trump's comments about John McCain's military service and his status as a POW during the Vietnam war, there appears to be some amnesia when it comes to similar statements made by people on the left side of the aisle.
When Senator McCain was running for the White House in 2000, comedian/author Al Franken made comments very similar to Trump's. This happened before Franken was selected to the U.S. Senate.
"I have tremendous respect for McCain but I don't buy the war hero thing," Franken said at the time. "Anybody can be captured. I thought the idea was to capture them. As far as I'm concerned he sat out the war."
Franken's thoughts were part of a post on Salon.com in January of 2000 in a story titled, "What's at Stake in the 2000 Elections?"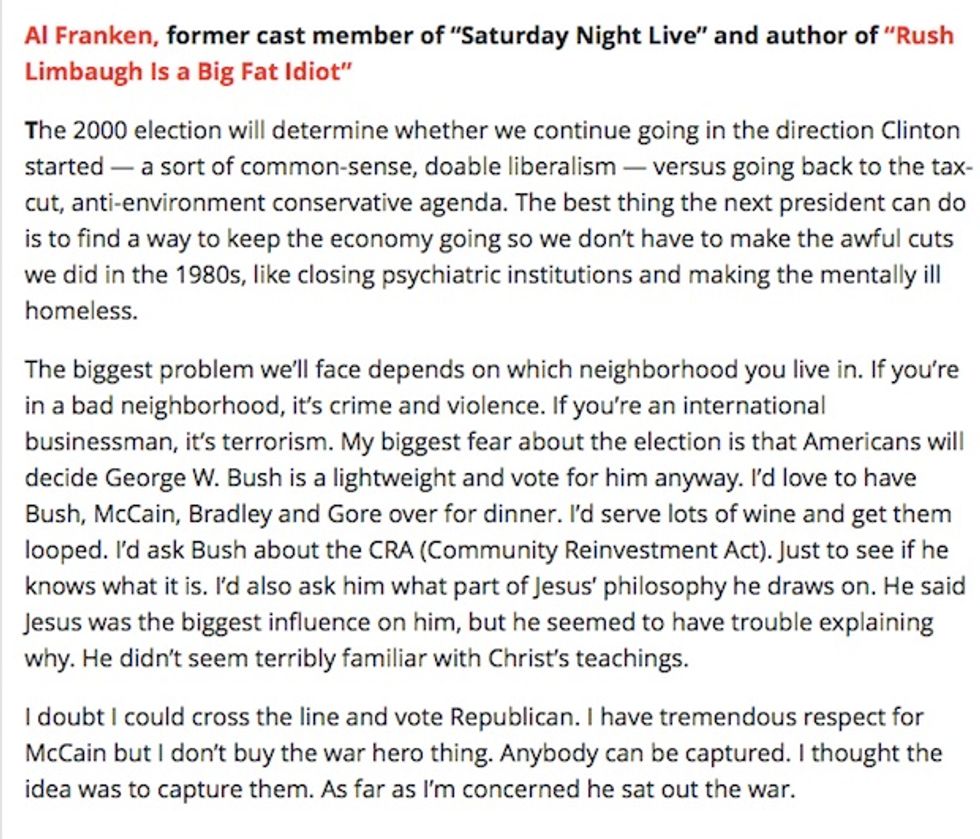 Image source: Salon.com
TheBlaze reached out to Senator Franken's office for comment about the last paragraph. His press secretary, Michael Dale-Stein, responded by saying it was all for fun.
"It was a joke, one that Sen. Franken told Sen. McCain when he was a guest on Sen. Franken's radio show in 2004, during which he also called Sen. McCain a hero with tremendous political courage," Dale-Sten told TheBlaze.
Noting that the original statement was from a print story from 2000, we asked Dale-Stein for additional clarification. "That line in the Salon piece was a joke; a joke that Senator Franken repeated to Senator McCain in 2004 on Air America," the press secretary said.
Franken's office provided the following transcript from the 2004 radio interview, as well as a clip of another time the senator used the same language in his book, "Lies: And the Lying Liars Who Tell Them."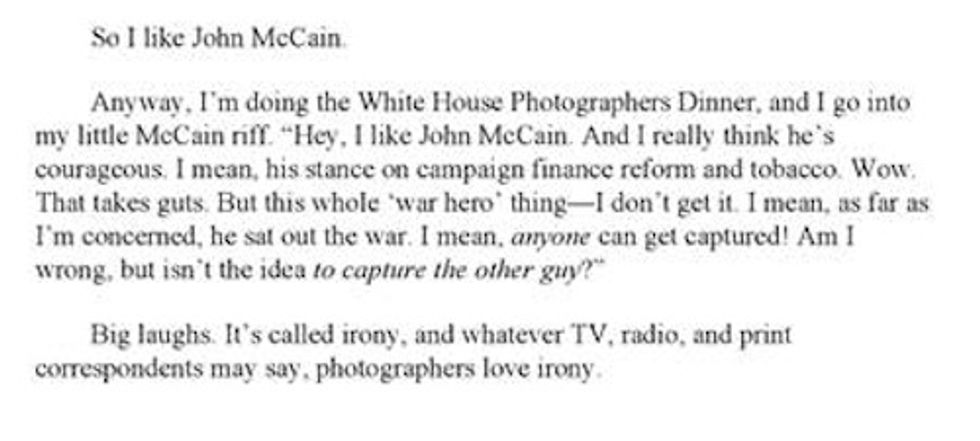 Image source: Senator Al Franken
During the 2008 campaign cycle, Retired U.S. Army General Wesley Clark appeared on CBS's Face the Nation as a surrogate for Barack Obama. Clark did use the word "hero" to describe McCain's POW experience, stating, "I certainly honor his service as a prisoner of war. He was a hero to me and to hundreds of thousands and millions of others in the armed forces, as a prisoner of war."
But Clark also made a statement about how the Arizona senator ended up a prisoner of war.
"Well, I don't think riding in a fighter plane and getting shot down is a qualification to be president," Clark told CBS' Bob Schieffer.
Watch the video:
Also from 2008, after the primaries were decided and Barack Obama was facing John McCain in the general election, comic Chris Rock tore into McCain during one of his comedy specials.
Rock mocked McCain's age (he was 72 years old at the time), and then talked about McCain's five and a half years as a POW.
"He a war hero. He a war hero. He a war hero that got captured," Rock said. "There's a lotta guys in jail that got captured. I don't wanna vote for the guy that got captured. I wanna vote for the motherf*****r that got away."
Watch Chris Rock's performance from 2008. The portion about McCain's war experience begins at the 3:00 mark [CONTENT WARNING for language]:
As recent as 2013, the left-leaning site Daily Kos published a piece by someone identified as "Inkberries" titled, "It's Time to Stop Pretending John McCain is a 'Hero.'"
Inkberries' blog post goes after McCain, saying, "He's not a joke. He's pathetic and a coward who hides behind something he once was. His 'record' as a Senator proves it."
The liberal blogger wrapped up her piece denying McCain is a hero. According to her, "He's anything but. He ceased to be a long time ago."
__
Follow Mike Opelka (@Stuntbrain) on Twitter.