Supporters of the Islamic State group have been quietly buying land in a remote Bosnian village prompting concerns that it could be used as a launching point for attacks on Europe, Britain's Mirror newspaper reported.
Tucked into the woods on a hilltop, shielding them from the prying eyes of outsiders, residents of the Bosnian village of Osve have held combat training for prospective Islamic State group recruits, the Mirror reported after sending researchers to visit the area.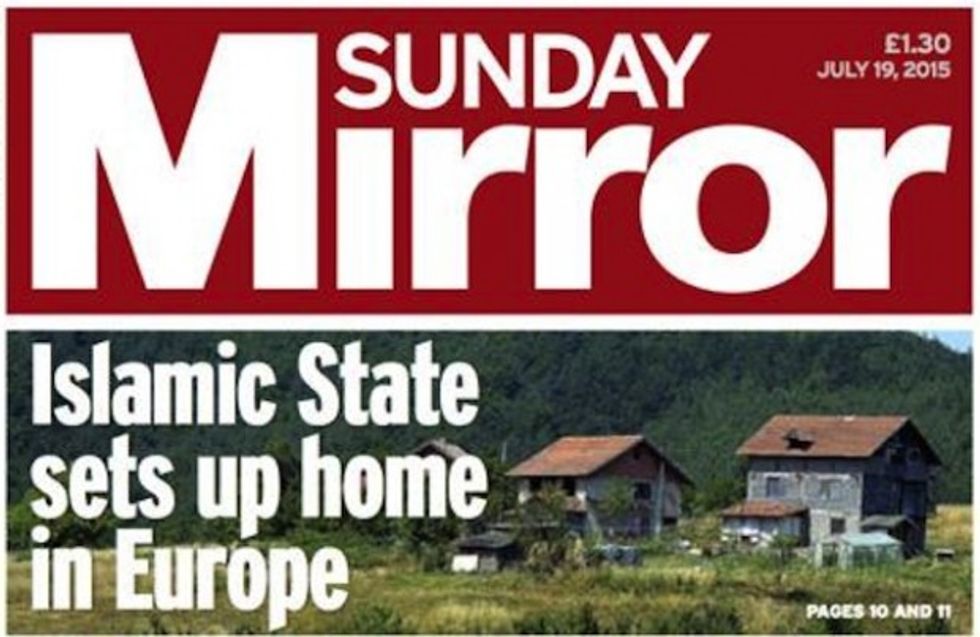 From the Sunday Mirror's cover on July 19, 2015
The paper reported that several of the villagers have joined the Islamic State group in Syria and that "notorious" jihad supporters and "known terrorists" have bought properties in the village.
One unnamed resident told the Mirror that locals fear their town has turned into a "nest for terrorists."
"We regularly hear gunshots coming from the woods up there for long periods at a time. It happens every week," he said. "I don't know what they are doing, whether it is target practice or something like that, but it happens regularly."
At least 12 residents in recent months have traveled to Syria to join the notorious jihadist group. Five of them have been killed, according to the British newspaper.
Terrorism expert Dzevad Galijasevic called the outpost a "major threat," especially given its proximity to both Europe and the Mediterranean where jihadist fighters from the Middle East could illegally enter the continent.
He told the Mirror, "The chosen location of some of the properties is on a hill, where there is no possibility to approach without being seen. It is clear that the source of the terrorist threat is right there."
Britain's Guardian newspaper reported last month that the Islamic State had expanded its efforts to recruit Bosnian fighters with the aim of inciting future terrorist attacks on home soil.
"If you can, put explosives under the cars, in their houses, all over them. If you can, take poison and put it in their drink or food. Make them die, make them die of poisoning, kill them wherever you are. In Bosnia, in Serbia, in Sandzak [a region in south-west Serbia]. You can do it," said a Bosnian man in an Islamic State recruiting video entitled "Honor is in Jihad" aimed at Balkan Muslims.
Read the full investigation at the Mirror, including photos of the village.