Defense contractor Lockheed Martin launched its ninth littoral combat ship for the U.S. Navy over the weekend into the Menominee River in Wisconsin.
When you see just how this massive vessel makes it from dry land into the water, it seems like quite a nail-biting moment, especially when you consider that it cost about $360 million to build.
Ships being launched in this slide fashion are not without their snafus, as we've seen before.
The USS Little Rock by Lockheed Martin was christened with the traditional smashing of a bottle of champagne and launched sideways at the Marinette Marine Corporation shipyard with a splash Saturday.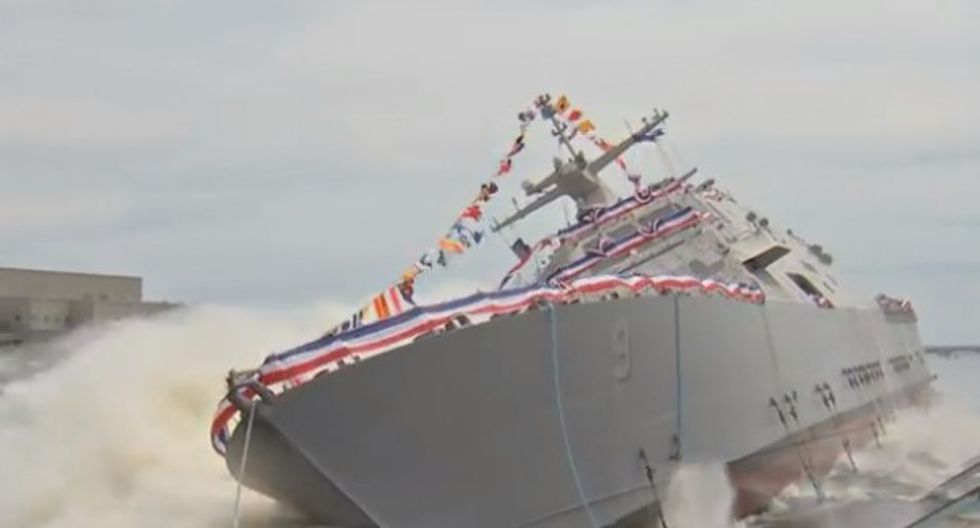 Image source: YouTube
Watch the dramatic launch:
"It is such an honor and a privilege to serve as the sponsor of the future USS Little Rock and to be a part of this major milestone along the way to her assuming her place as part of the great U.S. Navy fleet," the ship's sponsor Janee Bonner said in a statement.
The ship isn't quite ready for Navy use yet. For the next few months, Lockheed will outfit and test the ship before delivering it later this year.
"This future USS Little Rock will use interchangeable mission modules that empower her to face a variety of high-priority missions, from Anti-Surface Warfare to Anti-Submarine Warfare to Mine Countermeasures," Vice President of Littoral Ships and Systems Joe North said in a statement. "She is ideally suited to navigate the reefs and shallows in the Asia-Pacific, as so well demonstrated by USS Fort Worth on her current deployment."
Some of the key features of the littoral combat ships from Lockheed include its:
Ability to operate with a small number of crew members

Top speed of 40 knots

Rolling-airframe missile launching system

57mm main gun

Mine and torpedo detection system

Decoy capabilities
Check out this video promo from Lockheed for more on the ship:
(H/T: Fox Trot Alpha)