A Baptist minister and journalist recently explained why he believes that a popular Bible selection that is routinely read during weddings might not actually be the best choice for the occasion.
Mark Woods, a writer for Christian Today, detailed his fear that 1 Corinthians 13 — a popular text during marriage ceremonies — has been "co-opted and corrupted by a wedding industry that celebrates romantic love."
Woods said that the list of "love" statements written by Paul in that biblical chapter are meant to be broader than mere references to lovers who are standing next to one another at the altar.
"Paul's 'Love is...' list isn't a statement of the dewy-eyed emotional state in which couples stand in front of the altar," he wrote. "It's a commitment to a rigorous practice of spiritual discipline in relation to other people in general – and not just to the object of amorous desire."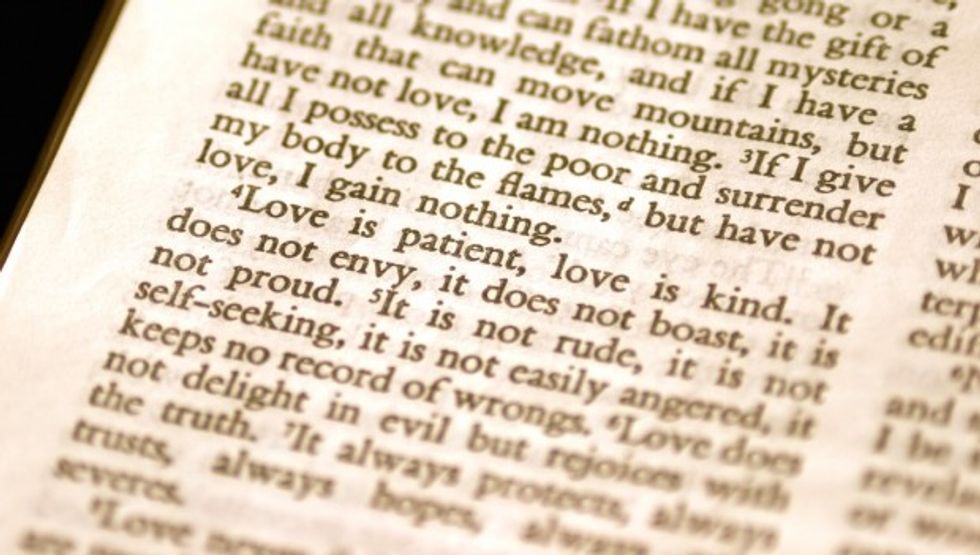 Photo credit: Shutterstock
Woods said that attaching these religious lines to matrimony might not be doing the text justice; the section that he references in 1 Corinthians 13:4-13 reads:
Love is patient, love is kind. It does not envy, it does not boast, it is not proud. It does not dishonor others, it is not self-seeking, it is not easily angered, it keeps no record of wrongs. Love does not delight in evil but rejoices with the truth. It always protects, always trusts, always hopes, always perseveres.

Love never fails. But where there are prophecies, they will cease; where there are tongues, they will be stilled; where there is knowledge, it will pass away. For we know in part and we prophesy in part, but when completeness comes, what is in part disappears. When I was a child, I talked like a child, I thought like a child, I reasoned like a child. When I became a man, I put the ways of childhood behind me. For now we see only a reflection as in a mirror; then we shall see face to face. Now I know in part; then I shall know fully, even as I am fully known.

And now these three remain: faith, hope and love. But the greatest of these is love.
A piece in Relevant also dealt with this same topic last year, with Aaron Ross proclaiming that 1 Corinthians 13 "isn't just for weddings."
Photo credit: Shutterstock
While Ross argued that it isn't wrong to use it as a focal point of love within relationships, he said that confining it strictly to relational love might mean that "we have lost sight of what Paul was really trying to tell us."
He argued that this chapter is also meant to tell society about the nature of God, who is described as "love."
"1 Corinthians then teaches us a lot. It teaches us about who God is," Ross wrote. "It teaches us about who we should be toward everyone, not just a significant other, and it also teaches us about the love of a significant other."
Read Matthew Henry's commentary on 1 Corinthians 13 and see Woods' original post here.
--
Front page image via Shutterstock.com.