A trip to the shoe store unexpectedly turned into a lifesaving rescue for some in Kansas City over the weekend when a woman walking through the parking lot noticed a little girl alone, inside a car with the engine off, the windows up and the doors locked.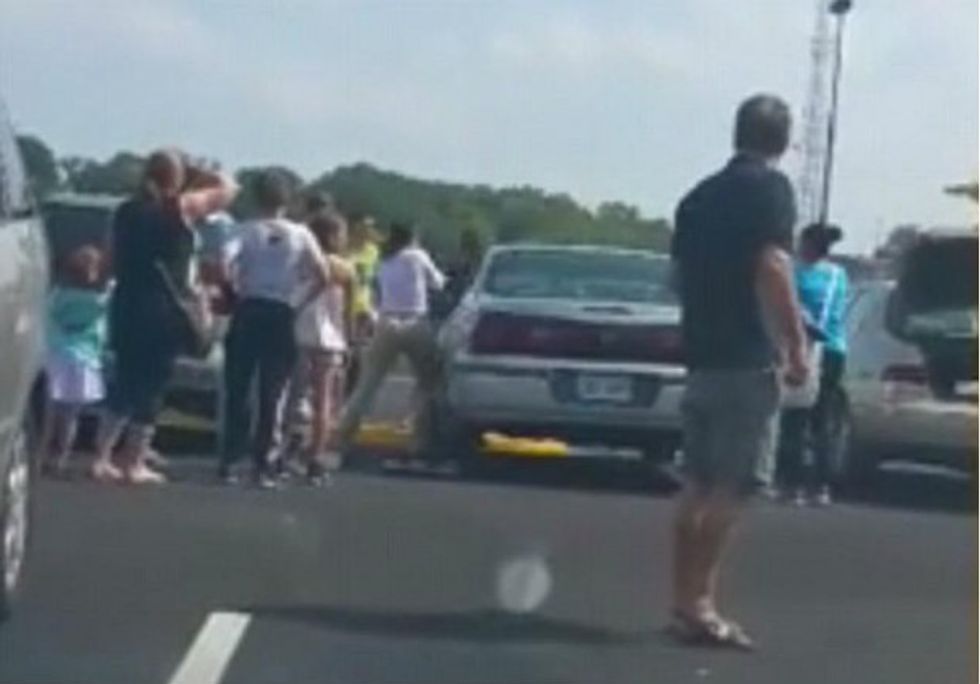 Image source: KCTV-TV
Temperatures that day peaked in the triple digits as the sun bared down on the black parking lot pavement. Realizing the potentially fatal outcome that could result if she went about her day as if she had seen nothing, the woman bolted into the nearby Famous Footwear shoe store asking screaming for others to help, KCTV-TV reported.
When Sarah Oropeza, the manager of that store, went outside with the panicking customer trying to saving a girl's life, she couldn't believe that someone had just left their child in the car, without any air, on one of the hottest days of the years.
"The windows were totally rolled up, all the doors were locked. When I looked in the back window, she was covered in sweat," Oropeza said. "She had pulled her hair back and sweat was just dripping."
That's when Oropeza took matters into her own hands and started trying to smash out the window to save the little girl trapped inside.
"I was just praying, "'Break the window. She is going to die," Oropeza recalled of the harrowing incident.
Oropeza was handed a screwdriver by someone else who stopped, which she tried using to pry open the window, but having no luck she resorted to trying to smash it out with a tire iron. When that didn't work either, another bystander threw a truck hitch and shattered the glass to save the 2-year-old girl.
"Her shoes were wet. Her socks were wet. She was so drenched in sweat. I just started crying," Oropeza told KCTV-TV.
As witnesses gathered around the vehicle, some of them also discovered the girl desperately needed a new diaper, so one police officer went to buy some since there were no extras left in the vehicle.
The girl was reportedly with her aunt and uncle at the time. It is believed that they were in a cellphone shop while all of this was taking place and eventually set out to look for her. But the first thing on their minds wasn't exactly what you would expect in such a distressing situation.
"[They showed] no emotion at all, whatsoever," Oropeza said. "The only question they had for police was if insurance was going to pay to cover the window that we broke."
The couple has been charged with child endangerment but it is not clear whether their names have been released. The girl was picked up by her godmother following the dramatic rescue.
Oropeza later took to Facebook to thank all the others for their help, writing that they "deserve as much credit."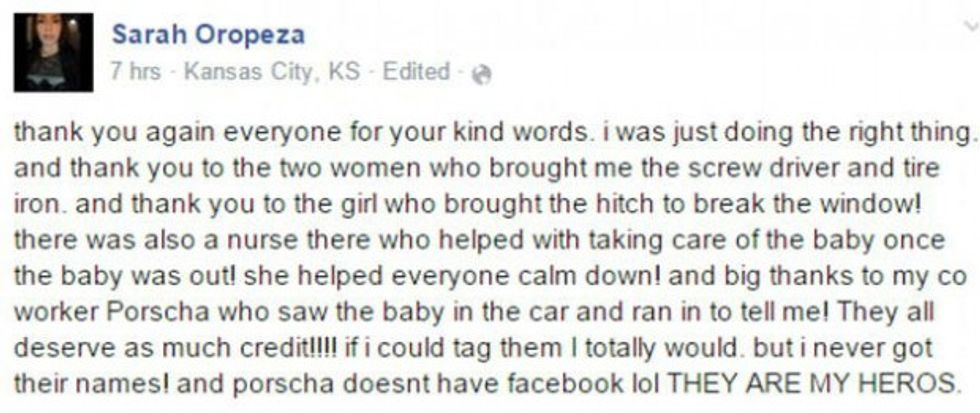 Image source: Facebook
See footage from the heroic rescue, via KCTV-TV:
(H/T: KCTV-TV)
–
Follow Jon Street (@JonStreet) on Twitter