It seems Hollister Co.'s storied history was just that — a story.
According to an expose on the clothing chain in the New Yorker, Hollister's parent company, Abercrombie & Fitch, created the brand in 2000 — although that's not the way they tell it.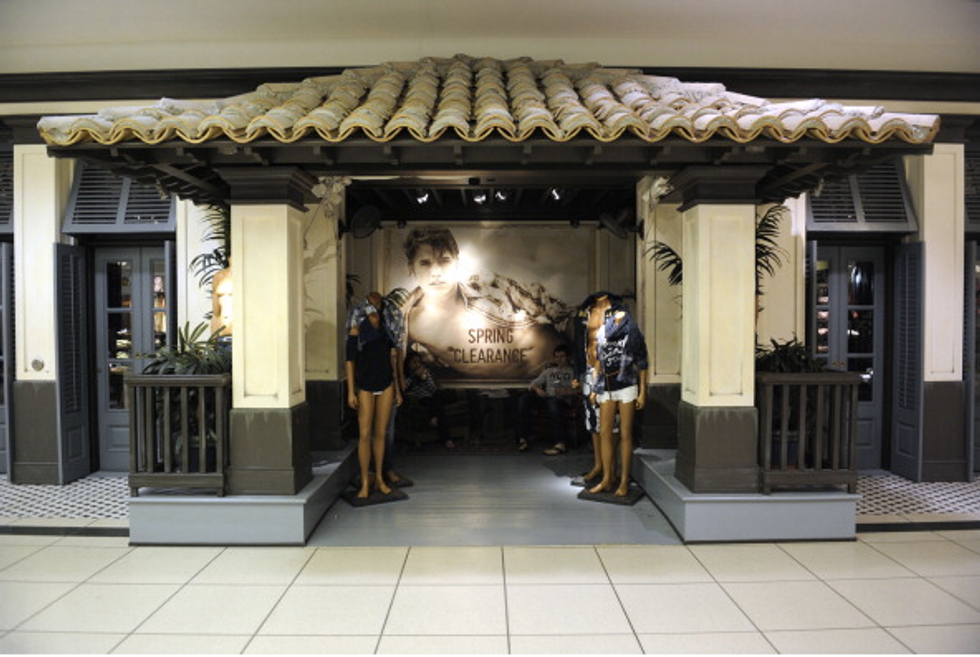 Hollister Co. -- The Hollister Co. store in the Eaton Centre. For Rita Zekas story. (Photo by Carlos Osorio/Toronto Star via Getty Images)
To hear Hollister enthusiasts tell it, the label was founded in 1922 by John Hollister, an adventurous Yale graduate who escaped to sunny California beaches with his girlfriend after college and a brief worldly exploration. In his expose, Dave Eggers outlines the story eager Hollister employees are told during orientation:
"John M. Hollister was born at the end of the nineteenth century and spent his summers in Maine as a youth. He was an adventurous boy who loved to swim in the clear and cold waters there. He graduated from Yale in 1915 and, eschewing the cushy Manhattan life suggested for him, set sail for the Dutch East Indies, where he purchased a rubber plantation in 1917. He fell in love with a woman named Meta and bought a fifty-foot schooner. He and Meta sailed around the South Pacific, treasuring 'the works of the artisans that lived there,' and eventually settled in Los Angeles, in 1919. They had a child, John, Jr., and opened a shop in Laguna Beach that sold goods from the South Pacific—furniture, jewelry, linens, and artifacts. When John, Jr., came of age and took over the business, he included surf clothing and gear. (He was an exceptional surfer himself.) His surf shop, which bore his name, grew in popularity until it became a globally recognized brand. The Hollister story is one of 'passion, youth and love of the sea,' evoking 'the harmony of romance, beauty, adventure.'"
But none of that is true, Eggers reported. In fact, as he detailed, the backstories of many of Abercrobie & Fitch's former CEO Mike Jeffries's companies have fabricated histories, including the now defunct Gilly Hicks and Ruehl No. 925 stories.
Despite the clothing label's supposed love affair with California, Hollister, an Ohio company, doesn't treat the Californian town with which it shares a name with any familial respect. According to a 2009 report in the Los Angeles Times, the teen clothing company threatened to sue companies based in Hollister, California, if they used their town's name on clothing.
"If they try, they would get a call and much more," David Cupps, general counsel for Abercrombie & Fitch, told the Los Angeles Times then.
The retail store also refused to put a store in the town that bears its name because the demographic's income was too low.
Jeffries, who caused headlines when he admitted to tailoring his product to "cool kids" and "thin and beautiful people," stepped down from his CEO position in December 2014 when he was 70-years-old amid some turmoil within the company.