The fiancee of the man found dead in his car has and with more than 1,000 guns in his house provided cops with new pieces of information that could help them determine why he kept so many firearms, the Los Angeles Times reported.
He was a secret agent. Or at least claimed to be.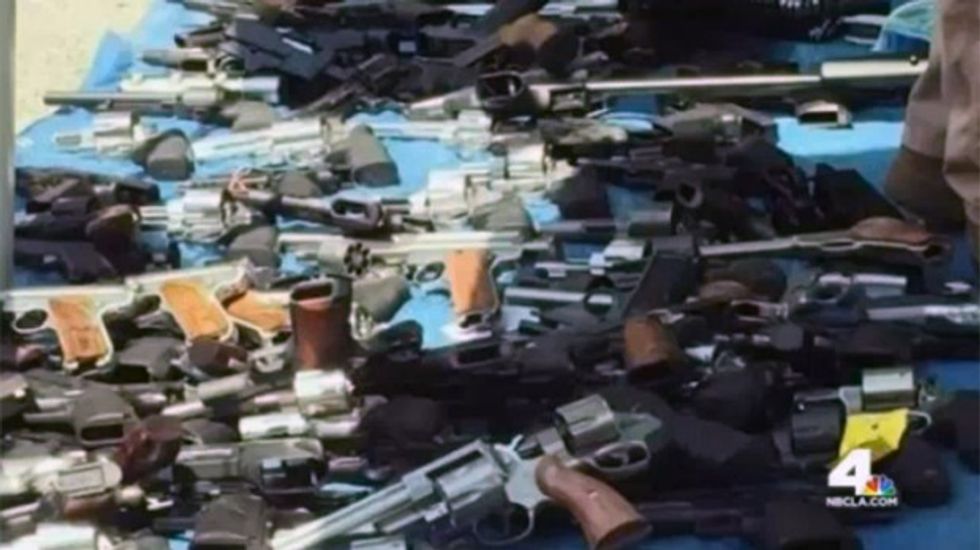 Image source: KNBC-TV
The bizarre mystery began to unfold earlier this week after police in Los Angeles found a man's body decomposing in a car just down the street from where he lived in the upscale neighborhood of Pacific Palisades. There were no immediate signs of foul play, but investigators went to the man's house just in case it might contain any clues.
What they found while inside were about 1,000 guns, including pistols, shotguns and rifles, some of which were never even used, along with about 6.5 tons of ammunition and roughly $230,000.
And now, after days of further investigation, police have learned new details that could help them solve the case.
Police spoke with Catherine Nebron, who identified the man as Jeffrey Alan Lash and claimed she was engaged to him for 17 years. Nebron said Lash told her he was an undercover operative for the FBI or CIA, and she believed him. But Lash's neighbors knew him simply as "Bob," and told the Los Angeles Times that he often spoke of missions that he was going on, like swimming at night to nearby Catalina Island, just off L.A.'s coast.
Nebron said she also lived with her fiancee, prompting questions as to why she didn't tell anyone he was dead. It was instead her attorney, Harland Braun, who finally notified police. Nebron claimed she didn't say anything right away because of the man's past.
"It's all still a mystery at this point," Braun told TheBlaze.
Lash reportedly died July 4 while he was with Nebron and two friends. After becoming hot and sick, the three tried to cool him off with some ice, but it didn't work. Lash later died.
Nebron's lawyer said the fiancee put his body in the car and parked in along the street because she thought the federal agency he worked for would eventually learn of his death and come to get him. She just "assumed they were tracking him," Braun told the Times.
Days later, Nebron went to Oregon and was shocked to find that Lash's body was still in the car when she returned to L.A.
An autopsy was conducted on Lash's body Tuesday but the coroner's office has not officially determined a cause of death. Meanwhile, questions about his past are still being asked, including whether or not he was actually who he said he was.
Los Angeles Police deputy chief Kirk Albanese said Lash suffered from an advanced form of cancer but that he did not work for a government security agency. As of Tuesday, police were still in the process of conducting background checks to determine whether any of the weapons were illegal.
More here:
(H/T: Los Angeles Times)
–
Follow Jon Street (@JonStreet) on Twitter