© 2023 Blaze Media LLC. All rights reserved.
I'm Still Waiting for One Fact, One Fact from You About Me Being Anti-Gun' -- Christie Faces Off With Pro-Gun Voter in Iowa
"If you want to debate me... run for president and come to Cleveland on Aug. 6"
Voters attending a Chris Christie town hall meeting inside a community college auto shop in Ankeny, Iowa Saturday, witnessed a brash and aggressive candidate defending his record on gun rights as he debated a pro-gun voter.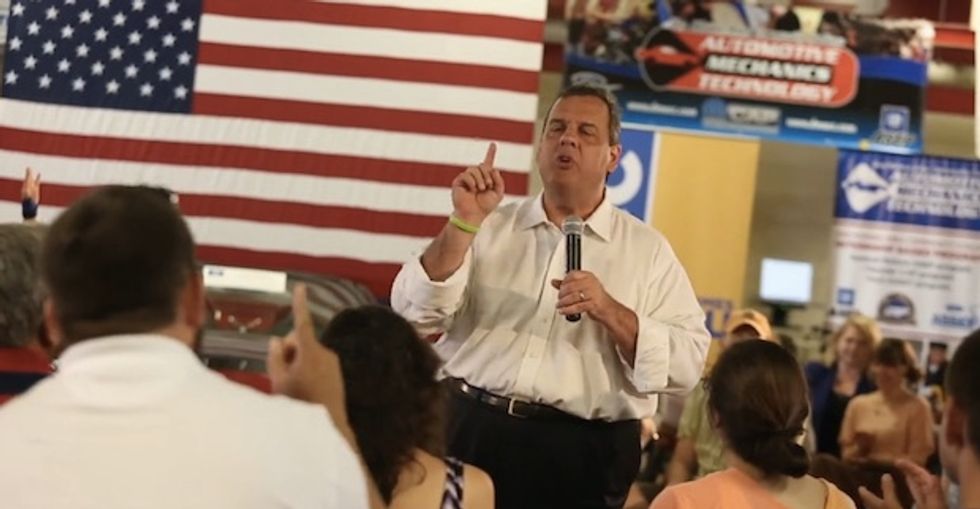 Image source: Des Moines Register
The exchange between the candidate and the voter was closer to a debate, as the young man hit Christie with a series of questions about his record on a litany of gun regulations imposed on New Jersey citizens.
The unidentified man opened the exchange saying, "State gun rights groups from here in Iowa, Minnesota and even to Georgia have sent out some emails recently saying that you're very anti-gun when it comes to the Second Amendment. So, my question is, How are you going to 'New Jersey' gun owners into thinking that you'll be anything other than a 'President Michael Bloomberg,' if you become successful?"
Eager to respond, Christie can be seen reaching for the microphone, before the man finished his opening question.
"Well, because it's not true," the candidate responded. "Let's start with that."
"Does New Jersey have a lot of difficult gun laws? Yeah. And, they were all signed before I became governor," Christie continued.
Explaining his state's Democratically-controlled legislature makes it almost impossible for him to change laws he disagrees with, Christie pointed out some of the anti-gun laws that hit his desk and were vetoed. He cited the attempted ban on .50-caliber ammunition and weapons, a bill restricting magazines to 10 rounds and a statewide gun owner ID program.
Christie reiterated the frustration he has with the "anti-gun" legislature he has to deal with in New Jersey.
"Here's the news for anybody who's governor or president, you're not emperor or dictator," Christie added.
At one point, the man held up his cell phone and asked the governor about a 1995 ad where Christie attacked his opponent for supporting a repeal of the assault weapons ban in New Jersey. Christie responded, "If you haven't changed your mind once in 20 years on any issue, then I tell you, you're not a thinking, breathing, living human being."
The entire back and forth between voter and candidate (who did not give his identity to reporters on the scene) reportedly took almost five minutes. CNN compressed the spirited exchange into this clip:
Despite Christie's poll numbers in Iowa — he leads in the "unfavorable" category — his responses on the Second Amendment questions drew applause from the crowd.
Watch the raw video from the Des Moines Register.
__
Follow Mike Opelka (@Stuntbrain) on Twitter.
Want to leave a tip?
We answer to you. Help keep our content free of advertisers and big tech censorship by leaving a tip today.
more stories
Sign up for the Blaze newsletter
By signing up, you agree to our
Privacy Policy
and
Terms of Use
, and agree to receive content that may sometimes include advertisements. You may opt out at any time.