A woman's decapitated body and two mutilated dogs were found by police Saturday morning at an apartment building in Phoenix, Arizona — along with the suspect who police say severed his own arm and took out one of his eyeballs.
According to police, a man checked on his neighbor who he hadn't seen since the day before. A 43-year-old male suspect answered the door with his left arm severed at the elbow and his left eyeball missing. The friend reportedly called the police immediately afterwards, claiming that he could see blood covering the floors and walls of the apartment.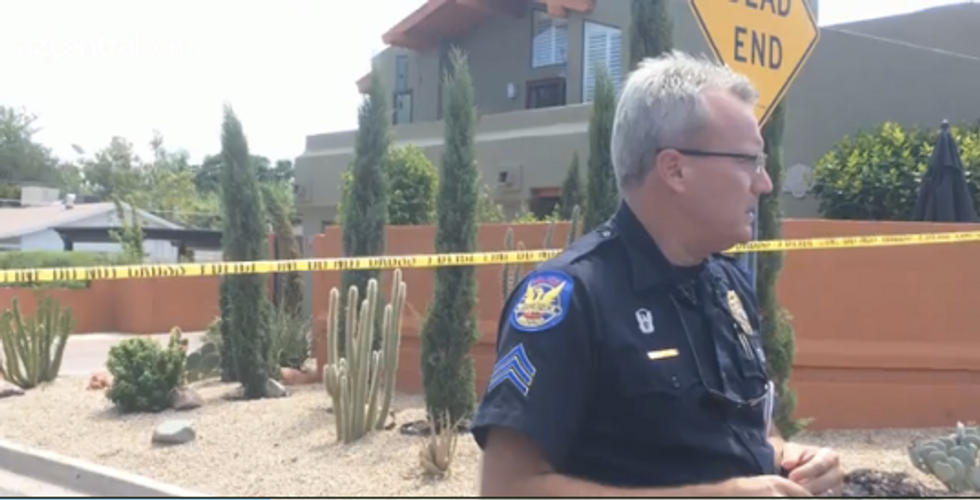 Image source: Arizona Republic
The Arizona Republic reported that police found a woman's decapitated body inside of a walk-in closet once they arrived. The bodies of two dogs were also found inside of the apartment "badly mutilated," police said.
Police identified the woman as Trina Heisch, 49. Heisch's family members said she was married to the suspect who has still not been identified.
"It was an absolutely horrific scene," Sgt. Trent Crump told the Arizona Republic.
Police said they found several knives inside of the apartment; however, it was not clear which were used in the murders.
According to Crump, the male suspect informed police that he killed "three family members." It is unclear if he meant the Heisch and the two dogs or if any other people were killed.
Gruesome scene in PHX. PD says man admitted decapitating woman, 2 dogs, then severing own arm & gouging out own eye pic.twitter.com/vn0gUgMzTr

— Lauren Vargas (@LaurenABC15) July 25, 2015
Police told KNXV-TV that the male suspect had a known history of mental illness and domestic violence. The Arizona Republic reported that police had been called to the residence in the past in response to calls between the victim and the suspect.
Before police identified the victim and suspect, KNXV reported that neighbors have said the pair were a couple who had recently been fighting.
One neighbor speculated to KNXV that the couple involved in the slayings were referred to as "the crazies."
Crump said the suspect had been taken to the hospital where he is undergoing surgery.
This story has been updated to include the identity of the victim, Trina Heisch.