Just hours after his 18th birthday, police say a Rhode Island man fatally stabbed an Army veteran during an altercation.
Erico Montalvo is charged with the alleged murder of 26-year-old Colby Mendonca, a veteran who served in Afghanistan for two years. He is also being charged with assault with a deadly weapon for allegedly stabbing Mendonca's friend during the scuffle.
According to WJAR-TV, a judge ordered Montalvo to be held without bail after the prosecutor in the case said the teenager had already confessed to the crime to police. Montalvo reportedly showed no emotion when he appeared in court on July 17 as his charges were read to him.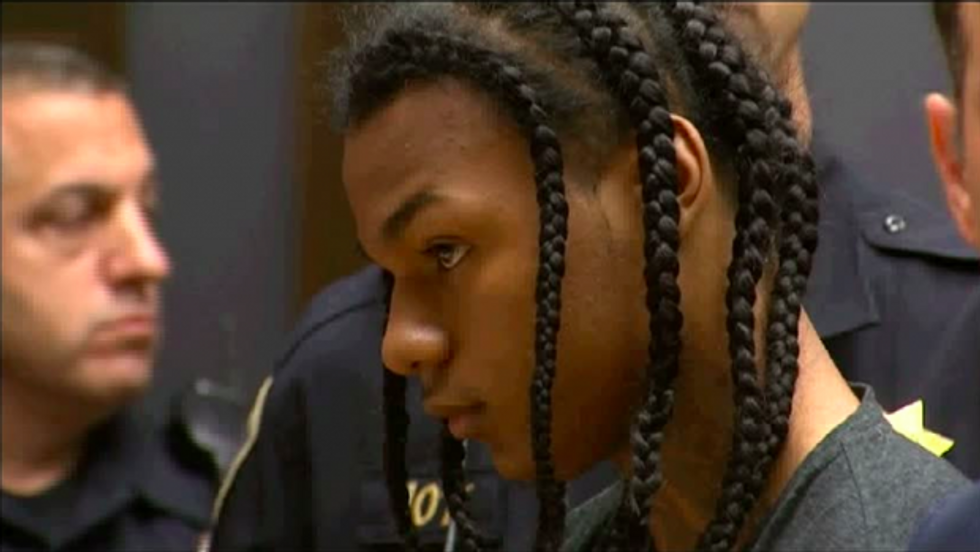 Eric Montalvo, 18, is charged with the murder of an Army veteran. (Image source: WJAR-TV)
Police say the altercation occurred behind a Walgreens in Providence, Rhode Island during the early morning hours on July 11, according to WPRI-TV. Mendonca and his friend were allegedly attempting to buy alcohol from a bootlegger when their vehicle was struck by Montalvo's.
"The guy gets out, starts stabbing his [Mendonca's] best friend, so my cousin, like the hero he is, he gets out, pulls the guy off him, didn't know he had a knife on him, and he proceeded to stab my cousin," Kevin Martins, Mendonca's cousin, told WJAR.
"This is not supposed to happen, you know?" Martins said. "I mean, he fought in a war, you know? He's here on our soil. This is crazy. It's ridiculous."
According to the Providence Journal, Mendonca's friend was left badly injured. Mendonca later died at a Rhode Island hospital, survived by his three-year-old daughter.
"This man went over there, gave up two years of his life," a friend of Mendonca's told WJAR. "Didn't get to see his daughter crawl. Didn't get to enjoy that moment. He comes back here and dies on our home soil. Our home soil. He didn't deserve this. Nobody does."
Mendonca was buried with full military honors the same day as Montalvo appeared before the judge in district court. Montalvo's hearing is set for July 28.