© 2023 Blaze Media LLC. All rights reserved.
City Replaces American Flag With LGBT Rainbow Flag in Honor of Pride Celebration
"Never should have happened."
The mayor of Reno, Nevada, apologized Sunday after someone replaced the American flag flying over city hall with the rainbow LGBT flag in honor of a gay pride celebration.
Mayor Hillary Schieve said she did not order the American flag taken down and asked that it be put back up "immediately."
Image source: Facebook via KTVN
"I was alerted tonight that the U.S. flag was not flying over city hall," Schieve said in a statement. "I can most certainly see why people would be offended or upset. I did not order that the American flag be taken down. I have asked that the flag be put back immediately!  I will take full responsibility since I represent this city. I have family members who have served and I know the importance of the ultimate sacrifice they have made for our country. I am very proud to be an American and we should always support our troops and veterans no matter what. I too am offended and there is no excuse for this. Those who have served deserve the highest respect for their service. My sincerest apologies!!!"
It's not clear who was responsible for the flag switch; the city of Reno said in a statement to KTVN-TV that it "made an error in not flying the American flag along with the pride flag."
"When we discovered we were not flying both, we immediately returned to flying the American flag. Neither the mayor nor city council was aware we were not flying the American flag. The city was proud to participate in pride weekend and will continue to celebrate our diverse community," the statement said.
Commenters took to KTVN's Facebook page to express their ire.
"Who in the hell is in charge here? How do you get to the roof of city hall to change the flag without an elected official's blessing? They said they made an error, and they didn't know! I have a very hard time believing that," wrote Leona Elings Lorenzen.
Image source: Facebook via KTVN
Josh Thompson wrote that "as someone who is gay, I appreciate the sentiment, but this should never replace the American flag. City of Reno, make good on this and remedy the situation."

Image source: Facebook via KTVN
Federal guidelines for displaying the American flag state that "no other flag or pennant should be placed above or, if on the same level, to the right of the flag of the United States of America, except during church services conducted by naval chaplains at sea, when the church pennant may be flown above the flag during church services for the personnel of the Navy."
The American flag was returned to the pole atop city hall by the evening.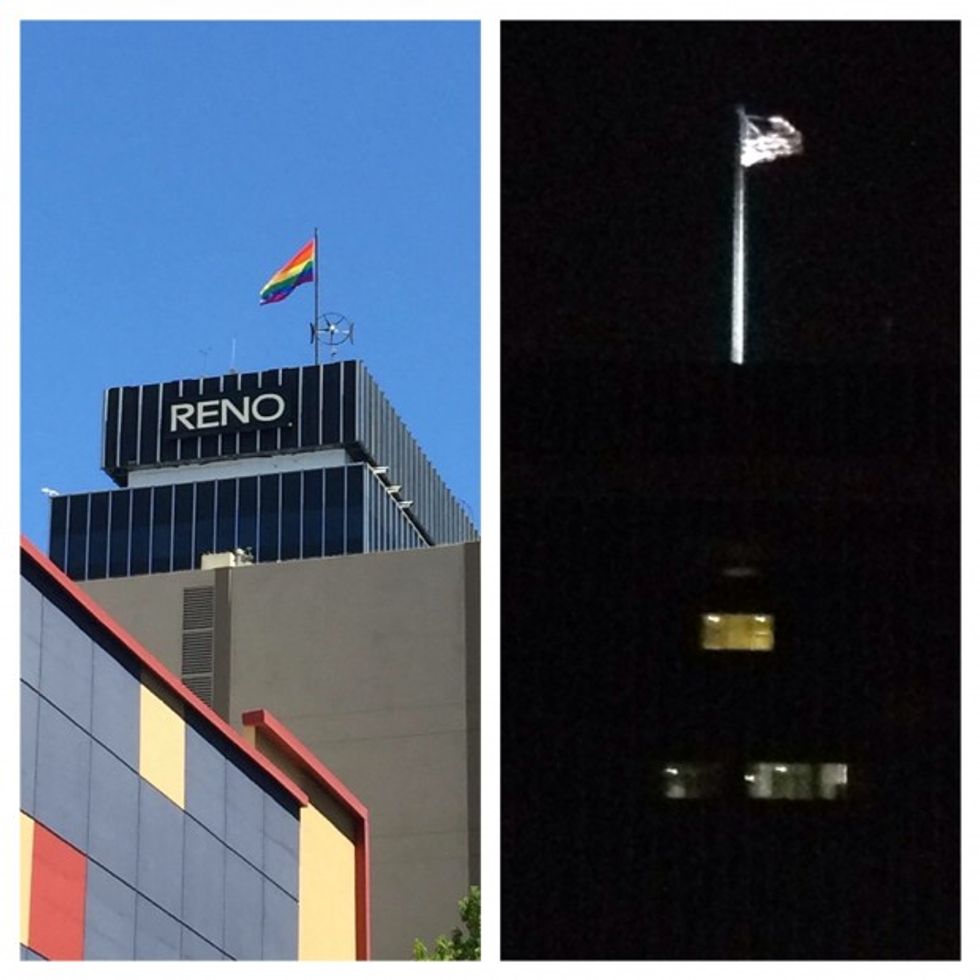 Image source: Facebook via KTVN
—
Follow Mike Opelka (@Stuntbrain) on Twitter
Want to leave a tip?
We answer to you. Help keep our content free of advertisers and big tech censorship by leaving a tip today.
more stories
Sign up for the Blaze newsletter
By signing up, you agree to our
Privacy Policy
and
Terms of Use
, and agree to receive content that may sometimes include advertisements. You may opt out at any time.