Senator Rand Paul (R-Ky.), a GOP presidential candidate, took a shot at Hillary Clinton during a veterans town hall in Charleston, South Carolina, on Monday, arguing that his Democratic rival isn't fit to be president due to her handling of the Benghazi terror attack.
Speaking to a group of veterans at Concerned Veterans for America's "Defend and Reform" town hall, Paul bluntly stated that Benghazi should "forever preclude" Clinton from being "commander in chief." He received strong applause for the line.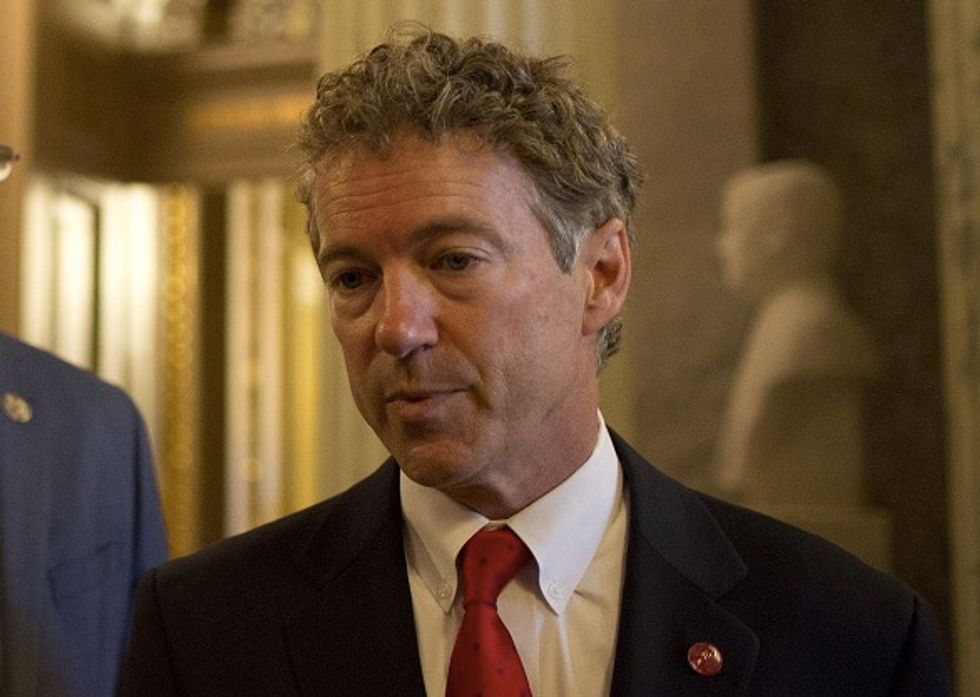 Senator Rand Paul, R-KY, speaks to the press at the Senate after speaking in the chamber at the US Capitol in Washington, DC on May 31, 2015. (Image source: Andrew Caballero-Reynolds/AFP/Getty Images)
Paul spent a good amount of time explaining the complicated and volatile situation in the Middle East. He criticized the "complete and utter chaos" that erupted in Libya after the U.S. helped topple Muammar Gaddafi in making his point that military action is not always the answer.
He strongly criticized the Obama administration over the Iran nuclear deal, which would lift sanctions on the radical regime, and its support of Saudi Arabia -- despite that fact both countries support radical Islam.
"The bottom line is, we need a commander-in-chief that will defend America, that will do whatever it takes," Paul added.
I have a proposal. Why don't we quit sending foreign aid to countries who hate us? #StandWithRand in SC pic.twitter.com/tiU6AgTrPe

— Dr. Rand Paul (@RandPaul) July 27, 2015
The Kentucky Republican said his "number one priority for spending" would be to "defend the country" -- but he added some caveats. He also argued the president of the United States should understand all the implications of starting a war before boots hit the ground.
"I will do it, but I will not do it in a reckless way," Paul said. "We have to be aware of what we are doing and who we are fighting...My pledge to you is, I will not only take care of the soldiers fighting but also the veterans who come home."
---