The Netherlands reported having its worst July storm on record over the weekend. You can see just how bad it was in a video of a KLM passenger jet trying to stick its landing.
The Boeing 777 coming into Amsterdam's Schiphol Airport Saturday banked heavily left and right as it approached the runway, teetering on each set of wheels until it securely balanced on both.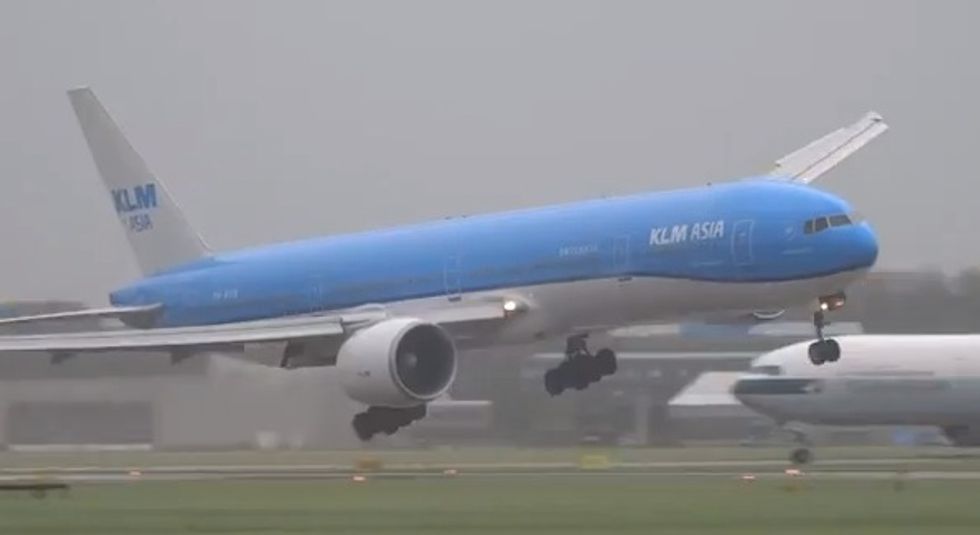 Image source: YouTube
Watch the footage:
Here's some reaction to the video:
Not jealous of passengers on this KLM landing at Amsterdam Schiphol Airport today. Stormy weather on a summer day. https://t.co/0LsGnVPaDQ

— David Serphos (@dserphos) July 25, 2015
Landing at @Schiphol. Bravo @KLM pilots #aviation https://t.co/5Fj5gXrVfZ

— Crisis Interventie (@civhnl) July 25, 2015
Storm at Amsterdam Schiphol AP yesterday. Scary moments for the pax onboard this KLM Boeing 777 on landing. http://t.co/Jy2nqpaHZE

— PJ de Jong (@jong_pj) July 26, 2015
Many flights from Schiphol Airport were delayed or cancelled as a result of the storm. According to Reuters, wind gusts in coastal areas Saturday reached up to 75 MPH, leading authorities to stop train service in some areas and warn people to avoid getting on the road. The news outlet reported that the meteorological service issued a "Code Red" warning due to the weather.
There was one death and several injuries related to the storm, Reuters reported.
(H/T: Jalopnik)