Republican presidential candidate Ben Carson weighed in on the controversy over one of Donald Trump's advisers declaring, "You cannot rape your spouse" while defending the billionaire against a decades-old rape accusation made by his first wife.
Michael Cohen, special counsel for the 2016 candidate, was trying to shut down the Daily Beast's reporting about Trump's contentious divorce proceedings when he made the declaration. Cohen apologized for his comments after they were published.
"Well, obviously rape can occur within marriage and we need to all be very concerned about the individuals rights of everyone, regardless of their circumstances," Carson said when taking questions from reporters on several topics shortly after speaking at a rally in Washington Tuesday.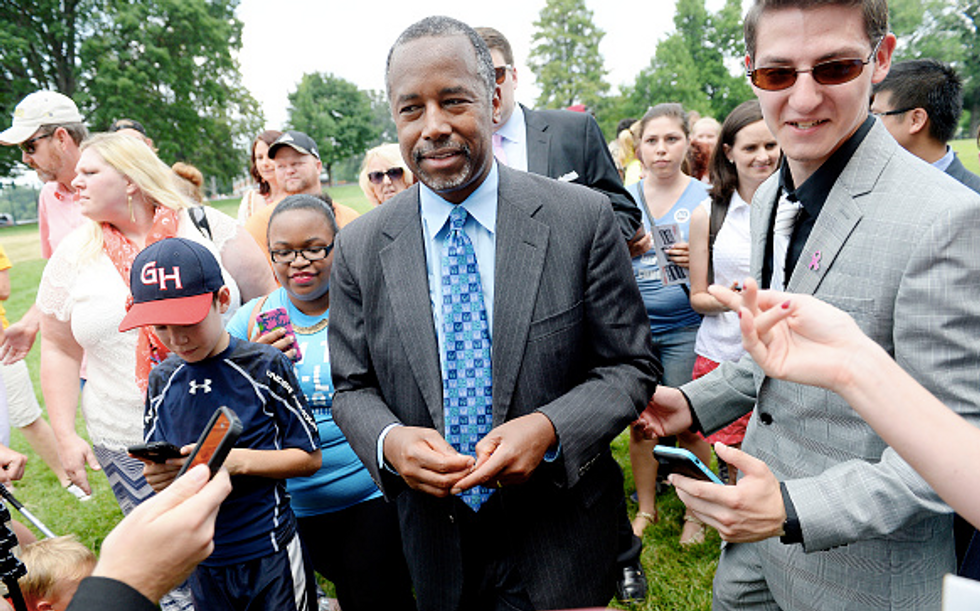 Republican presidential candidate Dr. Ben Carson attends a anti-abortion rally opposing federal funding for Planned Parenthood in front of the U.S. Capitol, July 28, 2015 in Washington. (Olivier Douliery/Getty Images)
It's the latest controversy for Trump, who has soared to the top of Republican 2016 polls.
"As an attorney, husband and father there are many injustices that offend me but nothing more than charges of rape or racism," Cohen said in a statement to CNN. "They hit me at my core. Rarely am I surprised by the press, but the gall of this particular reporter to make such a reprehensible and false allegation against Mr. Trump truly stunned me. In my moment of shock and anger, I made an inarticulate comment - which I do not believe -- and which I apologize for entirely."
Ivana Trump also issued a statement, calling the Daily Beast story "totally without merit."
"I have recently read some comments attributed to me from nearly 30 years ago at a time of very high tension during my divorce from Donald," Ivana Trump said. "The story is totally without merit. Donald and I are the best of friends and together have raised three children that we love and are very proud of. I have nothing but fondness for Donald and wish him the best of luck on his campaign. Incidentally, I think he would make an incredible president."