Career federal prosecutors oppose what President Barack Obama has plausible reason to view as major potential legislative achievement of his second term – sweeping bipartisan criminal justice reform. And a Senate gatekeeper for the legislation is siding with the prosecutors.
Citing a recent report by federal prosecutors, Senate Judiciary Committee Chairman Charles Grassley (R-Iowa) would oppose any laws that would reduce sentencing for major drug offenders.
"While drug offenders accounted for a large percentage of the federal prison population in 2013 and 2014, virtually all of those were convicted of major drug trafficking crimes, including the trafficking and sale of significant amounts of dangerous drugs like heroin, methamphetamine, cocaine, crack cocaine, and oxycodone," said a report by the National Association of Assistant United States Attorneys.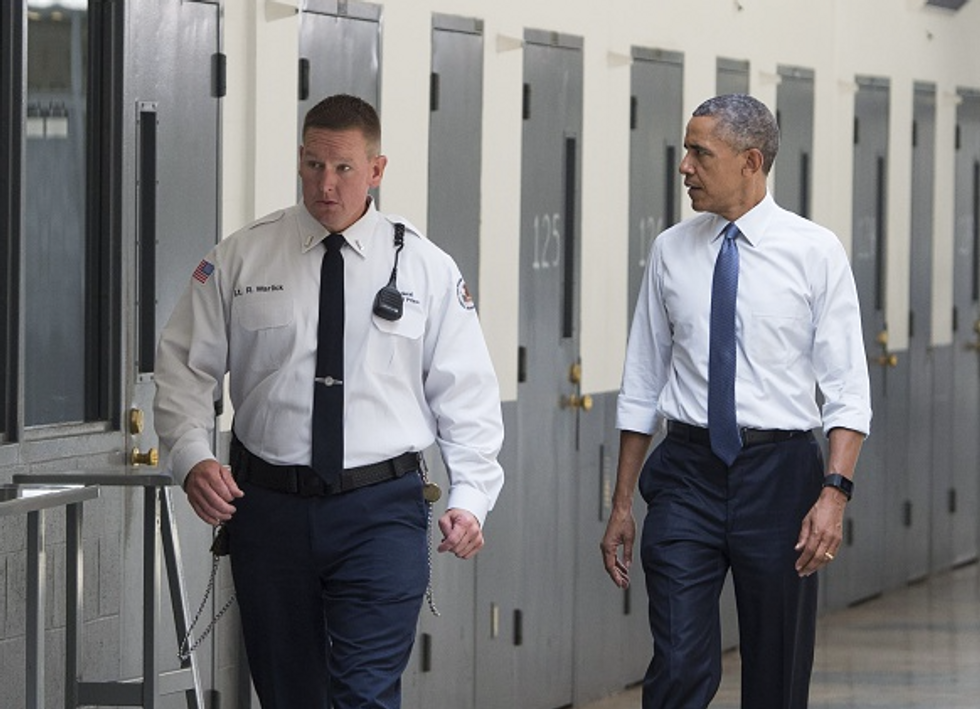 President Barack Obama, alongside Ronald Warlick (L), a correctional officer, tours a cell block at the El Reno Federal Correctional Institution in El Reno, Oklahoma, July 16, 2015. Obama is the first sitting US President to visit a federal prison, in a push to reform one of the most expensive and crowded prison systems in the world. AFP PHOTO / SAUL LOEB (Photo credit should read SAUL LOEB/AFP/Getty Images)
While U.S. attorneys are presidential appointees, assistant U.S. attorneys are frontline career federal prosecutors that frequently serve through several administrations in both parties and are less inclined to be political.
"Chairman Grassley has made this same point several times in speeches on the Senate floor," Grassley spokeswoman Beth Levine told TheBlaze. "He's heard from the assistant U.S. attorneys about their concerns and he is very aware of the need to keep high-level drug traffickers off the street. He has no intention of letting these serious offenders off the hook by reducing their sentences."
Congress is preparing to move forward on sentencing reform. Grassley said earlier this month he was open to working out a bipartisan deal on the broader issue of criminal justice reform. Beyond drug sentencing, the issue involves other mandatory sentencing matters such as "over-criminalization," mandatory minimums and restoring voting rights for felons.
The White House referred TheBlaze to the Justice Department, which has not responded after two days of inquiry.
Last month House Judiciary Committee Chairman Bob Good latté (R-Va.) and the committee's ranking member Rep. John Conyers (D-Mich.) announced a criminal justice reform initiative to handle issues separately, such as sentencing reform, prison and reentry reform. The committee held a hearing and heard from members of Congress on the matter.
"Additionally, the committee will take into consideration the opinions and expertise of those who serve on the front lines of the criminal justice system, including federal prosecutors," a House Judiciary Committee aide told TheBlaze.
The report from federal prosecutors says about half of all federal inmates are incarcerated for drug offenses, much higher than the percentage in states, as critics point out. But the report adds there is a reason for that.
"This stems from the somewhat obvious fact that federal criminal jurisdiction over murders, rapes, and robberies (crimes that are largely intrastate), is limited and those crimes are, for the most part, prosecuted in state courts," the NAUSA report says. "Large scale drug trafficking (activity that is inherently interstate and international in nature) is proportionately more often investigated and prosecuted in the federal system. As a result, the federal system focuses on, and the federal prisons house, many of the most dangerous and serious drug traffickers—offenders that are often violent, repeat offenders involved in high level, large scale trafficking."