Jon Stewart took nearly 10 minutes out of his program Wednesday to address news reports on his "secret" White House meetings with President Barack Obama.
The famed comedian, who plans to retire soon, said reports of the meetings were blown out of proportion.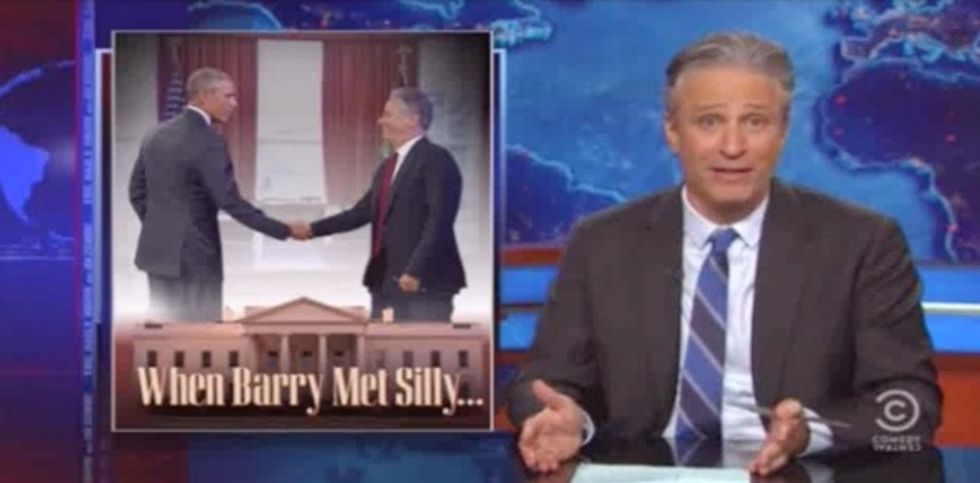 Image source: Screen grab
"It was openly listed, and I went through the normal White House entrance like everybody else, and I told my mom," Stewart said. "Something is not a secret just because you don't know about it."
[sharequote align="center"]"Something is not a secret just because you don't know about it."[/sharequote]
"The Daily Show" host said he was asked by Obama to visit Washington and agreed "because if the president tells you and you don't, then who the f*** knows what would happen?"
"And by the way, to all future presidents, if you ask me to come to Washington, I will do that because I have no idea how to react to that other than 'what time?'" he joked.
Stewart then revealed what happened during the meetings.
"This is what happened: We spent about five to seven minutes with Obama kind of scolding me not to turn young Americans cynical, and then I spent 5 to 7 minutes explaining to him I'm actually skeptically idealistic," Stewart said.
The comedian said that during the meeting he raised concerns regarding the state of the Veterans Affairs and inability for the federal government to get the Healthcare.gov website to work properly.
Stewart also claimed that Fox News president Roger Ailes also once asked to have a meeting with him. He jokingly played an exchange from "The Seventh Seal," suggesting Ailes was the Grim Reaper character.
"In my entire tenure here of being yelled at by some very influential and powerful individuals and Billy Joel, only with one of those people has a phone call ever ended with quote, 'This conversation never happened. And if you say it did, I'll deny it.' And it wasn't the f***ing president," Stewart concluded, suggesting Ailes was the person responsible for that quote.
—
Follow the author of this story on Twitter and Facebook: