On July 4, Lane Pittman was issued a citation to appear in court after police said he ignored their request that he stop playing his electric guitar on public property in Neptune Beach, Florida.

Pittman, who amassed a large crowd while he played "The Star-Spangled Banner" argues he did nothing wrong and received permission from another officer to move his performance from the street to the sidewalk. 

Pittman rejected a plea deal in court on July 27 that would drop charges if he agreed to do community service. 

"To me, that is admitting guilt. I would be admitting a guilt that is nonexistent."
—
His leg positioned on his amp, Lane Pittman plucked "The Star-Spangled Banner" on his electric guitar on the Fourth of July in Neptune Beach, Florida.
People dropped their bikes and began to cheer, joining a crowd that eventually amassed up to 300 people, while the entertainer wearing an American flag shirt and socks continued the national anthem, the crowd singing the words.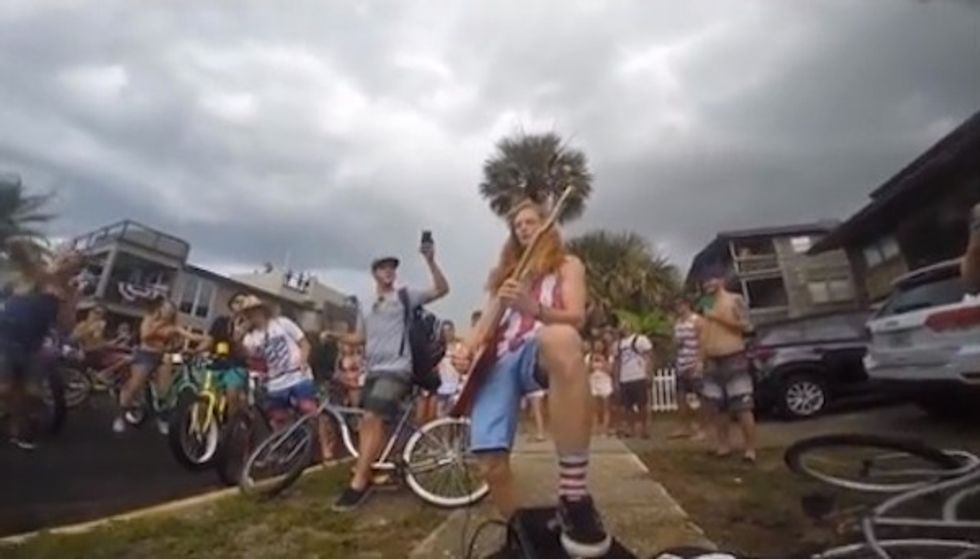 Lane Pittman says he asked an officer if he could play on the sidewalk, when he was told to get out of the street. (Image source: YouTube)
But the show of a patriotism was not long lived.
A more than three-minute video shows Pittman transition to a Ted Nugent tune after finishing "The Star-Spangled Banner" and the crowd then shouts "Jaxon de Ville," referencing the NFL Jacksonville Jaguar's mascot, a post Pittman apparently aspires to hold.
By three minutes into the video though, the Neptune Beach police were seen talking to Pittman. He packed up his guitar and peacefully walked off with police who issued him a citation.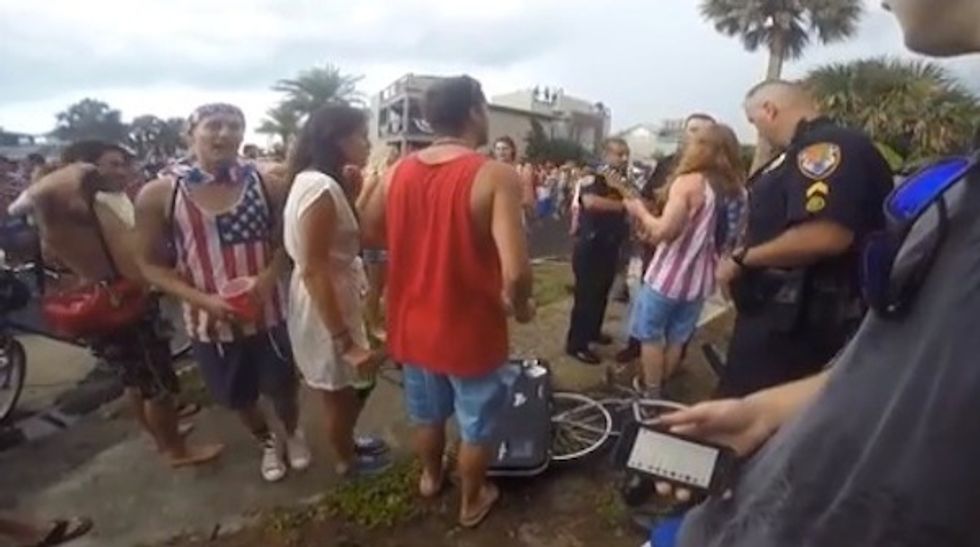 Police approached Pittman and issued him a citation to appear in court. (Image source: YouTube)
Watch the footage:
Pittman receiving a "Notice to Appear" citation made both local and national news at the time, but most recently he appeared in court where he rejected a plea deal that would have let him off with community service. In a Facebook post, which no longer appears on his page but was reported by the site Legal Insurrection, Pittman wrote:
UPDATE: just got out of court and they have decided to push back the situation to ANOTHER court date on Aug. 27th. During the time in between this, the State Attorney will decide to either file this or not. They gave me a diversion deal to where I could do a bunch of community service and the arrest goes away and I said no. To me, that is admitting guilt. I would be admitting a guilt that is nonexistent. Thank you everyone for the prayers and support! Praying God is glorified through all of this no matter what the outcome is!!
Pittman's lawyer Caleb Rowland said his client is "committed to seeing this through trial, if necessary," Legal Insurrection reported.
"[Pittman] believes, and I completely agree, he did nothing illegal, and was simply celebrating his freedoms as an American by playing one hell of a version of the National Anthem on Independence Day," Rowland said.
In his description of the original video showing his Fourth of July performance, Pittman gave a some more context about his interactions with police that day and explained that he's not one to openly defy authority (emphasis added):
I originally set up in the middle of the street but was told by an officer that I was going to go to jail if I kept playing and that I couldn't play in the street. I then asked if I could just move it back to the side walk and the officer said yes. So I did. After I got done, multiple officers came up to me and said they "just needed to talk to me." I thought I was in the clear because the original officer told me it was okay to play on the sidewalk. I guess he failed to let his fellow officers know because they detained me and threatened to take me downtown for it. I do not promote deliberately defying authority. I endorse good character and fun times within the system. I did not have a drop of alcohol in my system and was just trying to be as patriotic as I can, legally, on the day of our independence. So, before rumors spread, this is to clarify ANYTHING being said among the public. I have youth that I teach small groups at in church. I have youth that I coach. I would never, for a second, want them to think that intentionally rebelling against authority is something that I am for. Nor do I want the parents of those youth to think that. I am very thankful for the support of THE greatest family, friends, and fans in the entire world. I love all of ya'll more than you can ever know. Please feel free to share this video to anyone out there. AMERICA!!
Shortly after Pittman's arrest went viral, Neptune Beach Police Chief David Sembach issued a statement explaining more about the arrest.
"This case was about the police having the responsibility to keep roadways and sidewalks traversable and as safe as possible. From our perspective, Mr. Pittman was the catalyst of the large group of people who had gathered in the roadway and sidewalks," Sembach wrote. "This prohibited or severely delayed the response of emergency personnel. If we let the guitar playing continue and something terrible happened, we would be criticized for that as well. The way it was handled, no one was hurt and no property was destroyed."
Sembach went on to point out the harm a large crowd, in which some members are also consuming alcohol, could pose to private property.
"The crowd was not terribly unruly, but that can change in a fraction of a second," Sembach said. "I have limited resources and manpower to manage and control an intoxicated crowd of people. Many, if not most, of the folks in the roadway were not Neptune Beach residents."
Sembach said his officers warned Pittman to stop playing all together and when he didn't, due to whatever misunderstanding, they approached him again and gave him a "Notice to Appear."
Sembach went on to thank Pittman for not being one of the people who targeted the police department with "hate filled diatribe" after the incident and even extended an olive branch, saying that "moving forward we wish Mr. Pittman the best of luck with his entertainment career."
Legal Insurrection reported that Pittman's legal team filed a motion to dismiss the charge, and a new court date currently stands for August 27.
Pittman did not immediately respond to TheBlaze's request for comment.