A conservative media watchdog on Thursday released numbers revealing how much coverage the death of famed African lion Cecil has received versus the undercover videos purporting to show Planned Parenthood videos engaging in the sale of aborted fetus parts.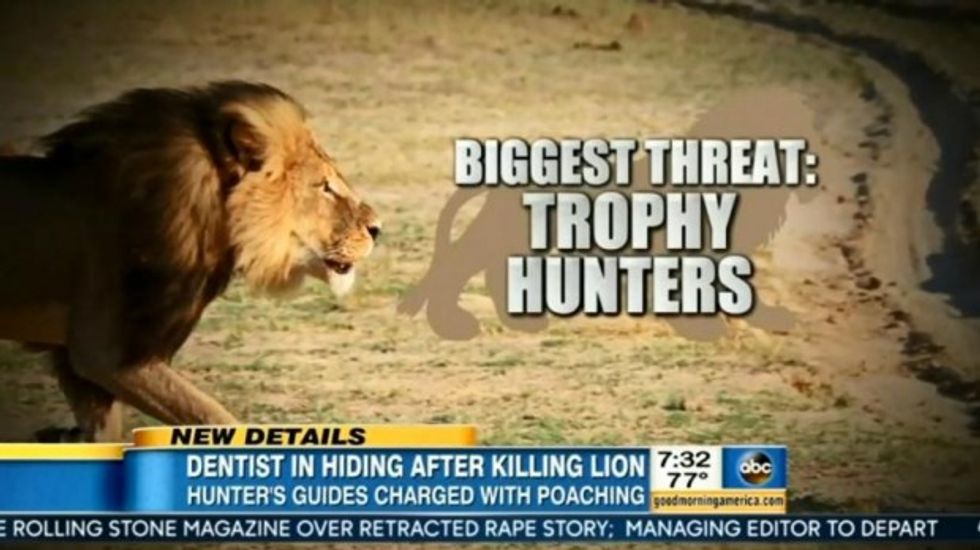 Image source: ABC via Newsbusters
According to the Media Research Center's Newsbusters, the killing of the African lion had received 30 minutes and one second of coverage on ABC, NBC and CBS.
Here's a breakdown from the watchdog:
Tuesday evening: 5 minutes, 44 seconds

Wednesday morning: 8 minutes, 17 seconds.

Wednesday evening: 5 minutes, 26 seconds

Thursday morning: 10 minutes, 34 seconds
Those numbers sand in stark contrast to the amount of coverage a series of undercover sting videos released in the past few weeks by the Center for Medical Progress have received.
Since the release of the first undercover Planned Parenthood earlier this month, the three major networks spent 11 minutes and 13 seconds on the story, according to the media watchdog.
It was not clear what methodology was used by Newsbusters to arrive at their numbers.
—
Follow the author of this story on Twitter and Facebook: