Mary Chaffee Grantham got a call Sunday morning and couldn't believe what she heard.
Her brother Adam, a 23-year-old college senior living in Kalamazoo, Michigan, had been in a swimming accident and was rushed to the hospital. He was found to have severed his spinal cord and had limited sensation below his neck.
"Just complete shock. It didn't seem real," Grantham, who originally hails from Michigan but now lives in Rochester, New York, told TheBlaze in a phone interview. "We got the news and got in the car and drove out here."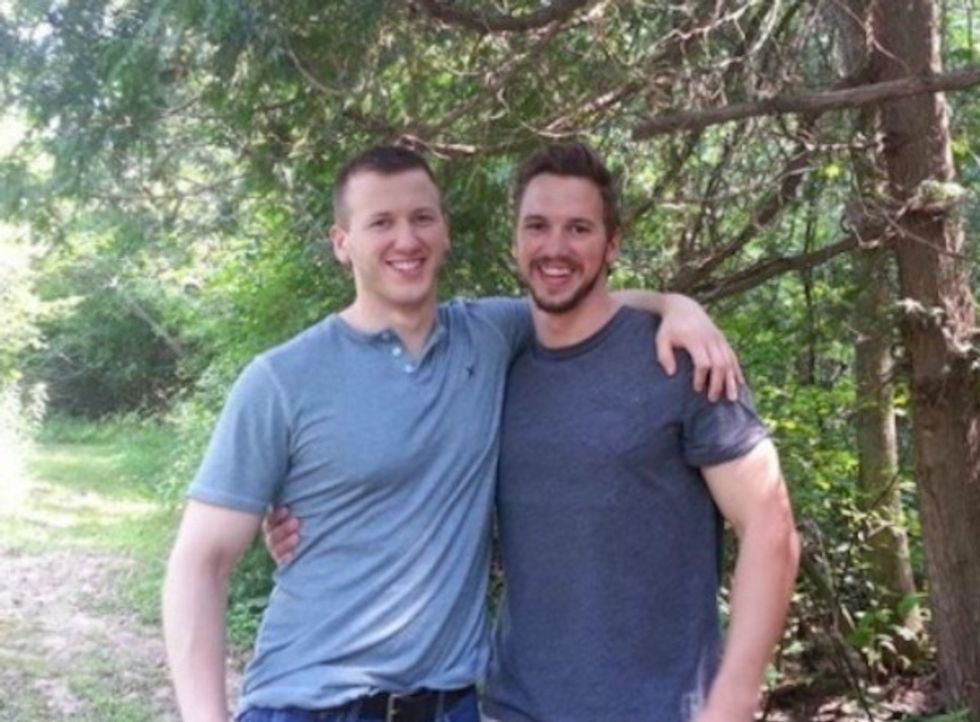 Matt and Adam Chaffee before they suffered accidents within a year of each other that both resulted in paralysis. (Photo courtesy Chaffee family)
Learning one family member was in a paralyzing accident is shocking enough, but Grantham's shock was coupled with the fact that just eight months prior, her other younger brother, Matt, had been in a motorcycle accident that left him paralyzed from the waist down.
Matt Chaffee said that when he got the call, he wasn't even worried about the possibility of his brother being paralyzed like him. It didn't seem possible that both he and his brother could become paralyzed within a year of each other.
The Chaffee family's hardship was compounded by the death of their father, Greg. He died in 2012 at 55 years old after a heart attack, a GoFundMe page set up for the family explained.
'He Did All the Stuff I Couldn't Do'
While Adam is now at Bronson Methodist Hospital on a ventilator, he used to be the one helping his brother.
"Right when my accident happened ... [Adam] got on a plane and he got there within hours," Matt said, explaining that his motorcycle accident in November 2014 occurred in Memphis, Tennessee.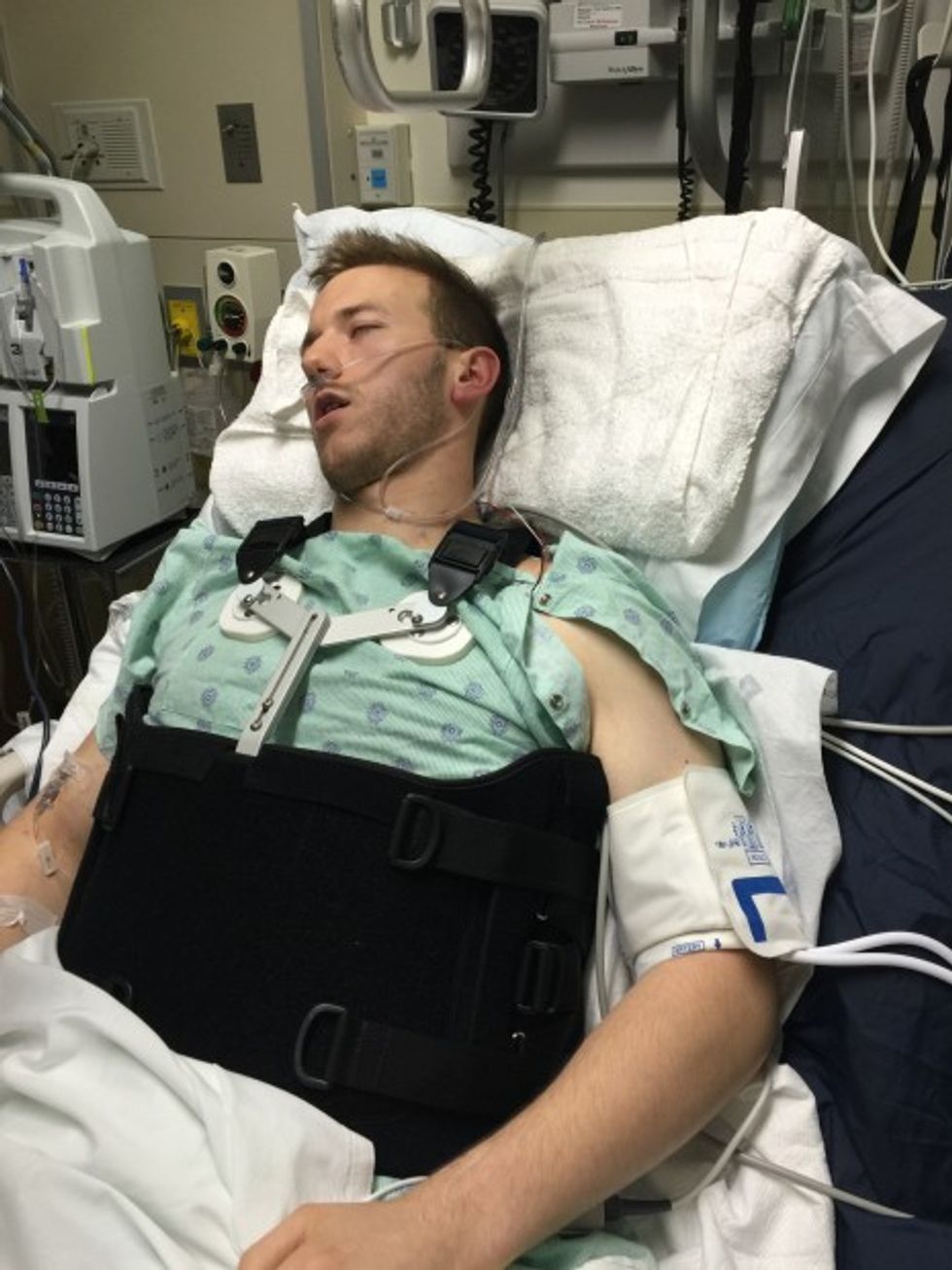 Matt Chaffee in the hospital after his motorcycle accident in November 2014. (Photo courtesy Chaffee family)
"He stayed with me in the hospital. When I went to rehab, he visited me all the time, motivated me to work hard," Matt said.
Later, he moved in with his brother.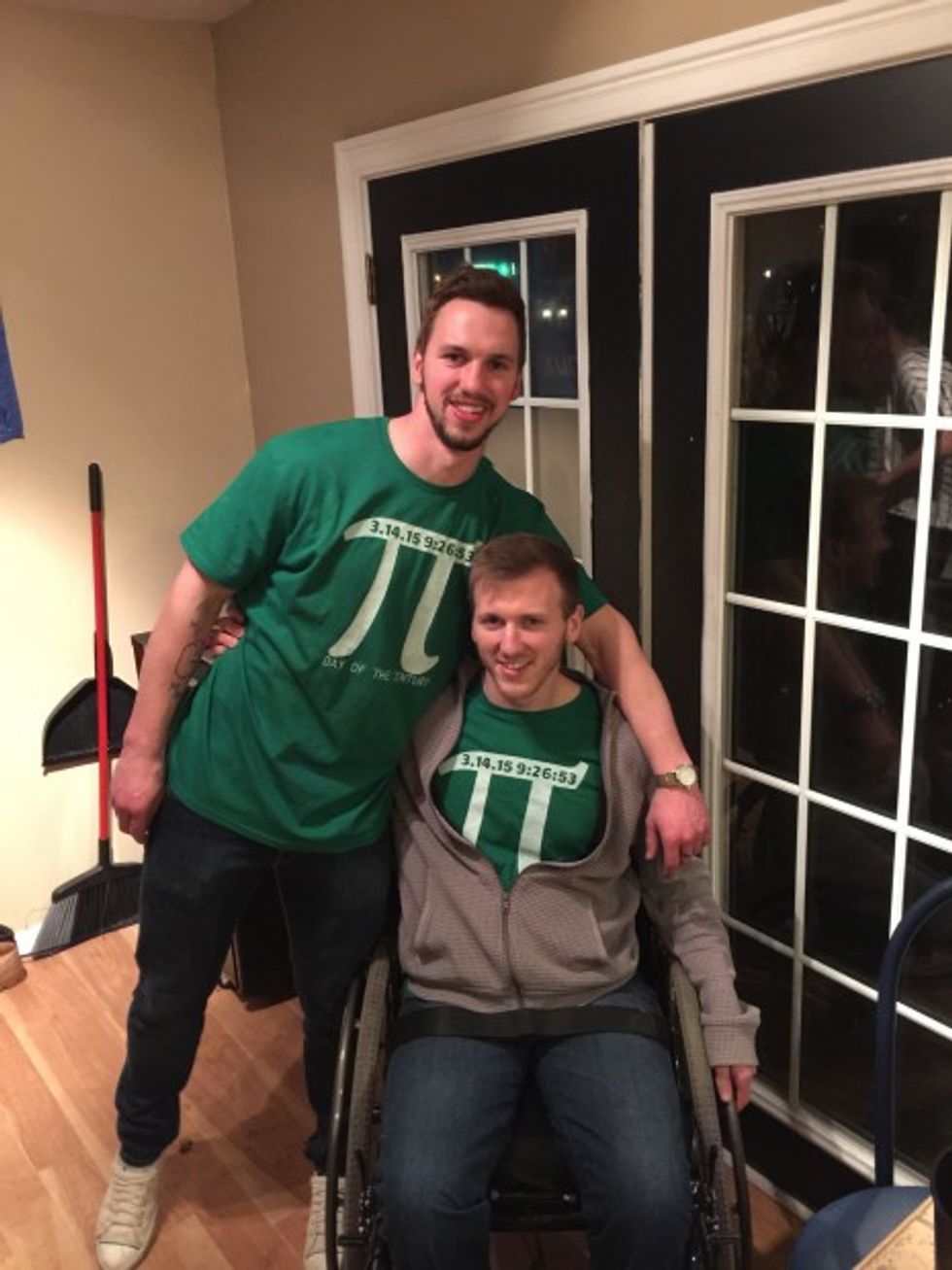 Adam Chaffee took care of his brother Matt after his accident. (Photo courtesy Chaffee family)
Adam would do everything from cutting his brother's hair to cooking for him to helping him make his bed to doing the laundry in the basement.
"He did all the stuff I couldn't do," Matt said.
Now, he said he plans to do everything he can to help his brother in return.
"Me and him want to stick together. I'm just going to do whatever I can to make sure that he's happy and comfortable," he said.
Community's Support Helps Curb Some Worry
Grantham said her family has been operating in survival mode since hearing the latest news, but some of the worry over how they will go forward has been softened by a GoFundMe page set up by Adam's friends. The page has raised more than $30,000 in just three days.
"There are so many costs to paralysis that people don't even consider," Matt said.
A mobility van, for example, costs up to $50,000 and is not usually covered by insurance because it's not deemed a medical necessity, Matt said. An electric wheelchair, he noted, usually is at least partially covered by insurance. Top that off with doctor visits, medications and home retrofits and you have just a small list of what the Chaffee brothers face.
Matt, who before his accident worked as a process engineer at a chemical plant, said he hasn't worked since his accident last year. He said if his brother doesn't get the use of his hands back, he won't be able to work either.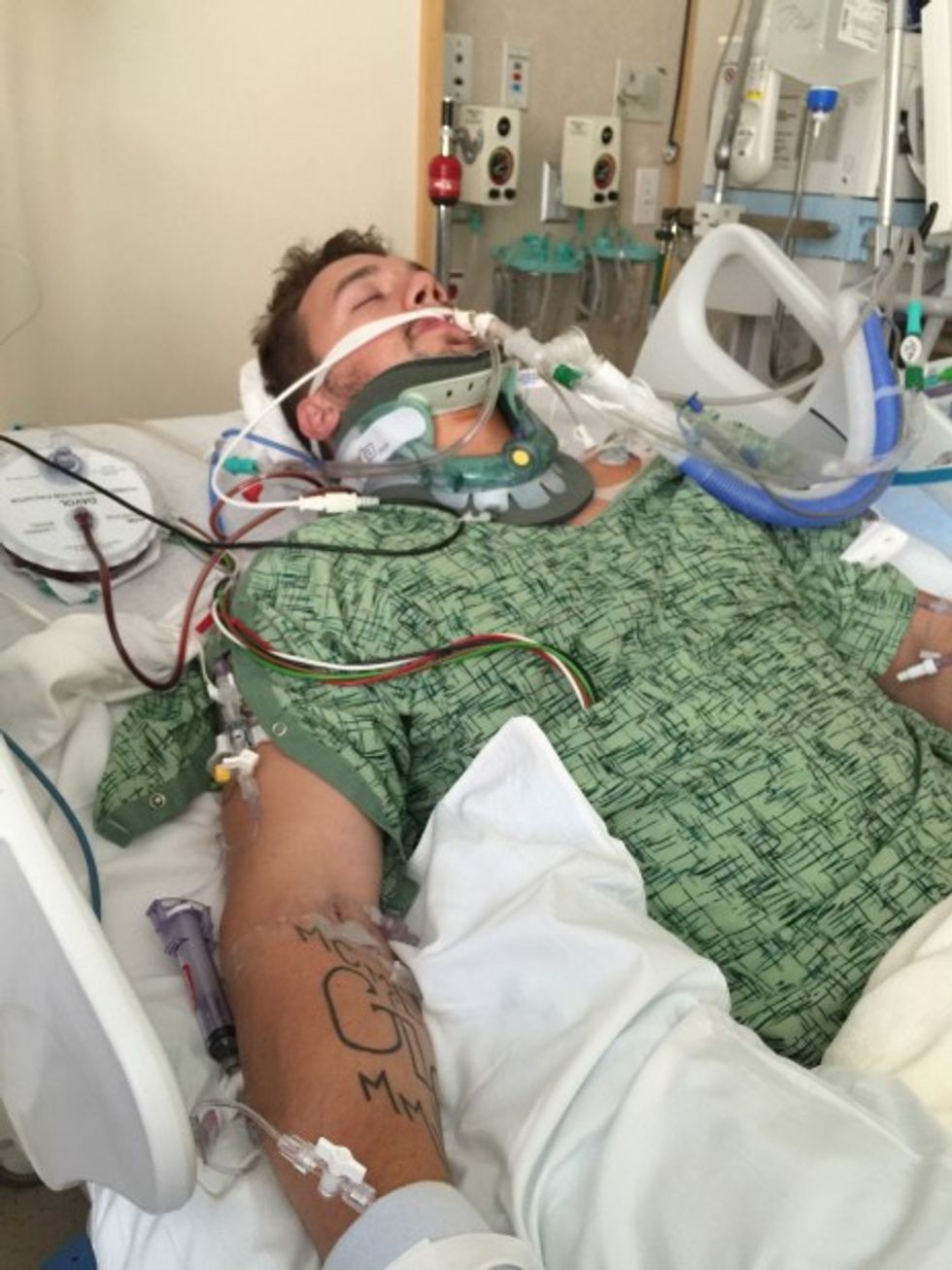 Adam Chaffee is still in the hospital and currently has little sensation and movement in his upper limbs. He suffered a full spinal cord injury at the C5 vertebra. (Photo courtesy Chaffee family)
Adam, who has a complete spinal cord injury at his C5 vertebra, has been getting a little bit of feeling back. Matt said his brother can feel the skin between his thumb and pointer finger and has sensation in his forearms.
As a best-case scenario, the family said they hope to see Adam breathe on his own without a ventilator and be able to move his arms and hands enough to use an electric wheelchair and transfer himself.
"It makes so many things easier," Matt Chaffee, who knows first-hand how important this bit of independence can be, said. "Without having that much mobility in his arms he'd have to have 24/7 care."
But for now, Grantham, one of Matt and Adam's older sisters, said they're rotating as a family to make sure someone is in Adam's room at all times.
Watch this report from WWMT-TV about the Adam accident: