Things took a strange twist Thursday night when U2 frontman Bono honored the woman who dialed 911 after he crashed his bike and broke his arm late-last year in Central Park.
During a concert at Madison Square Garden in New York City, Bono gave the woman a shout out from the stage.
"I am here today because some people, when I crashed my bike here in the city, a beautiful girl made a phone call to 911. She's from Denver, but she's here tonight. And so is Engine 44, the firefighters that picked me up off the ground," Bono told the audience, according to the New York Post.
The rock star then handed the microphone to the woman. That's when things took a sudden turn.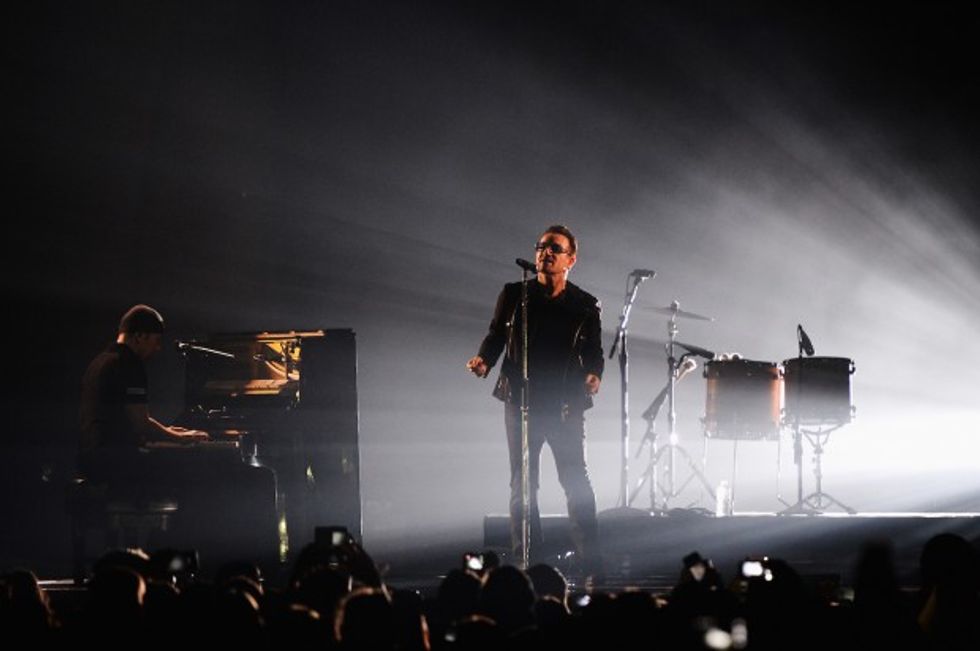 Bono of U2. (Photo by Samir Hussein/Getty Images for MTV)
"I have to clarify, it's Alyssa and I'm from DC, not Denver," she reportedly quipped back with some snark.
[sharequote align="right"]"She's just wrong. Bono should have revoked her ticket."[/sharequote]
"Bono, here's what happened: I was running in Central Park, there was an accident, obviously I had to stop and help because I'm not from New York, I'm from Virginia, where people are nice," she continued, according to the Post.
The New York crowd began to boo.
"Sorry, New York," she said as the boos reportedly grew louder and more ferocious. "Anyhow, I called 911 because no one else was doing it."
"People, he would not be here tonight if it weren't for me!" she shouted.
The Post reported that the woman attempted to continue, but was drowned out by the thousands shouting and booing her.
"She just went on and on and didn't stop. I almost think she planned it, to just blast New Yorkers. Eventually one of our guys yanked the mic out of her hand and gave it back. Knowing our guys I'm sure they said something to her," one of the firefighters near her in the audience told the Post.
"It's a bad rap this city gets and it's typical that people think New Yorkers are horrible. This girl just completely typified the stereotype," he added. "She's just wrong. Bono should have revoked her ticket."
—
Follow the author of this story on Twitter and Facebook: