The "savvy" play an Atlanta Braves second baseman made against a Philadelphia Phillies runner Thursday night that had the game's announcers saying "wow" has since been viewed more than one million times on social media.
The Atlanta Braves uploaded a video to its Facebook page showing player Andrelton Simmons making a "heads up" play as a Phillies runner slid into second base. Umpires called the runner safe, but Simmons waited with the ball and made a sudden second tag on the runner between the short time that he took his hand off the base to put his foot on the bag.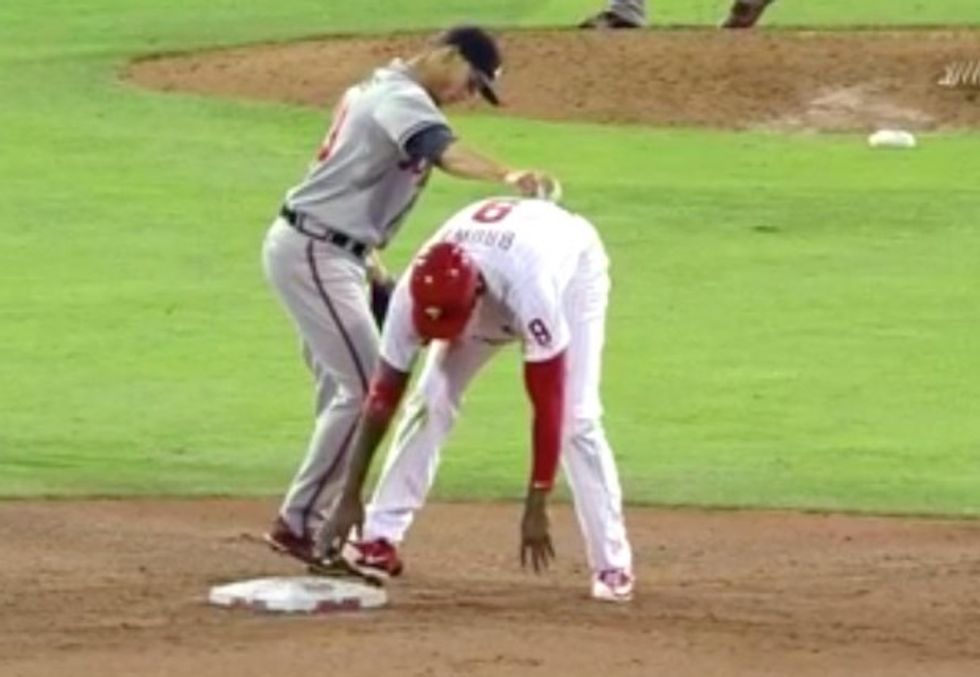 Image source: Facebook
Simmons looked over at the umpire after making the second tag and realized he didn't see it. That's when he called for the officials to watch the replay and consider overturning the call.
But the announcers were already convinced the runner was out, having already shown the replay in slow motion and from different angles, seeing that Simmons got him.
"Does he ever cease to amaze you? His savvy, his instincts," one announcer said while the officials reviewed the call. "He's watching for him to do that because he's probably done it before not thinking about and put your foot on the bag."
Moments later, the umpires came back with their final decision.
"And the verdict is in," the announcer said. "He's out."
Watch the incredible play for yourself:
– 
Follow Jon Street (@JonStreet) on Twitter