Bill Cosby's lawyer, Monique Pressley, said it's the "responsibility" of women who have been sexually assaulted to immediately report the crime.
Appearing on HuffPo Live Friday, Pressley defended her client against the dozens of rape allegations from women that she likened to a "witch hunt" in recent years.
"I'm not speculating, I'm not thinking, I'm not opining, I'm not waxing poetic, but what I'm saying is women have responsibility," Pressley said. "We have responsibility for our bodies, we have responsibility for our decisions, we have responsibility for the way we conduct ourselves."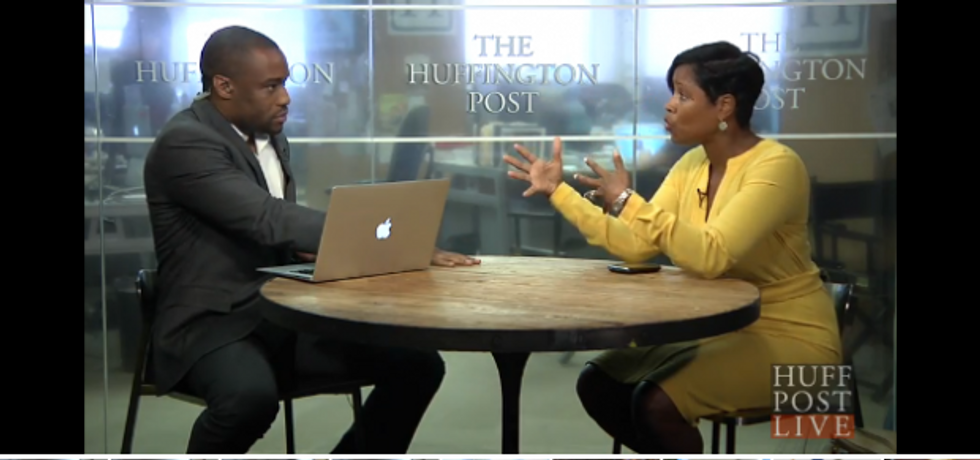 Image source: HuffPo Live
"The only way for a woman to get the justice that she seeks -- and that, if her allegation is true, that she deserves  — is to come forward [right after the crime]," she continued. "And even if the reasons that the women did not do that are legitimate ones, what cannot happen — in my opinion, in the United States — is that 40 years later there is a persecution tantamount to a witch hunt where there was no prosecution timely and there was no civil suit timely. And there's not any testimony or any accusation from any of these women that Mr. Cosby in any way bound them, gagged them, prevented them from coming forward and saying whatever their truth was at the time. That's not what happened."
Pressley did insist that she does not blame women who do not report sexual assaults and wasn't victim-blaming, but just telling women how to hold their attackers accountable.
Pressley's comments have sparked outrage on Twitter as some people have likened her to a "men's rights activist from Reddit."
Watch Pressley's controversial interview below.