A long way from her home in Idaho, Sabrina Corgatelli is still hunting big game in South Africa — forging ahead despite the controversy surrounding the recent killing of Cecil the lion.
Corgatelli, who has been traveling around South Africa with her team, has updated her Facebook page with photos showcasing the variety of large animals that she has conquered thus far on her trip: an impala, blue wildebeest, kudu, warthog and giraffe.
"Such a amazing animal!! I couldn't be any happier!! My emotion after getting him was a feeling I will never forget!!!" she wrote on Facebook after killing the giraffe.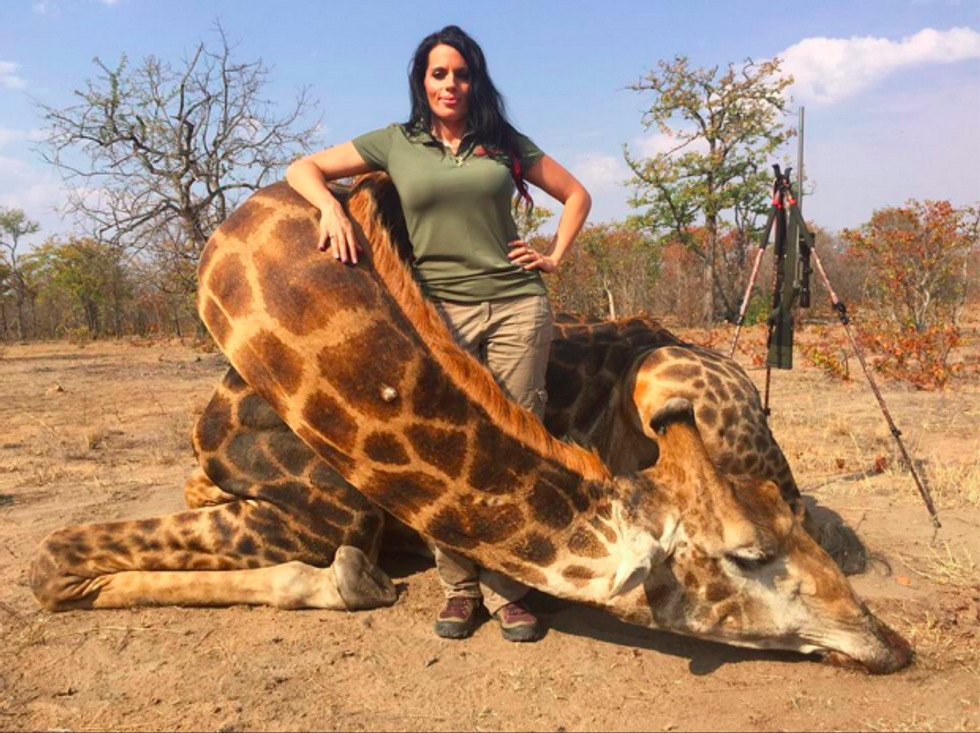 Sabrina Corgatelli posted this photo to her Facebook page last on the second day of her hunting trip in South Africa. (Image via Sabrina Corgatelli/Facebook)
Corgatelli has been posting the photos despite an overwhelming amount of protests and disparaging comments on her Facebook page. Many of her photos have received hundreds of comments from people calling her names and condemning her hobby.
According to the Daily Mail, the huntress posted a message Friday morning that read, "All you haters, This is for you!! Have a great day, cuz I know I will!" The message was accompanied by a meme of Leonardo DiCaprio as Jay Gatsby in the 2013 film, extending his champagne glass, with the caption "To all the haters — stay tuned, you're going to have so much more to be pissed about."
The post appears to have already been deleted from her Facebook page.
She also posted on that same day a photo of her with an impala that she killed, as well as boasted about a 13-foot crocodile a member of her team killed.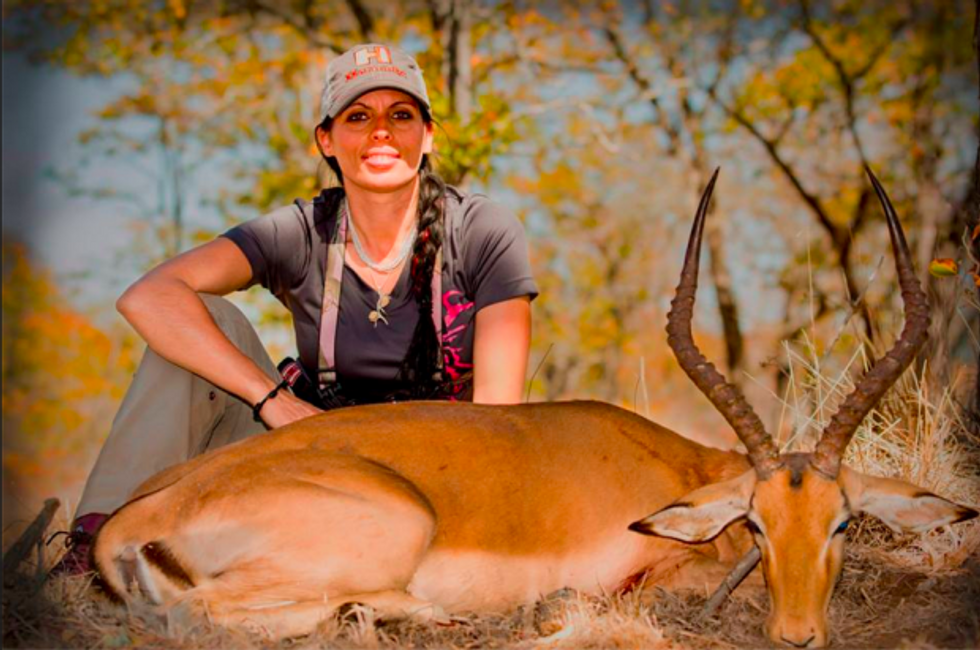 Corgatelli posted a photo to her Facebook page with her and an impala that she supposedly killed while in South Africa. (Image via Sabrina Corgatelli/Facebook)
The next day she posted a status with two Bible verses to her wall — Genesis 9:3 and Genesis 27:3.
"To me it's not just killing an animal, it's the hunt," Corgatelli told the Today Show Monday morning, adding that she's gone through many personal experiences in her life as of late that she did not wish to discuss.
"Everybody just thinks we're cold-hearted killers, and it's not that," she said. "There is a connection with the animal, and just because we hunt them doesn't mean we don't have a respect for them. Giraffes are very dangerous animals. They could hurt you seriously very quickly."
Walter Palmer, a Minnesota dentist came under fire last week after he hunted and killed Cecil, a protected lion in Zimbabwe. Officials in the African country have discussed having the American extradited to face charges, though Palmer denies knowing the lion was protected.
"I would say if the man is in fact charged with the crime I think it's something to consider," Aaron Neilson, Corgatelli's boyfriend, told Today. "I also believe that when a foreign hunter travels to a foreign country, he is at the discretion of the guide and outfitter that he puts his trust in. So to start charging foreign people under crimes like this in a place where he likely was completely unaware of most of the circumstances, I think would be a very slippery slope."
Meanwhile, as Zimbabwe officials promised to crack down on illegal hunting, a second American has been accused of killing a lion without a permit. Jan Casimir Seski, a doctor from Pennsylvania, allegedly killed a lion in April on a hunt arranged by a the Zimbabwean owner of a safari company.
---