President Barack Obama on Monday announced sweeping regulations on coal-fired power plants, calling it "the single most important step the U.S. has ever taken to fight climate change."
Obama did not hold back on his warning, declaring in the White House East Room, "Time is not on our side."
The new regulations have the goal of cutting carbon emissions by about one-third by 2030 and grant the Environmental Protection Agency sweeping power previously used only by states.
"This is one of those rare issues because of its magnitude, because of its scope, that if we don't get it right, we may not be able to reverse it," Obama said. "There is such a thing as being too late when it comes to climate change. That doesn't mean it's hopeless. We can take action."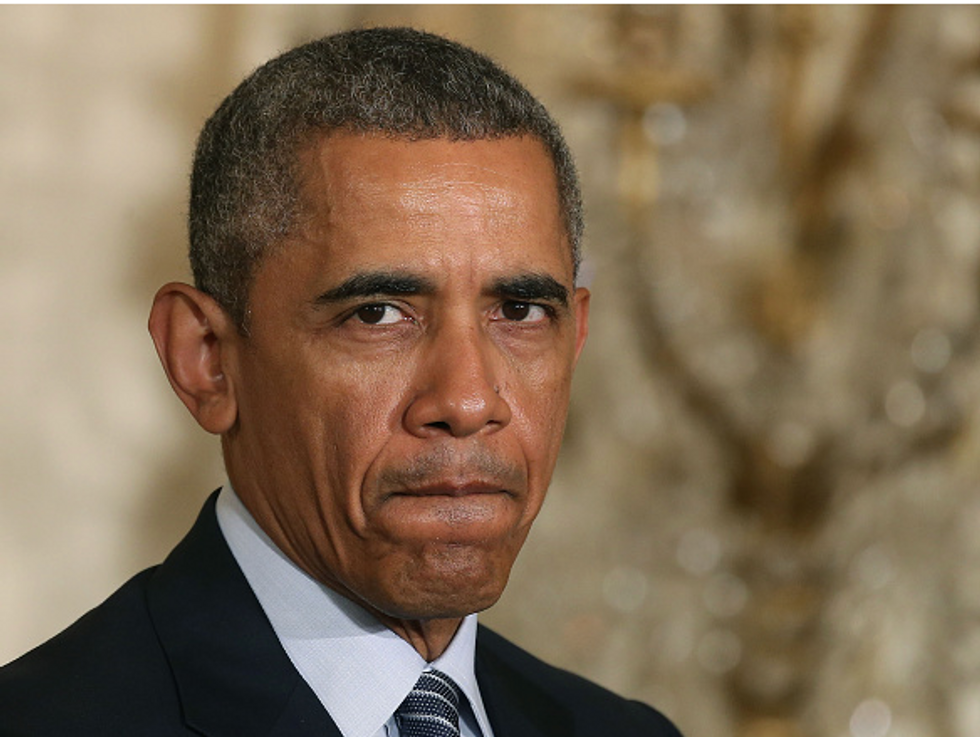 President Barack Obama speaks about climate change during an event in the East Room at the White House August 3, 2015 in Washington, DC. President Obama announced a major climate change plan aimed to reduce greenhouse gas emissions from the nation's coal-burning power plants. (Mark Wilson/Getty Images) 
He later added: "We've only get one planet. There is no plan B."
The EPA reach into what has traditionally been a state responsibility represented a "profound federalism issue," said William Yeatman, senior fellow at the Competitive Enterprise Institute, a free market think tank.
The Federal Power Act of 1935 was designed to allow state and local governments to control local utilities and retail electricity within the state, while the Federal Energy Regulatory Commission has regulated interstate wholesale electricity sales. Obama's Clean Power Plan would give the EPA broad power over all electric markets.
"This is a tremendous problems with federalism," Yeatman told TheBlaze. "This was a New Deal principle that states would control intrastate electric markets, and FERC control interstate wholesale. This agency is not only usurping power from the states — on the other hand, it's usurping power from another federal agency, FERC."
FERC Commissioner Tony Clark has also expressed concern the rule would take power from the agency, and has asked for FERC to have a role in the implementation.
The EPA proposed the rule in June 2014 to reduce greenhouse emissions from power plants. The EPA will regulate the electricity industry and require states and utility companies to meet goals, providing rewards and penalties. The final Clean Power Plan calls for reducing carbon emissions by 32 percent below 2005 levels by 2030.
Federalism and the Federal Power Act is expected to prompt more states to join a lawsuit already brought by 15 states: Alabama, Alaska, Arkansas, Indiana, Kansas, Kentucky, Louisiana, Nebraska, Ohio, Oklahoma, South Carolina, South Dakota, West Virginia, Wisconsin and Wyoming.
The EPA asserted in a statement that states will have flexibility to implement their own tailored plans to ensure power plants meet the standards. States will be required to submit their plans to the EPA in September 2016. The EPA will reward states for early investments in green energy with credits for electricity generated from renewable sources in 2020 and 2021.
The Obama administration contends that the rule will reduce electric bills by an average of $85 per month for the ratepayer for the average ratepayer.
However, a separate industry-sponsored analysis says the rule could be expensive, costing between $41 billion and $73 billion per year more for the industry that will be passed to consumers, according to a study by the economic consulting firm NERA.
Obama insisted it's the biggest challenge facing the world.
"No challenge poses a greater challenge to our future and future generations than climate change," Obama said.
"The only reason China is getting serious about looking at its emissions is because we were doing it too," Obama continued. "When the world faces challenges, America leads. That's what this plan is about."