You've probably seen professional sports players break out into fights plenty of times before, but usually, they're on opposing teams.
This time was different.
Dez Bryant and Tyler Patmon, both players for the Dallas Cowboys, were running through a play during a scrimmage on Sunday just before Bryant threw a punch at Patmon, erupting in a fight on the field that resulted in their teammates and coaches having to break up the brawl, the Dallas Morning News reported.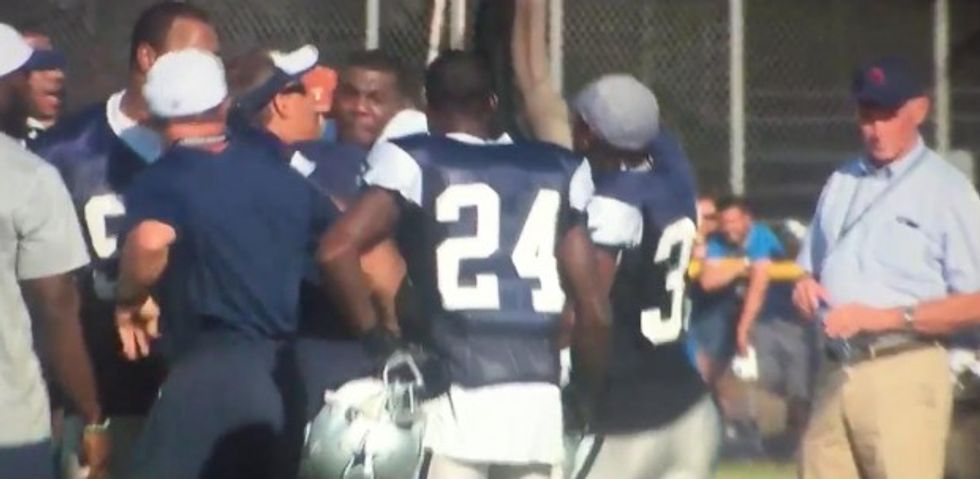 Image source: Dallas Cowboys
But helmets were already off and the two were well going at it when quarterback Tony Romo finally managed to break them up.
MUST WATCH Dez Bryant takes a swing at Tyler Patmon #CowboysNation video from @bkspxshooter @CBSDFW pic.twitter.com/icaFloOBuZ

— Chris Bullock (@sportsbull) August 3, 2015
Asked about the confrontation later, Patmon said, "We're just brothers. It happens sometimes. We go at it and after that we squash it and it's over."
"We're family," he added.
Bryant had a similar response when pressed for an explanation: "I was giving him a little bit of mouth, just talking a whole bunch of stuff to him." He was talking back to me and it escalated over to the next play."
But Cowboys owner Jerry Jones didn't seem bothered by the incident, saying it's nothing out of the ordinary this time of year.
"That's training camp. That's not new," Jones said, the Daily Mail reported. "That's been happening at our training camp for years and years and years."
The two players reportedly had already worked out their differences by the time they made it back to the sidelines, having exchanged a hug right after coach Jason Garrett addressed the media.
Watch the heated confrontation:
MUST WATCH Dez Bryant takes a swing at Tyler Patmon #CowboysNation video from @bkspxshooter @CBSDFW pic.twitter.com/icaFloOBuZ

— Chris Bullock (@sportsbull) August 3, 2015
See more from the fallout:
Here's great video from @bkspxshooter of @DezBryant fight with Tyler Patmon .. Dez not backing down #CowboysNation pic.twitter.com/ux9UpiSQGg

— Chris Bullock (@sportsbull) August 3, 2015
(H/T: Daily Mail)
–
Follow Jon Street (@JonStreet) on Twitter