A police officer is facing a federal lawsuit for putting two disabled elementary school children in handcuffs when they misbehaved.
Both an eight-year-old boy and a nine-year-old girl suffer from attention deficit hyperactivity disorder and were placed in handcuffs by Latonia Elementary School's resource officer, Kenton County sheriff's Deputy Kevin Sumner, according to the American Civil Liberties Union.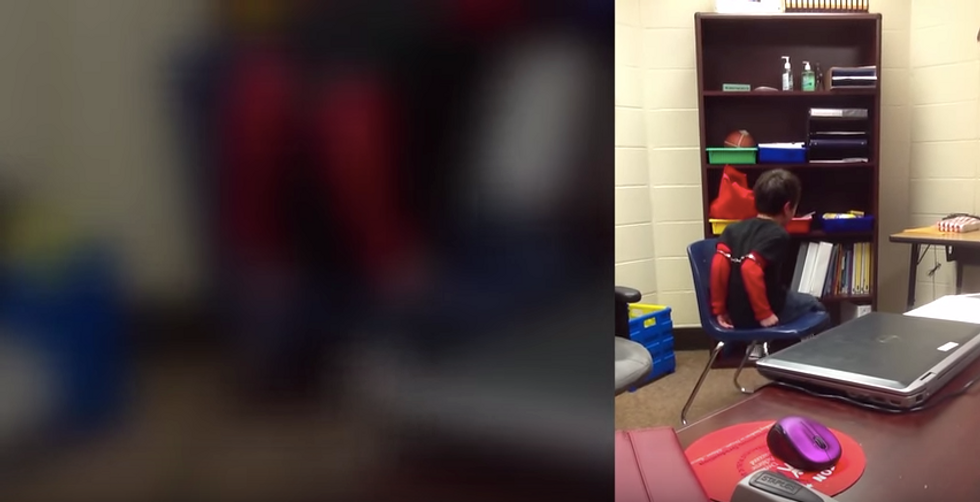 Image source: YouTube
In a video of the interaction between the young boy and the police officer, the handcuffs are seen at his upper arms, holding his arms behind his back. CNN reported that the adult-sized handcuffs were too big to fit around his wrists.
"Now you're going to behave the way you know you're supposed to, or you suffer the consequences," Sumner told the crying boy in a cell phone video of the incident obtained by the ACLU. "But it's your decision to behave this way."
The boy says "ow, that hurts," at one point.
According to the federal lawsuit filed by the ACLU, the Children's Law Center and Dinsmore & Shohl, the eight-year-old — only identified as S.R. — had swung his elbow at the resource officer who blocked the blow with his hand.
The lawsuit claims the girl — only identified as L.G. — was twice placed in the handcuffs.
Because of the incidents, the ACLU alleges that the two children have experience pain, fear, emotional trauma and exacerbation of their disabilities.
WCPO-TV reported that the mother of the young boy has since had trouble sleeping at night.
Covington Independent Public Schools told WCPO that the school district will "fully cooperate with the children's legal counsel, as well as the Sheriff's Office, in looking into the complaints."
Kenton County Sheriff Chuck Korzenborn is also named in the suit for "failure to adequately train and supervise" Sumner.